The Meaning Behind Jason Momoa's Tattoos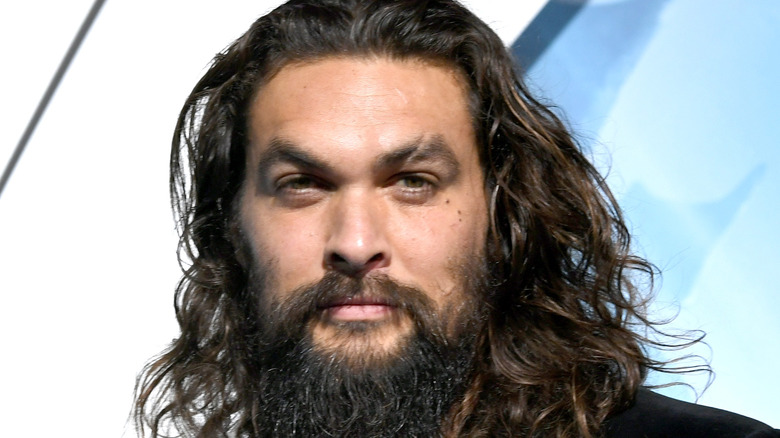 Kevin Winter/Getty Images
Jason Momoa has a unique and super manly look that is all his own. When he popped up as Aquaman, the casting made complete sense even if it did involve the actor swimming around in jeans. Momoa is a bit of a superhero in real life too, with soon-to-be ex-wife Lisa Bonet memorably telling Porter Magazine in 2018 that, when the pair originally met at an L.A. jazz club back in 2005, the attraction was so instantaneous Momoa quite literally picked her up and carried her off into the night. 
"I can't say it was full-on from the moment we saw each other, but we have been together from the day we met," she recalled. "In that moment, love came and it came big, and he did not run as I think a lot of men do ... He basically picked me up and threw me over his shoulder, caveman style!" In keeping with the DC star's swoon-worthy persona, Momoa has several tattoos decorating his famous body — although not as many as Aquaman himself. But, what is the real meaning behind Momoa's tattoos?
Jason Momoa's tattoos all have very personal meanings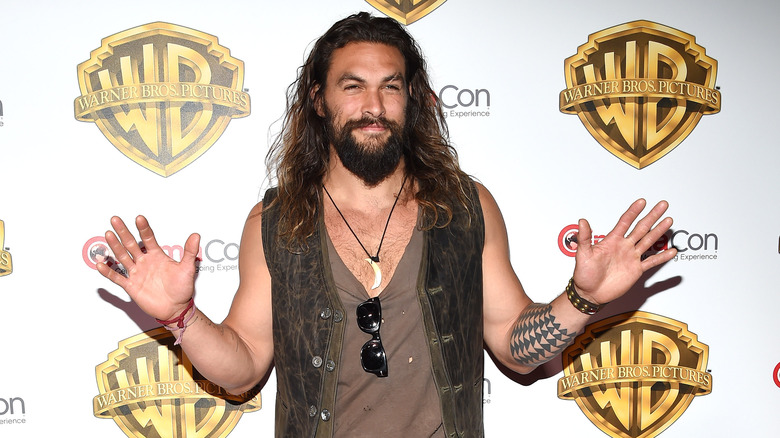 DFree/Shutterstock
As Men's Health notes, actor Jason Momoa is fully tatted up as Aquaman, but most of the ink isn't real. He also notably got a few extra, fake tattoos for the horror movie "The Bad Batch" (via Instagram), and for his role in "Game of Thrones," per Cosmopolitan. In reality, Momoa has a few pieces of ink dotted about the place, but nothing compared to some of his most famous characters. First and foremost, and probably most pertinent, the actor has his kids' names, Lola and Wolf, inscribed in red ink across his chest — or, more accurately, just above his heart. 
Next up, Momoa has his family's "aumakua," which is represented by a nine-triangle pattern that takes up most of his lower arm and resembles shark teeth. The aumakua is a key part of Hawaiian mythology and speaks to the actor's pride in his culture. While chatting with Fresh TV, Momoa explained that the belief surrounds an ancestor who has passed away and come back to life to look after the family. The negative space around his design is meant "to take the darkness out of your heart and bring the light in, but we're still working on that."
Several of Jason Momoa's tattoos are self-explanatory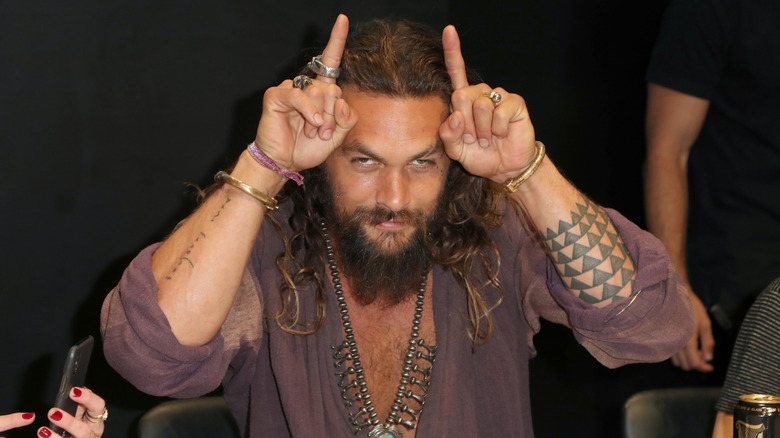 Joe Scarnici/Getty Images
Elsewhere, Jason Momoa got a simple line tattoo back in 2014, the meaning of which remains curiously opaque, per Cosmopolitan. This is in stark contrast to several of his other tattoos, however. For instance, Momoa's "on the roam" ink, which is located on his arm, is simply the logo for one of his production companies. Likewise, Momoa also has his Instagram handle, "pride of gypsies," which is the name of his other production company, tattooed on his arm.
More meaningful still is the word "Diablo," which the "Game of Thrones" alum had inked on his finger in honor of a dearly departed friend. Meanwhile, Momoa's delicate "être toujours ivre" ink, loosely translated to "always be drunk," matches with stepdaughter Zoë Kravitz. And finally, the actor's simple little skull tattoo, which is small and weathered due to its placement on his hand, seems fairly self-explanatory — skulls are cool. And nobody is cooler than Momoa.