Gabi Butler & Morgan Simianer On Why 2020 Was 'Devastating' For Navarro - Exclusive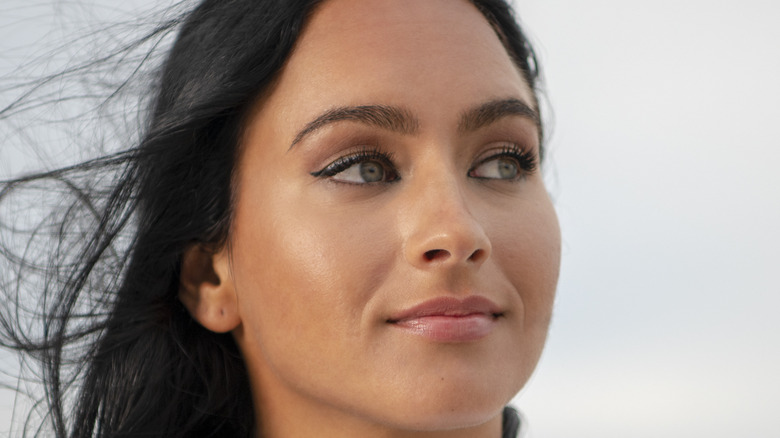 Netflix
The Netflix docuseries "Cheer" gives viewers an inside look at the competitive world of college cheerleading. By following Navarro Cheer throughout Season 1, we got to see the long practices and hard work that goes into preparing each routine. The camera also gave us a look at the lives of team members, good, bad, and dramatic.
Two of the athletes introduced in the first season, Gabi Butler and Morgan Simianer, recently sat down with The List to discuss Season 2, which was released on Netflix in January 2022. With the long wait from Season 1, fans were excited to see what the team had been up to. Of the "Cheer" experience Butler said, "There were a lot of great moments, there were a lot of bad moments, so a lot of twists and turns. So it's definitely going to be very dramatic." As Butler explained, there are a lot of ups and downs throughout the season, but Simianer and Butler opened up about the one thing that made their 2020 season particularly "devastating" for the team. 
The 2020 championship was canceled due to COVID-19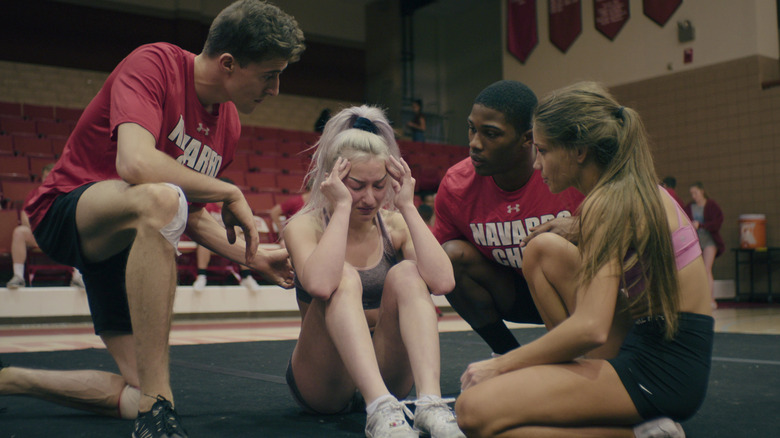 Netflix
Each year, Navarro Cheer competes at the College National Championship in Daytona Beach, Florida. It's the biggest cheering competition of the year, and teams travel from across the United States to compete. After being named national champions in 2019, the pressure was on for Navarro to take the top spot again in 2020. But, those dreams were ruined before the team could compete when the championship was canceled due to the COVID-19 pandemic.
"It was like a knife just kind of slowly grinding its way through your heart because it was like you worked so hard for something all year and we were right there," Gabi Butler said. "And then, all of a sudden, just everything that you worked for is basically ripped from you. You don't even have a choice. It's just kind of like, 'Well, it's not happening.'" The team had worked incredibly hard to prepare their routine for the 2020 competition, but in the end, no one got to compete at all. "It was a devastating thing for not only Navarro, but for the whole entire cheerleading community," Butler added.
Morgan Simianer explained that it was hard to accept when they first heard the news because they didn't understand a lot about the pandemic yet. "So once we learned the bigger picture, we obviously understood and everything, but it was just a little hard to deal with," she said. 
2020 marked Morgan Simianer's last time cheering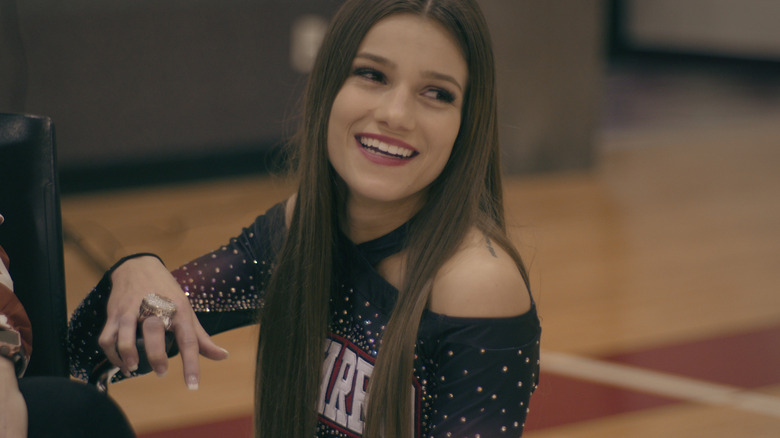 Netflix
Missing out on the 2020 competition was disappointing for everyone, but it was especially hard on teammates who were leaving Navarro after 2020. For Morgan Simianer, and several other members, 2020 was their last chance to compete with Navarro. "[For] some people, it was their last time cheering, which was for me, for example, that's when I stopped cheering. So it was a little hard to deal with my emotions leaving Navarro," Simianer told us.
But, rather than focusing on how it ended, she tries to look at the positive. "I had all the memories and all the relationships and everything that I will keep with me for the rest of my life," she said. After the 2020 competition was canceled, Simianer moved to Dallas, where she said she's "spending time working on my brand and enjoying life, spending time with my friends and family, my boyfriend, and my cat. And I'm just really excited for the future."
Gabi Butler has also now left Navarro, but she continues to cheer in Utah at Weber State University (via Weber.edu). Talking about her future plans, Butler said, "I'm going to be cheering probably for a little bit longer. I don't know how much longer, but not too much longer ... I don't know what I'm going to do throughout the years, but right now, I'm basically just doing me and cheering. Yeah, just doing my own thing."
"Cheer" Season 2 is now available to stream on Netflix.