Are Barack Obama And George W. Bush Related?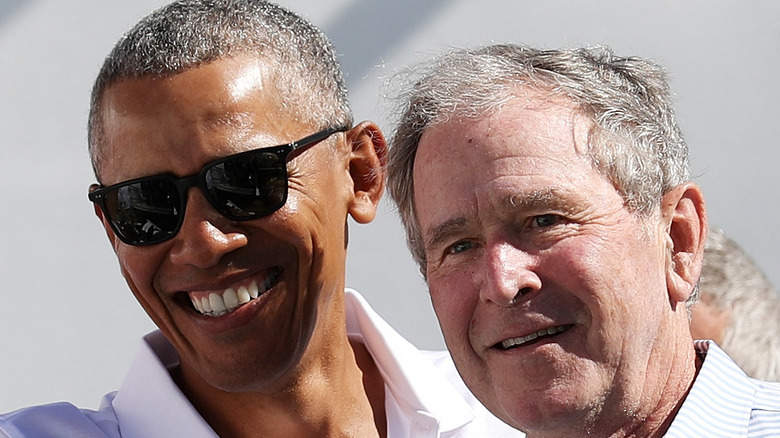 Rob Carr/Getty Images
There was a time in recent United States history where outgoing presidents were gracious to incoming presidents, traditionally leaving them notes in the Oval Office's resolute desk with a bit of advice. When former president George H.W. Bush left the White House, for example, he left his successor Bill Clinton a letter that read "Your success now is the country's success." (via CNN)
Eight years later, former president Clinton left the United States in the hands of his predecessor's son, George W. Bush, who left a similar letter to incoming president Barack Obama back in 2009, that read in part, "Very few have had the honor of knowing the responsibility you now feel. Very few know the excitement of the moment and the challenges you will face," per ABC News. 
Eventually, the Bush and Obama families even developed a friendship, and the close relationship between George W. Bush and Michelle Obama proves that leaders from opposite parties can indeed get along on a personal level, even when they can't politically. In the case of the 43rd president and the 44th president, it turns out they may even have another connection.
Barack Obama has quite a presidential lineage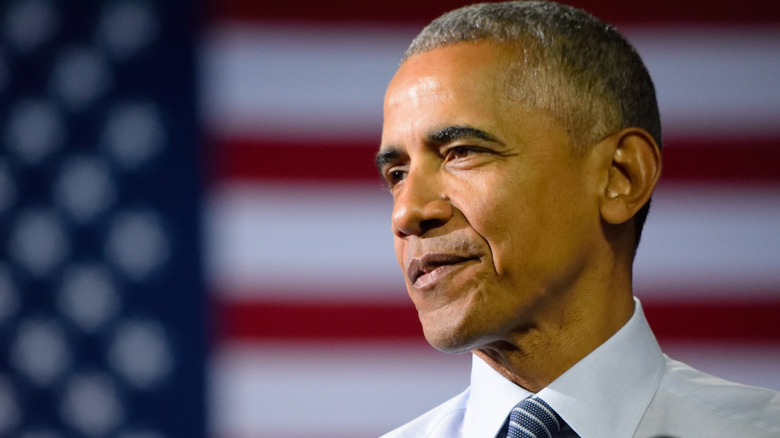 Evan El-Amin/Shutterstock
According to the New England Historic Genealogical Society (via The Guardian), an organization that can trace its own roots way back to 1845, a study conducted during Barack Obama's first campaign for the presidency while George W. Bush was closing out his second term revealed that the two men are in fact related — albeit quite distantly.
The Guardian also reported that Obama could actually trace his lineage on his mother's side to six different former presidents, including Gerald Ford, Lyndon B. Johnson, Harry Truman, James Madison, and George H.W. Bush. The study also discovered that Obama was related to the former British Prime Minister Winston Churchill and the Hollywood star Brad Pitt. 
However, as for Obama and George W. Bush, their genealogical relationship is so far removed that they barely have a genetic link, but their family histories still offer them a connection aside from them both having been U.S. presidents.