Here's Where You Can Still Buy Marilyn Monroe's Go-To Makeup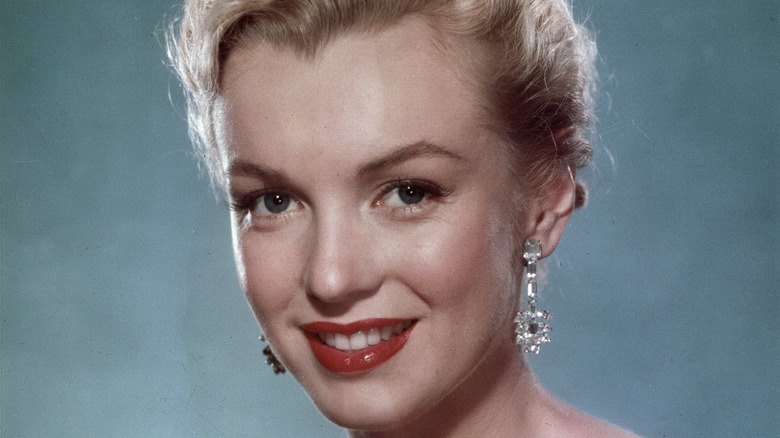 Michael Ochs Archives/Getty Images
Marilyn Monroe might have been famous for being a blonde bombshell, but the California native was much deeper than her on-screen persona portrayed her to be. After her tragic death in 1962, we learned that Monroe was actually a very lonely individual, and she often spent her time reading, cooking, and writing in the comfort of her own home. Though Monroe showed glimpses of these interests over the years, it was the more glamorous aspects of her life that made the front page of tabloid magazines across the United States.
Everyone wanted to know more about the "Some Like It Hot" actress, from what she ate to the type of makeup she wore to her skincare routine. In many ways Monroe was ahead of her time in terms of her preferences for beauty products. As W Magazine previously reported, Monroe used baby powder on her roots as an at-home dry shampoo, and she avoided sunbathing in an effort to keep her skin healthy. Monroe was also diligent about the products she used, and her go-to makeup items became her constant staples.
She would wear the exact same liquid eyeliner and her preferred nail polish whenever she wasn't working, and sometimes she'd even be permitted to wear these products while filming, too. If you've always admired Monroe's beauty and want to emulate her classic Hollywood glamor, you're in luck. You can still buy Marilyn Monroe's go-to makeup at these common locations.
You can buy Marilyn Monroe's go-to lipsticks from these retailers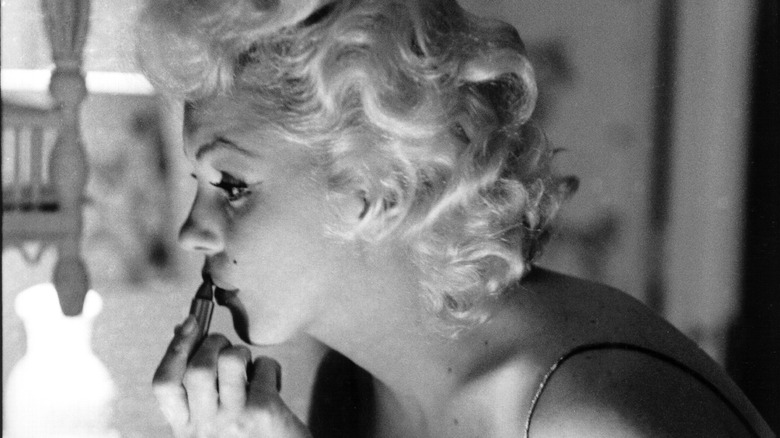 Michael Ochs Archives/Getty Images
Marilyn Monroe is famous for her cherry red lipstick, which became something of a signature look for the actress throughout her career. Though Monroe was dazzling the American public with her beauty back in the 1950s, many of her go-to makeup items can still be purchased today. TikTok creator Brittany Cale tracked down some of Monroe's most loved products and you can purchase almost all of them through common retailers or through the brand's direct website.
First up is the Rouge Kiss lipstick from Guerlain. This is almost an exact dupe for Monroe's classic Rouge Diabolique color. The original shade is no longer available, but Guerlain has assured consumers that the Rouge Kiss color is a nearly identical match. Monroe wore a gorgeous shade of coral lipstick in the film "Something's Gotta Give," and you can purchase it for yourself from Target for less than $6. The shade is Kiss Me Coral from Revlon, and as soon as you swipe it on, you'll feel like you're ready to step in front of the camera for your close-up.
Marilyn Monroe swore by this liquid eyeliner, and a specific shade of Revlon nail polish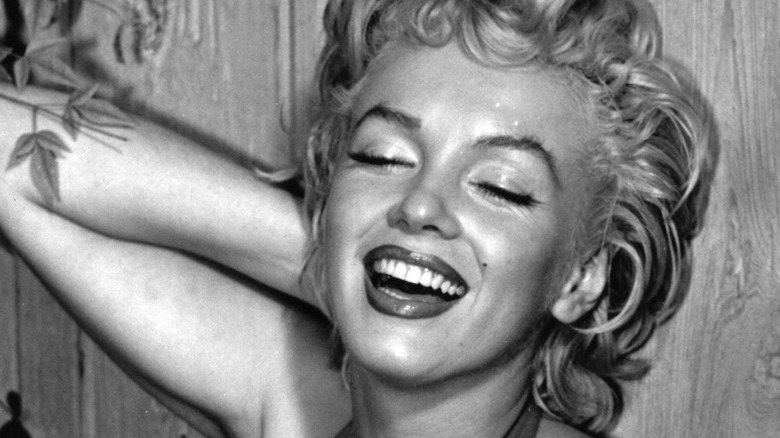 Baron/Getty Images
In addition to Marilyn Monroe's classic lipstick colors, the actress swore by Elizabeth Arden's liquid eyeliner and used the product to create her signature look. Monroe often paired the eyeliner with Helena Rubenstein's Long Lash Waterproof Mascara, so you can purchase both to really make sure you master the look yourself. In terms of Monroe's manicure, she preferred to use two different shades of Revlon nail polish: Fearless, and Cherries In The Snow.
Revlon's Cherries In The Snow and Fearless are available for purchase through Wal-Mart at affordable prices. And if you want to really embrace the classic glamor of 1950s Hollywood, you can follow in Monroe's footsteps and dab a few drops of Chanel No. 5 on your wrists. Monroe said she often wore the scent to bed, and she would even add five drops of the perfume to her ice baths to keep her skin firm (per Vogue). She was also a fan of Pond's cold cream and Vaseline to keep her skin moisturized and glowing, both of which you can buy at any retailer in your area.