Here's Why Camilla Parker Bowles' Security Arrangements Have The Internet Talking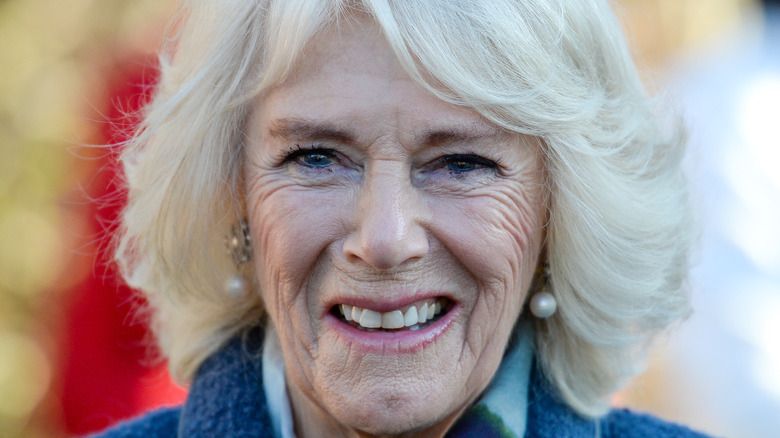 Finnbarr Webster/Getty Images
Prince Harry and Meghan Markle are stirring up controversy in the U.K. once again. This time, Harry has requested a judicial review regarding a decision that would prevent him from paying for police protection for himself and his family when they visit Great Britain. According to a statement (via People), "The Duke and Duchess of Sussex personally fund a private security team for their family, yet that security cannot replicate the necessary police protection needed while in the UK. In the absence of such protection, Prince Harry and his family are unable to return to his home."
The Duke of Sussex's offer to personally pay for his family's security during visits to the U.K. has been shot down by the British government. And according to sources, it caused security issues when Harry returned to the U.K. for the unveiling of a statue in Princess Diana's honor in July 2021. As a result, the prince is now taking legal steps to secure police protection whenever he and Meghan — as well as their two children — head to the U.K. "[Harry] remains willing to cover the cost of security, as not to impose on the British taxpayer," the statement read, adding that "others who have left public office and have an inherent threat risk receive police protection at no cost to them."
And now revelations about security arrangements made for Camilla Parker Bowles before she married Prince Charles has many people wondering why Harry has to jump through hoops for his own family's protection.
Prince Charles paid for Camilla's security before they were married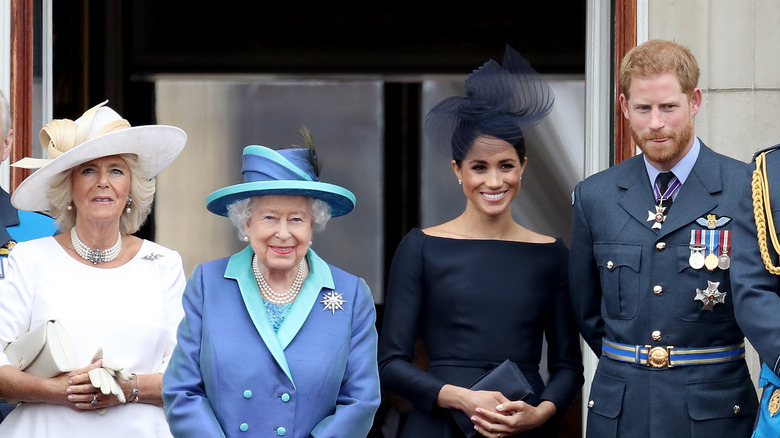 Chris Jackson/Getty Images
While the British government has denied Prince Harry's request that would allow him to pay for his family's police protection when in the U.K., reports have surfaced that Prince Charles did foot the bill for Camilla Parker Bowles' security before they were married. According to a 2002 report in The Guardian, Charles paid for her security arrangements "privately rather than as part of the royal protection budget," and a spokesman for the future king insisted at the time that "whatever the prince is providing is a private matter." The couple did not marry until 2005.
In the meantime, Prince Harry will continue to fight for his family's protection in his native country. There is no word on whether Harry and Meghan Markle will attend Queen Elizabeth's Platinum Jubilee, which is scheduled to be held in June 2022. In fact, the queen's Platinum Party will actually take place June 4, 2022–the first birthday of Harry and Meghan's daughter, Lilibet (per Pure Wow). 
But if the Duke and Duchess of Sussex don't get the security they're requesting, the chance of them showing up at any of these events is slim. "With the lack of police protection, comes too great a personal risk. Prince Harry hopes that his petition—after close to two years of pleas for security in the UK—will resolve this situation," according to a statement (per People).