Bachelor Nation's Raven Gates And Adam Gottschalk Share Happy Family News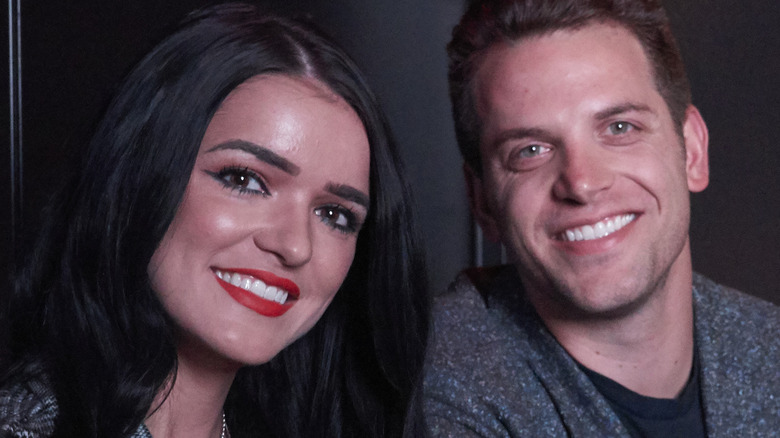 Cooper Neill/Getty Images
"Bachelor" stars Raven Gates and Adam Gottschalk have kept fans up to date on their relationship and most recently, their pregnancy journey as the couple geared up to welcome their first child. Just this week, the dad-to-be took to his Instagram Stories to walk followers through Gates' labor, including details about her getting an epidural after dilating to 3 centimeters.
"Can't wait to show you guys little baby G," he said in a video taken from the hospital parking lot. The next post said his wife had dilated to 9 centimeters and was ready to push — but then, a subsequent photo of adorable little baby feet detailed in the caption that Gates had undergone an emergency C-section (via E! Online). Gottschalk said in the caption that she'd pushed for an hour and a half but now mom and baby were doing well. "Little man made it," he said.
The post also shared the baby's birth weight of 8 pounds 6 ounces and his height of 21 inches. At time of writing, neither star had posted a photo of the little guy.
Raven and Adam were ecstatic parents to be
Gates' most recent Instagram posts showed her growing belly, and featured a picture of the reality star setting up her baby's nursery. The couple announced they were expecting via Instagram as well and couldn't contain their excitement over their happy news. "OVER THE MOON EXCITED TO SHARE THE NEWS! Our Honeymoon baby will be here in January! I've loved you before you were in my womb!" Gates captioned the announcement photos.
She also told People in July, "I've wanted to be a mom for a long time. And I always imagined creating a family with someone I love so much. And expanding my love with Adam into a human, I can't even imagine!"
For his part, Gottschalk also seemed thrilled about the prospect of becoming a dad, sharing on his social media, "Beyond excited to announce our little baby into this world."
We can't wait to keep up with baby G and the new family of three!