A Beginner's Guide To Facial Oils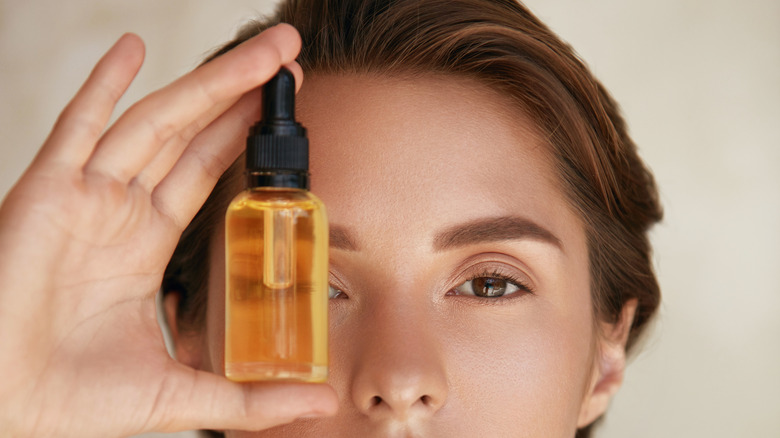 puhhha/Shutterstock
We may receive a commission on purchases made from links.
Surveying a countertop full of facial oils may leave you feeling skeptical, especially if you have never used them before. After all, the words "oily" and "greasy" aren't positive adjectives in the dictionary of beauty. But it's time to lower your raised eyebrows, as facial oil could be exactly what your skin needs. You just need to learn how to use it best for your skin type. "I don't believe there are necessarily safe versus unsafe oils when it comes to acne, because every person's skin is unique, and what works well for one person may not work well for another," says celebrity esthetician Renée Rouleau. "I believe the focus should not be on good or bad oils, but rather how they are used," (via Byrdie).
It's true, everyone's skin is different and has different breakout triggers. But Rouleau makes a good point, noting that the way a skin product (such as a facial oil) is used is just as important as what the facial product is. Do you know the popular expression "save the best for last"? Well, it applies to facial oils, too. "Oil sits on top of the skin and is best applied last in your skin care routine," says Kasey Boone, a licensed esthetician and founder of Glow Skincare LA, per The Zoe Report.
Dab facial oil on to avoid the greasy look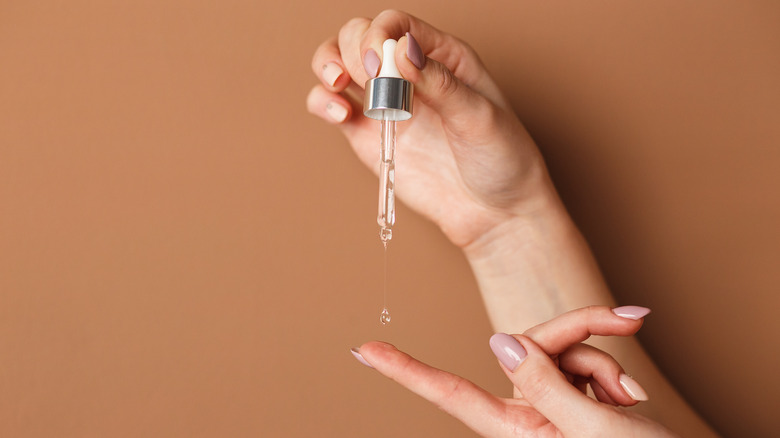 Sergey Zaykov/Shutterstock
And try not to get overwhelmed by the selection of oils out there. If you can establish what your skin type is and what skin issues you want to fix, then you're well on your way to picking the best facial oil for your needs. "There are so many oils on the market, it can be overwhelming," notes Boone. "I recommend looking for something without added fragrance and an oil to support your skin concerns," (via The Zoe Report).
If you're thinking about skipping oil because your skin is already too oily, think again. "Face oils not only attract other oils but also help prevent any environmental stressors that our skin faces from the outside world," says Airi Williams, an esthetician at Skin Gym's facial bar, per The Zoe Report. Continuing on with our application tips. Oils for our faces come in small bottles for a reason. A few drops are all you need. And instead of wiping the oil on like you would a moisturizer, it is recommended to pat or dab the oils onto your skin for faster absorption, according to Dermstore. Now that you know which type of oil to use, how to apply it, and how to avoid making your face look like a grease slick, you're ready to give your skin a subtle, not too oily glow.