Read This Before You See Tall Girl 2
This content was paid for by Netflix and created by The List.
Put on your highest heels because it's time to step back into the world of Jodi Kreyman (Ava Michelle) when "Tall Girl 2" premieres on Netflix on Friday, February 11. Following the events of the heartwarming 2019 film "Tall Girl," this sequel brings us back to the Big Easy for another round of high school hijinks — only this time, it's Jodi who rules the school from a perch of popularity as she embraces her towering frame and makes it work for her.
Not only has she finally found true romance with the adoring and adorable Jack Dunkleman (Griffin Gluck), but she's also nabbed the starring role in the spring musical production of "Bye Bye Birdie." Put simply, Jodi has got some new spring in her step as she walks tall through the same halls that used to leave her slouching, and nothing can stop her — except her own encroaching sense of self doubt, of course.
Just as things are beginning to look up for Jodi, she'll have to look inward to find out what it really means to stand tall and face her fears. So before "Tall Girl 2" arrives, let's take a look at what else you should know about this exciting new sequel.
All of your favorites are back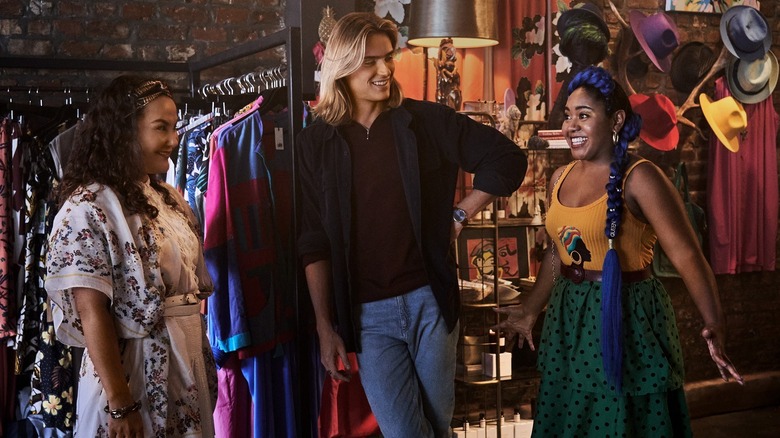 Scott Saltzman/Netflix
For starters, "Tall Girl 2" will feature the return of your screen favorites, including Ava Michelle reprising her role as Jodi, the 6 foot, 1 1⁄2 inch teen beauty who gives this tender film series its name. Throughout production on the pic, which took place in the spring of 2021 in New Orleans, Louisiana, Michelle was kind enough to share a ton of candid behind-the-scenes moments with her co-stars to give fans a taste of Jodi's bold new looks and keep the anticipation at full-tilt. In this installment of the story, Jodi will be riding high as a social butterfly — so long as she can keep that pesky inner voice of nay-saying at bay.
Additionally, "Tall Girl 2" will bring back Griffin Gluck as her doting best-friend-turned-boyfriend Jack Dunkleman, who is delighted to see Jodi shine — but also doesn't want to only exist in her shadow. Anjelika Washington will also reprise her role as the strong BFF Fareeda, while Luke Eisner will return as the hunky, but clueless Swedish exchange student Stig Mohlin. Fans will also see Sabrina Carpenter reprise her role as Harper, Jodi's "big" sister-slash-life coach, while Steve Zahn and Angela Kinsey return as their parents, Richie and Helaine. And, of course, Clara Wilsey will also be back as Kimmy Stitcher to give Jodi some more of her signature mean-girling, because, well, she's probably feeling pretty jealous about Jodi being the new "it" girl, after her mic-dropping homecoming speech in the first "Tall Girl."
A few new faces are arriving, too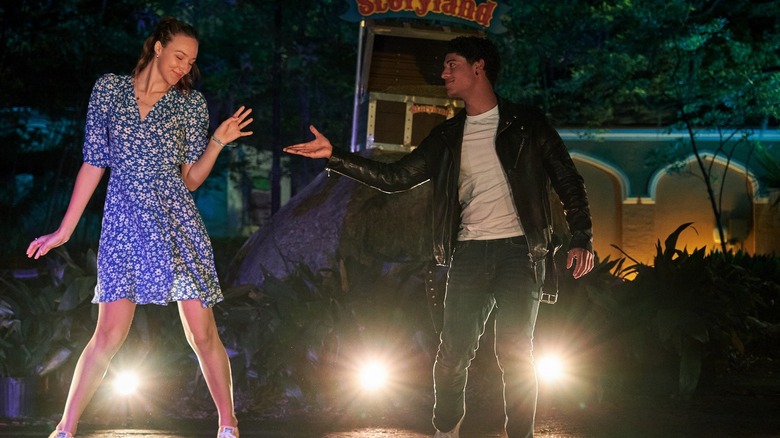 Scott Saltzman/Netflix
In addition to all the familiar faces the film will bring, there are also going to be some intriguing newcomers joining the fold, and it looks like Dunkleman is going to be displeased with both of these new arrivals — albeit, for very different reasons.
First, fans will get to meet Stig's sister, portrayed by breakout actress Johanna Liauw, who previously starred in Lifetime's "The Wrong Cheerleader Coach." While Dunkleman might not be delighted at his family bringing yet another Swedish teen into their home, Stig does kinda need the company. After all, following the events of the first film, when he proved to be both a cheater and a liar, he is not exactly in the good graces of anyone right about now.
Then, Jan Luis Castellanos also brings some new flair to the film as Tommy Torres, the handsome guy who will share the stage with Jodi in the spring musical. Although it looks like the love triangle between Jodi, Dunkleman, and Stig is no longer an issue, the introduction of Tommy might just mean three's a crowd once again in "Tall Girl 2."
There's a new visionary behind the lens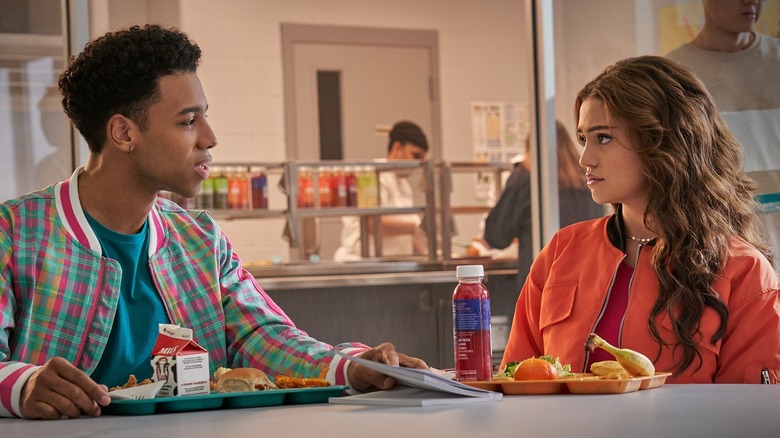 Scott Saltzman/Netflix
In addition to the new on-screen talent that will shake things up in the film, there is also an exciting new addition behind the scenes as well. Following the amazing efforts of director Nzingha Stewart (who has since been tearing it up on the small screen with her work on series like "Little Fires Everywhere," "Maid," and "Inventing Anna") on the first film, director Emily Ting takes the helm for this sequel. Ting previously directed films like "Already Tomorrow in Hong Kong" and "Go Back to China."
Ting directs the picture from a screenplay by returning screenwriter Sam Wolfson, who made a scripting debut with "Tall Girl." Meanwhile, many of the original film's producers — including the legendary McG, along with Steven Bello, Corey L. Marsh, and Mary Viola — have all returned for the sequel as well.
With such an exciting mix of returning favorites and fresh new faces, there is no doubt "Tall Girl 2" will be a picture-perfect follow-up to the 2019 film that touched our hearts when it arrives on Netflix on February 11.