Here's How The Bringing Up Bates Family Feels About The Cancellation Of Their Hit Reality Show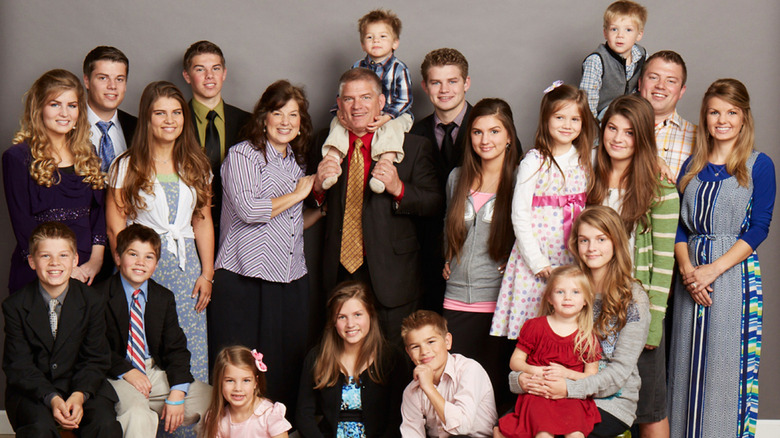 Handout/Getty Images
Before things went downhill for the Duggar family, their TLC show "19 Kids and Counting" was a great success. When the show debuted in 2008 under the name "17 Kids and Counting," it raked in an impressive 3.29 million viewers (via Variety). As the kids grew older, the show became even more successful as fans tuned in to watch them grow and have families of their own.
With such a successful product on their hands, TLC wanted to add a similar show to their arsenal. In came the Bates family, friends of the Duggar bunch. Similar to the family seen on "19 Kids and Counting," the Bates family was known for its large size and religious beliefs (via Romper). Their TLC show was called "United Bates of America." It was similar to the Duggar version, showing off their large family.
However, the TLC version of the show didn't last, only airing five episodes. That wasn't the end of their time on television. They would eventually get another show, "Bringing Up Bates" on the station UPtv. Now, news has broken that the Bates family will be leaving TV for good.
The Bates are hopeful for the future
Fans of "Bringing Up Bates" recently learned that the show would be canceled after 10 seasons (via US Weekly). UPtv released a statement about the show's future that read, "We will not be premiering 'Bringing Up Bates' season 11 on UPtv as planned as we will be focusing our programming in 2022 on movies and a new scripted series to be announced soon." It continued, "When we premiered 'Bringing Up Bates,' the series was focused on parents with 19 kids who were teenagers and young children. The cameras were there to capture the love, laughs and big life moments, as the family continued to grow. Thank you to Gil and Kelly Jo Bates for welcoming viewers into your family's home over the past ten seasons."
The Bates family, made up of patriarch Gil and matriarch Kelly (above) and their 19 children, released a statement of their own (via People). "As the next year begins, our family will be experiencing a lot of new changes. One of the biggest changes for us is that the network will be moving toward producing more scripted family shows and will not be renewing a contract to film new 'Bringing Up Bates' episodes. We realize God's timing is always perfect, and we are looking forward to what the future holds for our own family, as well as the network." Their statement was optimistic and ended with reassuring fans they would keep them up to date on their lives.