Todd And Julie Chrisley Bonded Over Something Completely Unexpected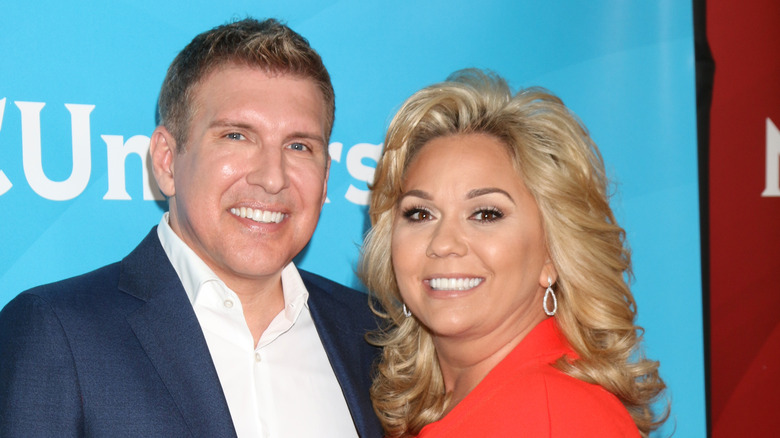 Kathy Hutchins/Shutterstock
For nearly a decade, Todd and Julie Chrisley have allowed viewers a more intimate look at what goes on behind closed doors in their Georgia home on their reality television show "Chrisley Knows Best." Though the couple appears to live a charmed life, their marriage has been the subject of quite a bit of controversy over the years. In a 2017 report, Radar Online alleged that Julie was still married to her ex-husband, Kenneth Wayne Childress, when she began dating Todd. A production source for the USA Network show had told the publication that the couple's relationship only existed in front of the cameras. "Things are very different between the two of them when the cameras are not rolling. It's like night and day." The source also disclosed that Todd and Julie "can barely even tolerate each other."
Scandals aside, Todd spoke to E! News about the secret to a healthy, long-lasting marriage (the pair have been married since 1996). "I would say the secret to any relationship, whether it be you made a decision to not get married but just cohabitate and you're together like Kurt [Russell] and Goldie [Hawn] for 113 years, I think the reason for that is commitment," said Todd Chrisley in 2016. "I think you have to be willing to get in there, roll up your sleeves, and get your hands dirty and be loyal and faithful and honest ... and [have] open communication and a lot of sex." Aside from these qualities, the Chrisleys also bonded over something unexpected.
Todd and Julie bonded over weight loss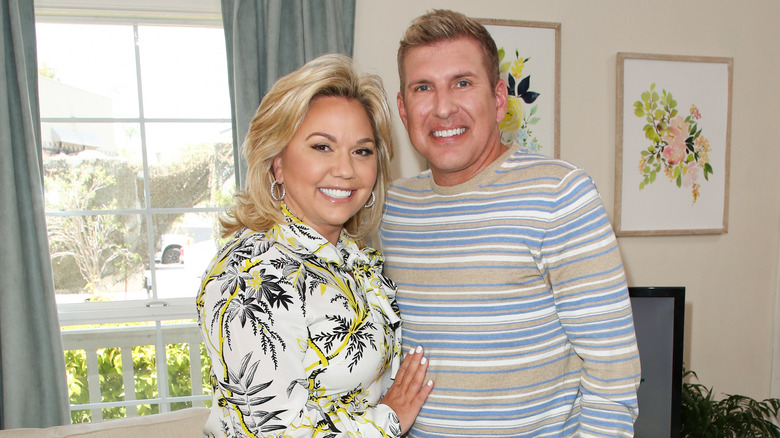 Paul Archuleta/Getty Images
During their marriage, Todd and Julie Chrisley had both gained weight as the result of separate issues. According to the Daily Mail, Todd had simply gained weight during the beginning of the COVID-19 pandemic, while Julie had gained weight as the result of menopause and other issues related to her battle with breast cancer. Though Julie had been the first one to adopt a Nutrisystem diet plan, Todd joined the weight loss journey after seeing Julie's success. "Thankfully, Julie had been on the Nutrisystem program, and I witnessed firsthand that it works," Todd told the Daily Mail. "It was great because I could jump right on board with her on the Nutrisystem Partner Plan."
Thus far, Todd has lost 13 pounds while Julie has dropped a total of 27 pounds, reports the Daily Mail. The couple revealed they have found a new way to bond as they navigate their weight loss journeys. Says Todd, "It has made us closer because it's something that we talk about. And it's kind of like a competition. Anyone that watches our show knows that the Chrisleys are hugely competitive. So, it's turned into a competition now between the two of us." Julie added, "I think Todd and I consider ourselves partners in everything we do. So to be able to incorporate Nutrisystem and be one other thing that we're partners with, I think is amazing."