Things About Sesame Street Only Adults Will Notice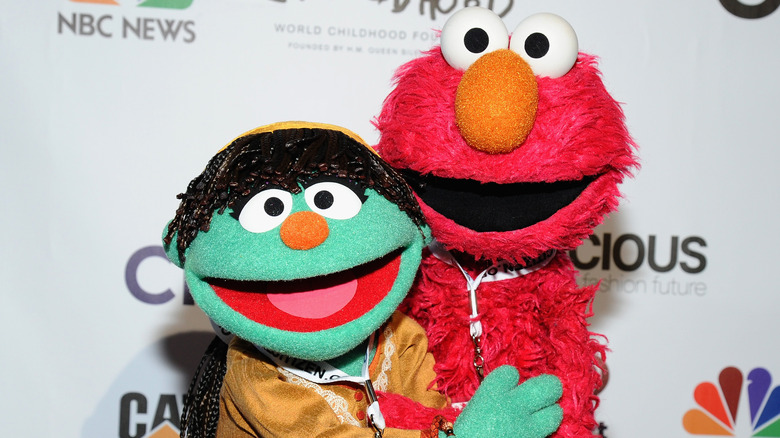 Getty Images
"Sunny day, sweepin' the clouds away, on my way to where the air is sweet..." The opening lines of the Sesame Street theme song bring me back to my childhood. The show has been a huge part of many children's lives for generations; the first episode aired just a few months after the first men walked on the moon in 1969.
Since then, Sesame Street has become an iconic show that has passed on from generation to generation. Many people who grew up watching it are now sharing the show with the younger members of their family. When you watch Sesame Street as a grown-up, hidden layers of the show are unearthed. Watching it as an adult is a completely different experience from watching it as a child.
This shout out to Fifty Shades of Grey
The last time I checked, Sesame Street was a children's show and the book and film franchise Fifty Shades of Grey most definitely was not. In fact, Fifty Shades of Grey is about as far from kid-friendly as you can get. If you don't know what the story is about, let's just say that it features a lot of the sort of content that is only aired on television well after dark and only with a subscription.
This shout out to the franchise is quick, but impossible to miss if you're over the age of 21. In the clip, Bert reads a book called Fifty Shades of Oatmeal. If you think the title might be a coincidence, Bert's reaction makes the parallel pretty clear when he exclaims "Wow! This is steamy stuff!"
Why does Elmo speak in the third person?
For young kids who have yet to learn the proper rules of grammar, the way Elmo talks is no big deal. For anyone who has had proper language skills drilled into them at school, though, Elmo's speech can be particularly grating.
According to Sesame Workshop, the nonprofit organization behind Sesame Street, Elmo speaks in the third person because he "mimics the behavior of many preschoolers." That's all well and good for Elmo, but we are not amused.
There are a lot of celebrity cameos
A lot of famous faces have popped up on Sesame Street. It's a shame that most of these celebrity cameos are wasted on the preschool crowd. Any Hamilton fan can appreciate this guest appearance by Lin-Manuel Miranda. Other special stars include the swoon-worthy Benedict Cumberbatch (with plenty of references to his role as Sherlock Holmes), Hugh Jackman, and Sir Ian McKellan. Sir Patrick Stewart even pays homage to his theater roots with a Shakespeare-style soliloquy on the letter "B."
It deals with racism
I remember Sesame Street as being an educational show that teaches kids about counting and reading, but it also deals with a lot of social issues. There's a good chance I watched this episode from the early '90s that deals with racism, but I didn't realize at the time that I was being introduced to such a serious topic. The show doesn't shy away from difficult issues and is good about phrasing them in ways that even young children can understand.
It covered 9/11 with a lot of tact
After the terrorist attacks of September 11, 2001, a lot of popular shows shied away from any topic that would recount them. Many shows set in New York City at the time quietly removed images of the World Trade Towers. Sesame Street, however, aired an episode with many references to the attacks with metaphors that wouldn't scare young children.
Rosemarie Truglio, a child psychology expert who is the Vice President of Education and Research for the show, told the website Muppet Central, "It was a devastating time for all of us. We felt we needed to do something in response to 9/11, but we knew we had to be very careful, because our viewers are so young, and parents are returning to educational programming as a safe haven for kids."
Bert and Ernie are totally a couple
Okay, the rumor that Bert and Ernie are more than just platonic roommates has been debunked, but they really do give off some pretty serious couple vibes. How cute are they in this clip where they give Bert's nephew a bath? It's no wonder that thousands of their fans are rooting for them to get married.  
People have speculated for years that there's more to the roommates than meets the eye, but it seems that adults read a lot more into Bert and Ernie than kids do. According to The Independent, Sesame Street Workshop's Gary Knell said, "They are not gay, they are not straight, they are puppets.They don't exist below the waist."
While Bert and Ernie might not get a happily ever after, Sesame Street has made its support of the LGBTQ community clear. The show has stated that it celebrates all families, tweeting an homage to the rainbow flag during Pride Month.
One of the characters has autism
Early in 2017, the show introduced a new character named Julia who has autism. While adults watching the show realize just how significant the addition of someone with autism is, children will see Julia as just another character — and that's the entire point. On the show it is explained that, while Julia sometimes acts a little differently, she still has a lot in common with the other characters and they can all be friends. Sherrie Westin of the Sesame Workshop told the Guardian that Julia was brought onto the show to "help explain autism and to help increase awareness and understanding."
"We wanted to address autism in general because of the growing number of children who are diagnosed with autism spectrum disorder," she said. "We felt that creating a character who was autistic would allow children to identify her but equally important, it would allow us to model for all children the differences and commonalities of a child with autism."
The show is pretty great at parodies
If you appreciate a good parody, you need to check out some of Sesame Street's offerings. The show does not hold back, releasing their takes on everything from Harry Potter to Game of Thrones. Hopefully, today's kids will revisit these shows when they grow up so that they can fully appreciate the hilarity of Sesame Street characters parodying adult hits like Mad Men and Downton Abbey, where, in a literal take on the title, everyone is upside-down. One of the most memorable of these parodies features the puppet version of Donald Trump: Donald Grump.
There are a lot of musical numbers
I definitely did not appreciate the music of Sesame Street when I was a kid. Some of these songs have become classics, such as "C is for Cookie" and "Rubber Duckie."
Some of the best songs on the show, though, are based off of hit songs such as Cookie Monster's take on the 1983 hit from The Weather Girls, "It's Raining Men." In Cookie Monster's version, it's raining cookies, because what else would he sing about?
The show even released its own version of the viral hit "Pen-Pineapple-Pen" from Japanese comedian Pikotaro. The song, "Cookie-Butter-Choco-Cookie" was aired in Japan, but thanks to YouTube, international audiences can also enjoy it.
The show helps kids through tough times
Sesame Street helps to explain some of the harsh realities of the world in ways that kids can understand. One of the most compelling episodes is one in which Elmo has to learn how to grieve the death of a loved one. Other difficult situations faced by the characters of Sesame Street include a parent who is incarcerated and one who has been deployed.
Sesame Street does a lot to reach out to these kids, and it goes way beyond storylines on the show. Sesame Workshop provides resources for children who are going through these situations through Talk, Listen, Connect, a multiphase outreach initiative to help kids through deployments, combat-related injuries, and the death of a loved one." The program provides videos and books to "guide families through these tough transitions by showing how real families — as well as furry monsters — deal with similar circumstances."
Can you tell me how to get to Sesame Street?
It's no wonder that Sesame Street has become such a beloved show of children all over the world. It's wholesome entertainment at its best, and includes a lot of stuff for adults to enjoy as they watch the show with their kids. The next time you find yourself stressed out by the challenges of the grown-up world, try taking a trip down memory lane and take a turn onto Sesame Street; it really is the perfect escape.