Why Connor Saeli Thinks People Stopped Watching The Bachelor - Exclusive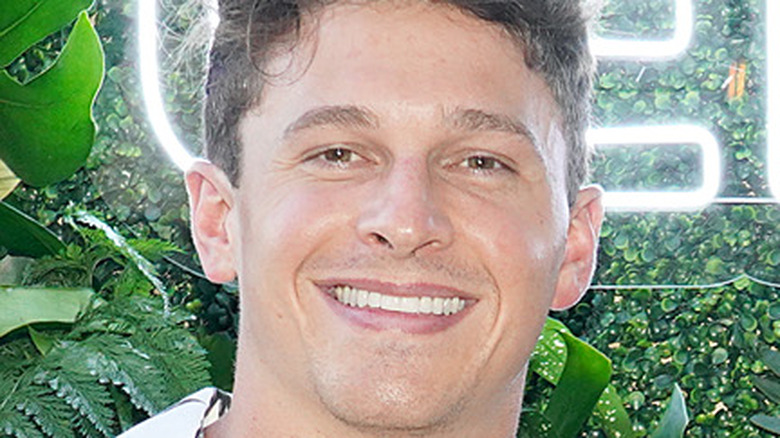 Romain Maurice/Getty Images
The COVID-19 pandemic has led many around the world to bingeing reality television series, and as such, many are being introduced to some of the greatest "Bachelor" and "Bachelorette" contestants. With so many seasons under the franchise's belt, it can be hard for one to stand out, but one such standout contestant that old and new fans alike are loving is none other than Connor Saeli, the Season 15 contestant from "The Bachelorette" who later went on to star on "Bachelor in Paradise." 
Following his television success, Saeli has launched a new company called Waterboy with his friend and business partner Mike Xhaho. Waterboy is a line of hydration powder packets meant to bring one back to life after a drunken night out (or in). This hangover cure comes in several flavors, including strawberry lemonade and lemon lime, and can be ordered directly from Waterboy's website.
We at The List were lucky enough to sit down and chat with Saeli recently, and he dished not only on Waterboy, but also on all things "Bachelor" related. He told us his thoughts on "The Bachelor" franchise's new hosts, when he met Xhaho, and, interestingly, why he thinks some people stopped watching "The Bachelor" series.
Connor Saeli believes the franchise's formula may be stale
Watching oneself on television can't always be easy, and "The Bachelorette" star Connor Saeli is no different. When talking with Saeli, he mentioned not only how he felt about watching himself, but also his thoughts on why some people may have stopped watching the franchise's shows. "Interestingly enough, there's a weird thing when you go on the show, maybe this is just me, but I almost find it traumatic to watch it," Saeli said. When he did watch it, Saeli admitted he "had to watch it alone" because he "couldn't bear to watch it with anyone else."
According to Saeli, his own experience on "The Bachelorette" has opened his eyes as to why viewership could be down for the franchise. "So there's a different perspective now [after being on the show], but I feel like when I watch it, it's like I just don't believe in the story anymore," he said. "And I don't know what the reason for that is, but I feel like you can see that's why a lot of viewership has gone down a lot over the last couple of years. And I think it's just ... I don't know what the reason is, but it seems like very predictable sometimes, like what's going to happen."
This is an issue with all reality television series, especially when they're on the air for so long. "There's the virgin, the villain ... Everyone talks about how they don't get enough time the first night," Saeli added. "It's just the same stuff. I don't know what it is. It's tough to find different things to do."
So, what do you think about "The Bachelor" franchise's viewership and formula?
Waterboy products are available for purchase online at Waterboy.com.