The Heartbreaking Death Of Seinfeld Actor Kathryn Kates
On Saturday, January 22, Kathryn Kates, known for her roles in "Seinfeld," died at the age of 73. Survivors include her sister, Mallory, and her brother, Joshua.
According to Erica Bines of Headline Talent Agency, who spoke with People, the actress' death came "after a hard-fought battle with lung cancer," and a memorial will be held in the spring. Her manager, Bob McGowan, shared that "the entire time she was sick, she never complained." He continued, saying, "My heart is broken ... She was the best."
Over the years, Kates appeared in a number of popular television shows, including "Orange Is the New Black," "Law & Order: SVU," "Matlock," "Lizzie McGuire," and "Friends from College," with acting credits dating back to 1982. Last year, she was also in "The Many Saints of Newark," a prequel film to "The Sopranos," and her last project listed out on IMDb is "Maybe There's a Tree."
Kathryn Kates played a counter woman in two episodes of Seinfeld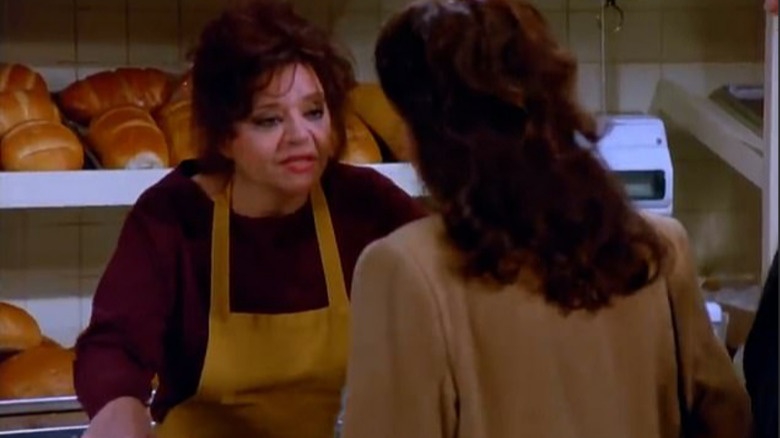 NBC
Of course, Kathryn Kates was in two memorable episodes of "Seinfeld," playing a counter woman in an episode titled "The Dinner Party" from 1994, followed by one called "The Rye" in 1996. While Kates' Instagram account was only made up of 20 posts, there was one dedicated to the babka in "The Dinner Party."
The last post on her account came the day after she died, and it featured a video of her reciting a sonnet. The caption said, "Do not stand at my grave and weep, I am not there. I do not sleep. I am a thousand winds that blow. I am the diamond glints on snow. I am the sunlight on ripened grain. I am the gentle autumn rain ... Keep me alive in your beautiful hearts with unforgettable memories. Teach others what you've learned from me, and I will live in forever."