Jen Psaki Finally Addresses Joe Biden's Hot Mic Moment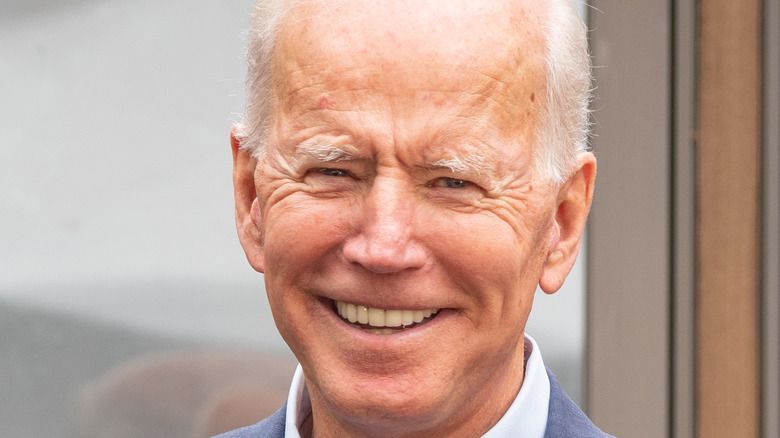 John M Poltrack/Shutterstock
Even the President of the United States sometimes loses his cool. At the end of a White House press event–as journalists were being escorted out of the room–Fox News reporter Peter Doocy called out, "Do you think inflation is a political liability in the midterms?" President Joe Biden ignored the question, but was caught on a hot microphone saying in a low voice, "That's a great asset — more inflation. What a stupid son of a b—h" (per Yahoo! News)
Doocy became the White House correspondent for Fox News in 2021 and has built a reputation for hounding Biden with questions on inflation, immigration, and crime. "Doocy's line of questioning fits neatly into the messaging pushed by Fox's conservative newscasts and propagandistic prime-time shows," Oliver Darcy, senior media reporter at CNN, told Politico. "If you want to predict what he will ask, take a listen to what the hot-button issues are on Tucker Carlson or Sean Hannity's shows. That would likely be a good indicator."
As for this latest incident, Doocy revealed that Biden had called him to apologize. "He said, 'It's nothing personal, pal,'" Doocy explained (per the Independent). "And we went back and forth, and we were talking about just kind of moving forward, and I made sure to tell him that I'm always gonna try to ask something different than what everybody else is asking. And he said, 'You got to.' And that's a quote from the president, so I'll keep doing it."
Jen Psaki confirmed President Biden apologized to Peter Doocy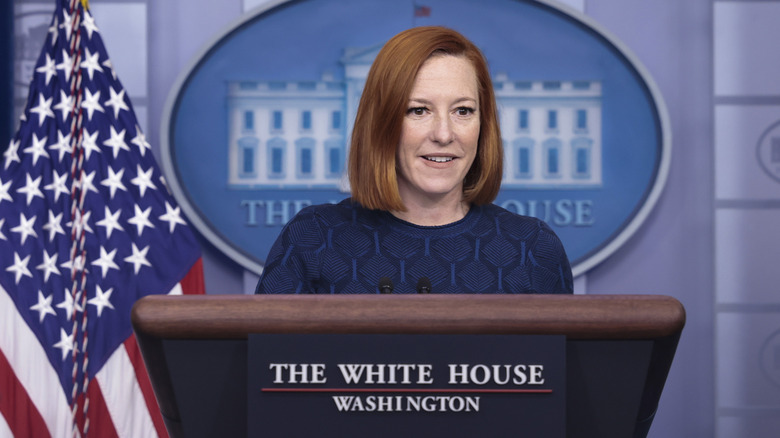 Anna Moneymaker/Getty Images
Jen Psaki addressed President Joe Biden's "hot mic" moment with Fox New Correspondent Peter Doocy. During a White House press briefing, Psaki explained that "The president called him, he conveyed to him that it was 'nothing personal, man' and also acknowledged that all of you are going to ask him a range of questions. So I think that speaks for itself" (via the Independent). She went on to ask Doocy to confirm the exchange, and he replied: "Can confirm, [as a] person familiar."
While Psaki and Doocy have clashed at times, the White House press secretary does have respect for the reporter. "You know I would say that people don't see this every day, but we fully recognize Peter Doocy as — and many reporters, right? They are doing their jobs and working on behalf of the media organizations they represent and asking, sometimes they're questions that are tough. Sometimes they have a slant to them," she told Mediate.  "But my engagement with him, people don't always see this, but outside the briefing room, it is entirely professional and entirely, hopefully, responsive," adding that "there's a performative component from the TV side of the briefing room."