Candace Owens' Reaction To Minnie Mouse's New Look Has Twitter In A Tizzy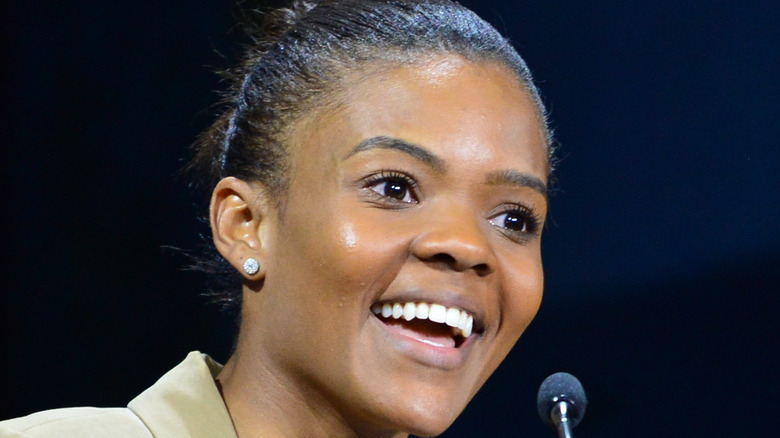 Jo Bouroch/Shutterstock
2022 marks the 30th anniversary of Disneyland Paris, the European branch of the revered California theme park. To celebrate, the park is rolling out new decorations, light shows, performances, refreshments, and souvenirs. It's also debuting a brand-new look for a classic Disney character, and this isn't sitting well with Candace Owens.
In honor of the milestone anniversary, Disney asked designer Stella McCartney to create a new outfit for Minnie Mouse. She swapped Minnie's usual red polka-dot dress and yellow heels for a chic dark-blue polka-dotted pantsuit (with a hair bow to match, bien sûr) and black boots. In a statement, McCartney talked about her lifelong love for the famous mouse and added, "What I love about Minnie is the fact that she embodies happiness, self-expression, authenticity and that she inspires people of all ages around the world. Plus, she has such great style!" (via People)
This seems to be just one of the different outfits Mickey's girlfriend will be sporting in Paris. The entire Mickey gang will also be appearing in special iridescent pastel costumes that match some of the décor throughout the park. Nonetheless, the removal of Minnie's traditional gear has Owens crying "cancel culture." In an interview with Fox News' Jesse Watters (seen here in this Twitter post), the conservative host compared the "masculine" costume change to the recent redesign of the M&Ms female Green character to make her look less "sexy" (via CBS News). 
Twitter says Minnie's look is no big deal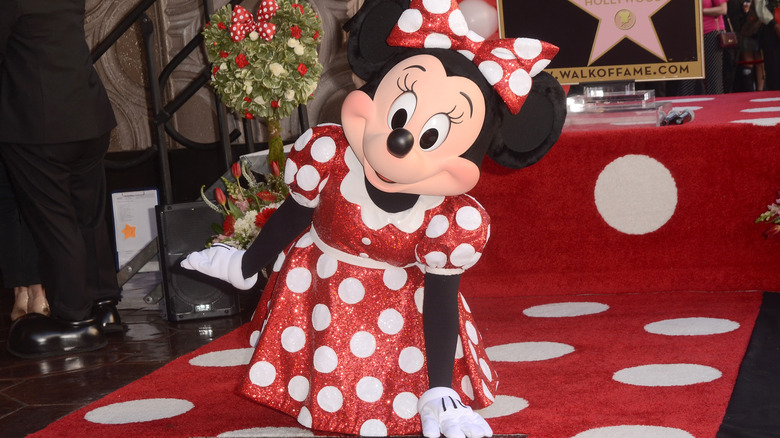 Kathy Hutchins/Shutterstock
Candace Owens then suggested that Disney had caved to some public call to give Minnie a gender-neutral image. Vaguely referencing the liberal media, Owens said, "They're taking all of these things that nobody was offended by ... because they're bored, they're trying to destroy fabrics [sic] of our society." She then accused the left of trying to distract the public from more serious issues such as inflation and supply chain shortages.
Her outrage left the Twitterverse baffled and amused. One commenter pointed out, "Minnie Mouse has many different designs in a variety of Disney-related merchandise and themed events. She wears suits in the Disney cruise line instead of her usual polka dot outfit. Candace and her angry friends are raging over absolutely nothing." A number of users noted the irony of the news station making an issue of Minnie's clothes while simultaneously saying there are more important news items to worry about. And one posted a photo of Owens herself wearing a tailored pantsuit.
Then there was the follower who suggested, "Candace Owens is just mad that Minnie Mouse is wearing Stella McCartney while she's still shopping at Ann Taylor Loft."
Maybe Owens would be relieved to know that Minnie's new look seems to be limited to the Paris park. Recent posts on the official Disney Parks Instagram page include a new line of red-and-white Minnie-themed merch, and a "Totally Minnie Mouse" celebration at Tokyo Disneyland with not a single pantsuit in sight.