Adele Fans Are Worried She Might Give Up Her Las Vegas Gig Altogether
In late 2021, with fans going gaga over her new music, British singer and powerhouse performer Adele announced that she was planning a residency in Vegas (via BBC). The plan was for Adele to perform a "Weekends With" series, appearing every Friday and Saturday night at the Colosseum theatre at Caesars Palace Hotel from January 21 through April 16, taking one week off in February.
At the time, it seemed the perfect way for Adele's throngs of American fans to see their beloved singer perform. The likes of Britney Spears, Sir Elton John, and Celine Dion have also held residencies at the 4,300-seat theater, so this arrangement certainly hammered home Adele's identity as a bonafide superstar. 
Unfortunately, however, things did not go according to plan. Last week, just a week or so before the scheduled opening night of her residency, the star tearfully announced via her social media channels that her show "just ain't ready" (via The Daily Mail).  
Rumors are flying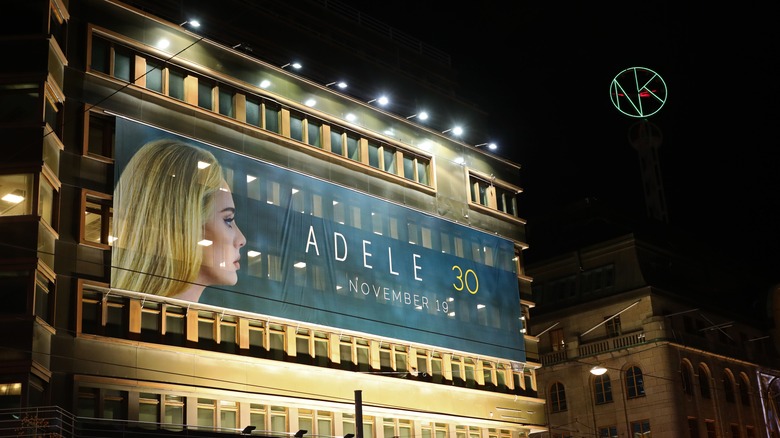 Jeppe Gustafsson/Shutterstock
Here are the facts that we do know: as of now, country music superstar and husband of Nicole Kidman, Keith Urban, is now slated to performing weekends at Caesars Palace in late March and early April, dates originally given to Adele (via Daily Mail). Adele herself has officially given a reason for her cancelled show, posting on her social media that half of her crew had been out of work with COVID, and that were were "delivery issues" with regard to needed supplies. While she originally promised her dates would be rescheduled, fans have noticed that with the scheduled lineup at Caesars Palace, it seems unlikely there would be space for her to reclaim her residency at that venue until 2023. 
Further, rumors have been flying that the real reason for the cancellation might be artistic differences between Adele and her set designer Esmeralda Devlin. Adele's set was spotted being carried out and removed from the venue in pieces, leaving many to fear the show has been fully cancelled, not just postponed until a later date. It looks like all fans can do is wait and hope for good news.