Inside Iman Shumpert And Teyana Taylor's Atlanta Home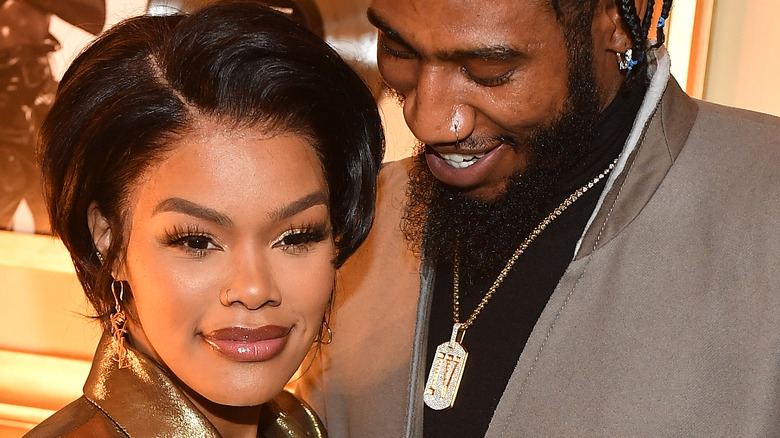 Paras Griffin/Getty Images
Whether you know them as basketball player and WAG or as the stars of E!'s "We Got Love Teyana & Iman", there's no denying Iman Shumpert and Teyana Taylor are soulmates. The pair first began their relationship as friends, when they met back in 2014. 
In an interview on "The Wendy Williams Show," Taylor revealed, "I did not like [Shumpert] at first because when I first met him, he had just got drafted. He was young and doing a lot. I was at a party. He was drunk and had his shirt off. It was just too much going on, baby" (via YouTube). Luckily, she and Shumpert couldn't deny their attraction toward one another and the friendship soon turned romantic. 
The couple eventually tied the knot in 2015, in the exact same bathroom that their first child was born! "We just wanted it for good luck before we did the big wedding," Taylor insisted (via POPSUGAR). "It wasn't like inside the bathroom. We had like little cute double doors. It still looked cute."
Now, over 5 years, one marriage and two kids later, the "it" couple has left L.A. in favor of their dream Atlanta home, and we've got all the deets!
Taylor and Shumpert left their L.A. contemporary home in favor of an Atlanta pop-art estate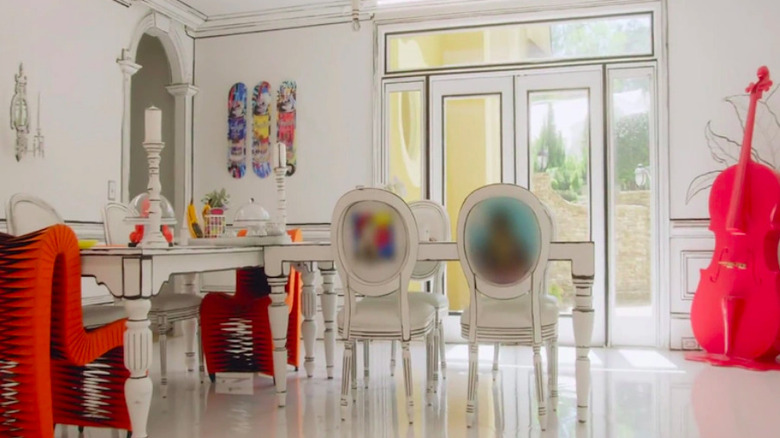 In 2020, the singer-songwriter and Brooklyn Nets baller moved from their chic, contemporary Studio City mansion into their dream Atlanta home (via E! Online). And while the mansion may seem like your typical expensive estate on the outside, the interior is a labyrinth of pop-art decor.
The fantasy-inspired home was designed by Taylor with the help of a few local Atlanta artists. To tackle the kitchen, living room and dining room, Taylor called upon Atlanta-based painter, Pashlima. From the wall molding to the candelabras to the light switches, Pashlima created a perfect a 2-D design that gives the illusion of a drawing come to life. The painter posted a photo on Instagram of Taylor and Shumpert's home with the caption, "Had an amazing 2 days executing this living room project commissioned by @teyanataylor and @imanshumpert!! Huge thanks to the team I was a part of... love y'all!" Pashlima credits fellow Atlanta artists Marti Wanzer of Avant Garbage, Mary-Kate (MK) Wightman, and Nick Sheridan for helping to make Taylor's dream become a reality. 
Wightman also posted her support of Taylor's unique home on Instagram with the caption, "Such a pleasure bringing @teyanataylor's vision of a 2-Dimensional dining room to life!" Taylor responded with gratitude citing, "I've been planning this room for so longgggg" (via E! Online).
Taylor was inspired by her favorite childhood movies when designing her new home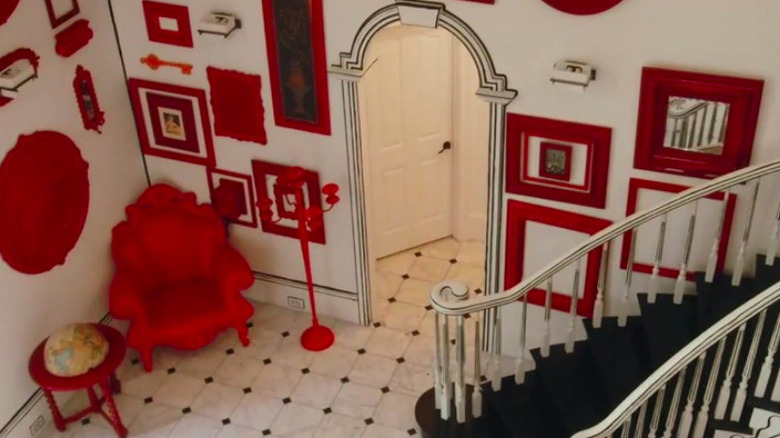 Taylor chose to decorate her massive estate with a variety of eclectic artwork including painted skateboards, Roman-inspired busts and multiple BE@rBRICK statues. "I'm an aesthetic person. We want everything to look like a certain way," Taylor explained in the first episode of "We Got Love" (via E! Online). 
For Taylor and her NBA champion hubby, it was important that their home include cohesive design elements. Therefore, much of the interior needed to be specially commissioned by local artists, including this "Alice in Wonderland" inspired foyer. "I've always loved movies and also cartoons, so this is something that really represents me," Teyana gushed to E! Online. "There's definitely still a lot more work to be done, but it feels good to finally be able to have just one place to call home."
In addition to the 2-D design elements, Taylor and Shumpert's new home also includes cerulean blue and rust orange accents, full-wall bookcases and a "Willy Wonka"-esque tube elevator. Who says being an adult means we have to grow up?