How Zahara Jolie-Pitt Inspired Her Family's Humanitarian Work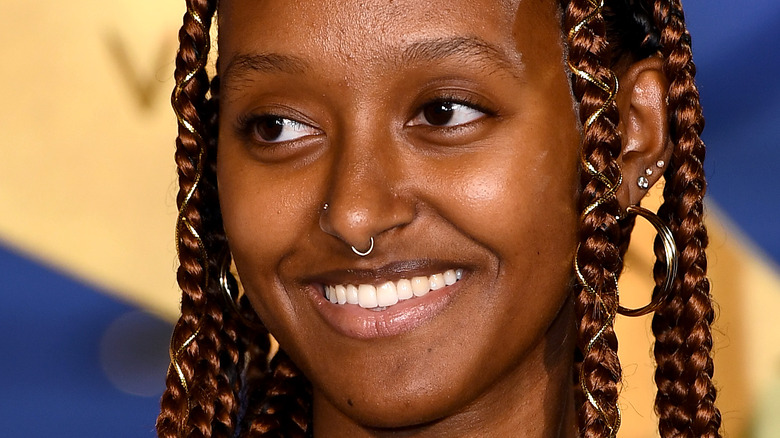 Dave J Hogan/Getty Images
Angelina Jolie and Brad Pitt adopted six children throughout the course of their marriage. The kids have grown up and gone on to do great things, but they also inspired many great things as well. Jolie and Pitt have channeled much of their energy and resources into philanthropy and their children have been the reason behind much of it. Let's take a look at how Zahara Jolie-Pitt inspired her family's humanitarian work. 
Jolie-Pitt was born on January 8, 2005, in Awasa, Ethiopia, and her mother reportedly left her after she became sick with salmonella and suffered from malnourishment, per Hollywood Life. Jolie adopted Zahara when she was just six months old and raised her as on of her own in the U.S., per People. She was the first child Jolie adopted and Pitt went on to adopt her as well. Since coming into her own, Zahara has gone on to attend red carpet Hollywood premieres and launch her own jewelry collection, but perhaps her biggest accomplishment is the ripple effect that her adoption has had through her family and her home country of Ethiopia. 
When Zahara was four, the Jolie-Pitt Foundation launched the Zahara Programme. The humanitarian program, named after Zahara, partners with local health authorities to help those suffering from drug-resistant tuberculosis in Ethopia, per Vizaca. The Zahara Programme has lasted over a decade, and there is also a Zahara Centre located outside of Addis Ababa, Ethiopia that furthers the work of the foundation.  
Angelina Jolie and Brad Pitt's humanitarian efforts inspired by their children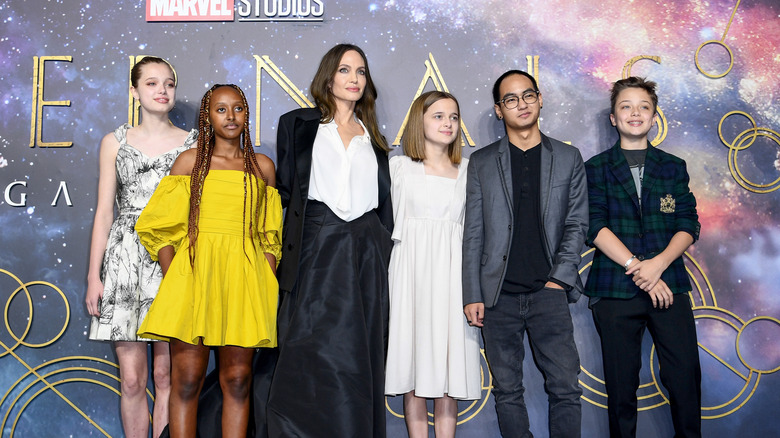 Gareth Cattermole/Getty Images
At the same time that Angelina Jolie adopted Zahara Jolie-Pitt, she also adopted her older adoptive brother Maddox Jolie-Pitt from Cambodia. Maddox was born on August 5, 2000 and named "Rath Vibol," but Jolie, who was married to Billy Bob Thornton at the time, changed his name to Maddox Chivan Jolie once she adopted him, per Vizaca. Brad Pitt officially adopted Maddox in 2006 and his last name was hyphenated, per Us Weekly. A source close to Jolie told Daily Mail that the proud mom chose Maddox because he "touched her heart" and "smiled at her" when she was visiting his orphanage. 
Much like his sister, Vizaca reports that Maddox inspired his parents to give back as well. In Cambodia's capital, Phnom Penh, Jolie and Pitt launched The Maddox Chivan Children's Centre, named after their son. Also similar to the Zahara Programme, The Maddox Chivan Children's Centre provides health support to the area. However, this program supports children dealing with HIV or AIDS instead of tuberculosis. 
Now, Maddox has grown into adulthood, but continues to inspire his mother. In a 2019 interview with Entertainment Tonight, Jolie talked about Maddox leaving for college, saying "I just sent one off... I'm so proud of him." She continued, "I'm so excited, I feel like my world expands as their world expands. I learn so much from them and I love this stage." Even as their children go on to build lives of their own, the impact that they have had on their parents and the humanitarian efforts that they inspired remain. That's one heck of a legacy to leave behind.