Alyssa Scott Has Something To Say About Nick Cannon's Latest Baby Announcement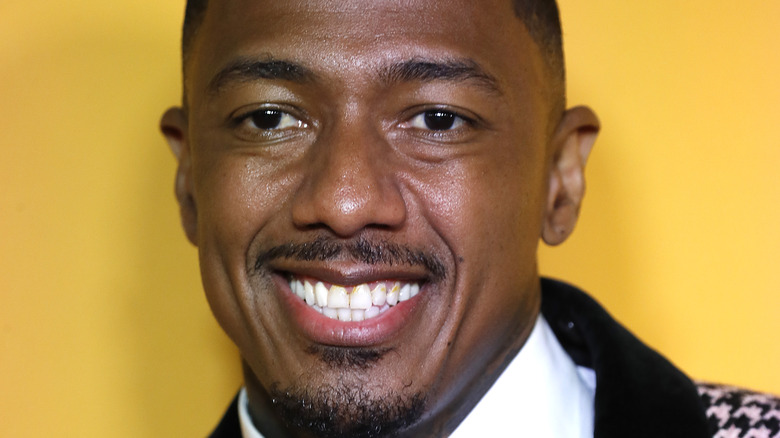 John Lamparski/Getty Images
It has been an emotional two months for TV host, actor, and musician Nick Cannon. In December 2021, he revealed that his youngest child had died from brain cancer. Zen Scott Cannon was the 5-month-old son he shared with model Alyssa Scott, whom Cannon praised when announcing the news to the audience of his talk show (via Youtube). "Alyssa was the strongest woman I've ever seen," he said. "We never had an argument. She was emotional when she needed to be but always was the best mom and continues to be the best mom." 
On January 31, 2022, the "Nick Cannon Show" host made a happier reveal when he confirmed he and model Bre Tiesi are expecting a son, who will be Cannon's eighth child, per People. His announcement came after outlets such as Page Six questioned whether he was an expectant father again. On January 29, 2022, Cannon was photographed with Tiesi at a gender reveal party — something Cannon admitted threw him for a curve, admitting "that wasn't planned to talk about." 
According to Page Six, Cannon fathered four children with three different women in one year, including Scott. He also shares 10-year-old twins with his ex-wife Mariah Carey, a 4-year-old and 1-year-old with Brittany Bell, and 7-month-old twins with Abby De La Rosa. He told Entertainment Tonight in September 2021 that he planned to practice celibacy at the advice of his therapist — something he obviously failed at.
Alyssa Scott responded to Nick Cannon's announcement
Shortly after Nick Cannon announced he was expecting his eighth child with Bre Tiesi, Alyssa Scott posted a lengthy message to Instagram thanking everyone "who has messaged or thought of me over the course of these last few months." In remembering the late son she and Cannon had shared, she noted that 5-month-old Zen had "expanded my heart in ways I never thought possible." She continued, "It is painful having my son be a part of conversations that aren't in alignment with his light and legacy. It isn't something I chose for him or myself."
The message seemed to come in response to Cannon's "Pic of the Day" segment on his talk show, in which he shared an image from the gender reveal party (via Youtube). During the segment, Cannon said he knew about Tiesi's pregnancy before Zen's passing, and he struggled with knowing when the right time was to share the news. "I always talk about the guilt I feel from losing Zen." He continued, "Guilt for everyone involved ... I definitely wanted to respect the grieving process with Alyssa, and Bre was respectful enough, she held off on making her announcements."
Meanwhile, Scott reassured her Instagram followers that she's "at peace," adding, "I look at everyone's predicament with loving eyes. I will not judge. I will consciously decide what I will participate in. I am surrounded by love. God, my mom, dad, sister, brother, and daughter continue to carry me."