The Best Face Mask Hacks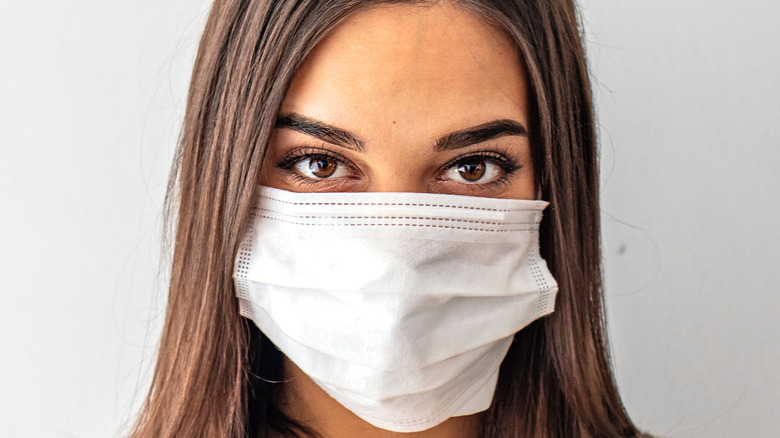 Dragana Gordic/Shutterstock
The COVID-19 pandemic rocked everyone's world in big ways, but it also changed the smaller details of life, including wearing face masks when out or generally around others. The purpose of wearing a face mask is to create an extra barrier between you and others so that the particles — and potentially the virus — in your exhaled breath doesn't spread to others, according to the CDC. Likewise, masks may help you stay safe from inhaling the virus, too. Wearing a face mask quickly proved controversial when the pandemic began and has remained so, but there is still just one way to properly wear your face mask.
The type of mask you wear can affect how well you're being protected from the coronavirus, and it's important to understand when it's time to replace your masks, too. Still, one of the biggest struggles with masks is how they fit on your face. It can be hard to wear them if you wear glasses, for example, especially depending on the kind of mask you have. Because of this, we've rounded up some of the best face mask hacks to keep you safe and comfortable for the rest of the pandemic (though we hope you won't need to use these for too long).
This is how to not fog up your glasses when wearing a mask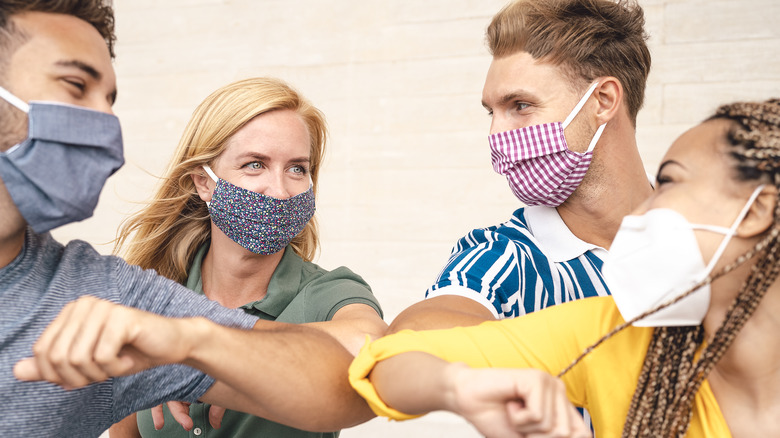 AlessandroBiascioli/Shutterstock
The first thing you can do is try to find face masks that are the most comfortable for you. Certain drugstore masks feel high-end despite their affordable prices, so this might be a nice place to begin your search. Double masking may help protect you, too, especially with cloth masks, so investing in comfortable ones will ensure you wear them!
According to E! News, the key to being comfortable may simply lie in extender straps. These attach to your masks and allow you to better fit them to your face. E! even notes that they prevent your makeup from smudging. A win-win in our book! Similarly, the publication recommends investing in face-protective mask liners. These most notably prevent you from developing maskne, so your skincare routine isn't for naught.
If you don't want to purchase extender straps, BestLife recommends tying the ear loops on your mask to better fit your face. This is a free way to make your masks more comfortable, and if they're tighter, you're better protected. For extra protection, make a filter for your mask out of coffee filters or similar materials. Once inserted, it's an extra layer of protection between you and the virus. Change these out every now and then to ensure you're properly protected.
Finally, for everyone with glasses, this one's for you. According to BestLife, you can take a single drop of dish soap and rub it onto both sides of your glasses. Then, once rinsed off, an invisible shield will be present on your glasses, causing them to not fog up for a while. Who knew?