Jason Ritter On His Surprise Reappearance In Raising Dion Season 2 - Exclusive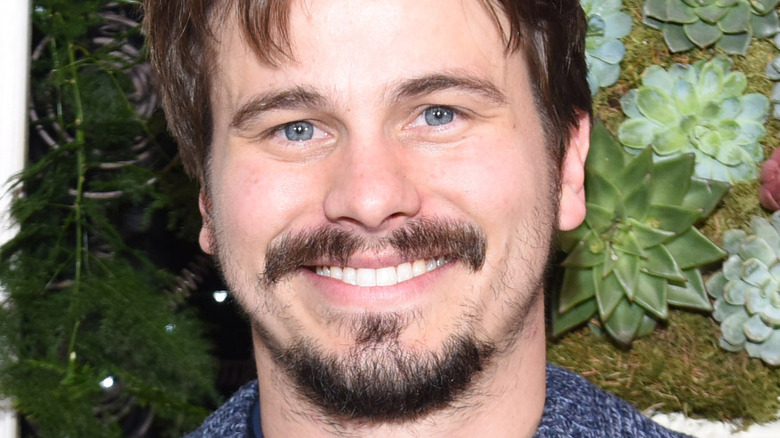 Vivien Killilea/Getty Images
Jason Ritter is a familiar face to TV viewers, with a roster of acting credits extending back to the early 1990s. The son of beloved "Three's Company" star John Ritter, he followed in his dad's footsteps to establish himself as an actor in his own right, with memorable roles in such TV series as "Joan of Arcadia," "Parenthood," "Girls," and "A Million Little Things." 
Now, Ritter is back for the long-awaited second season of "Raising Dion," the hit Netflix drama about a single mom (Alisha Wainwright) who discovers her young son Dion (Ja'Siah Young) possesses extraordinary superpowers. A revelation surrounding the death of her husband (Michael B. Jordan) leads her and her son down a perilous path; luckily, she has the assistance of Pat Rollins (Ritter), her late husband's best friend, who serves as a sounding board to her and mentor to Dion until a shocking twist reveals Pat is not even close to who they thought he was.
In an exclusive interview with The List, Ritter discusses his unexpected return for the second season of "Raising Dion" and hints at some of the twists and turns fans can expect to see. 
Jason Ritter on his character's story arc for Raising Dion season 2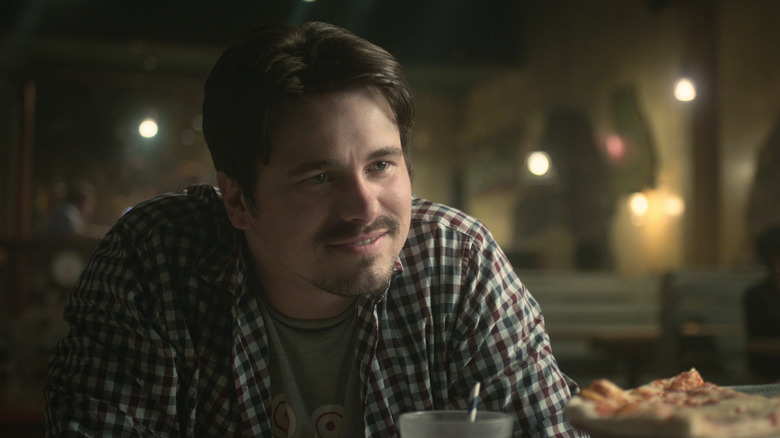 Netflix
Given what happened to Pat at the end of Season 1, we don't want to give away any spoilers, but what can you tell me about his reappearance in the new season?
Well, he burned a lot of bridges at the end of that last season. He's persona non grata, but in this season, after basically being in hiding for these two years and being okay with everybody thinking he was dead and starting over, he's come back to try to help, so he says. He has seen the crooked energy that he is familiar with on TV, on the news, and he knows it wasn't him. He's come back to try to warn everybody. Hopefully, he wants to help. However, it's tough for the people that he wants to help to allow him back into their lives when he has lied to them for years and done all sorts of horrible things, no matter how much he says "That's not me anymore, I was under the control of this other crooked energy." It's a tough road for Pat this season.
Did you know that was going to be the ultimate story arc for the character from the get go, or was that something you didn't find out until they renewed it for a second season?
I did not know, but I knew the entire arc for Season 1 when we did it. I remember reading the final episode of Season 1 and going, "Oh, well I guess that's the end for ol' Pat." But ["Raising Dion" showrunner] Carol [Barbee] and Dennis [Liu, creator of the comic book on which the series is based] told me that they had a plan for Season 2, if we were so lucky to get one. Then, by the time we started shooting Season 2, we'd all read all of the scripts. I knew what the entire arc of Season 2 was and I was very excited to play into it. 
Now that Pat has been revealed to the world, it was a whole other issue to try to get Nicole [Alisha Wainwright], and Suzanne [Ali Ahn], and Dion [Ja'Siah Young], all these people who he's burned these bridges with, and the audience, to try to get to a place of, "Well, can we trust Pat again? Or are we all too worried?" It's a real struggle. It was a fun road.
Jason Ritter on the 'fun' of playing a super-powered villain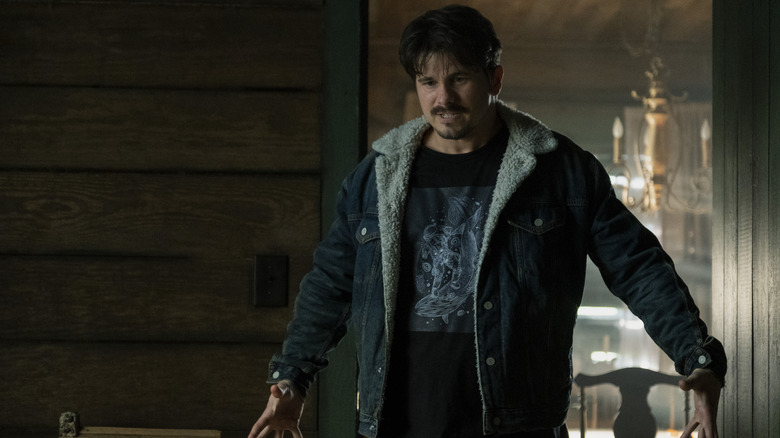 Netflix
When you get to play a really good guy, who was then revealed to be a really bad guy, that's a lot for an actor to kind of get jump into. Was it kind of a kick to play a super powered villain?
It was so much fun, I have to say. I've always wanted superpowers. I think a lot of us can relate to that. If they have to be bad guys to get superpowers, I'm totally in. If that's what it takes to get lightning shooting between my fingers and all that stuff, sign me up. It was so much fun to play this character that has good and bad elements in him from the beginning and the bad side of him wins out in Season 1. Now, it's interesting to watch this journey where he's saying that's all gone now. How much of this supernatural thing was making him do this? Was the supernatural element what made him lie to all of his loved ones for five years? I don't know. There are little character flaws that have been built into Pat in the beginning that create a really a fun thing in Season 2, where we don't know how we feel about him.
When you're doing a show like this, you've got a lot of special effects to deal with. Was that something you were used to, or had you done a lot of that before?
I've done a certain amount of it before. I really love it. I think this season, the special effects guy was there a lot of the time on set and he was really great at saying, "Here's what I'm looking for, here's what it's going to look like, here's how you can help me." That's the hardest part, if you're there and you're looking at something in your hand, but you don't know what you're supposed to be looking at, it's very helpful to have someone there who's going to do it. [They'll say], "It's a ball the fire, but there's flickers coming off." The more specific you can get in your own mind, the better it looks when it's all put together and you're like, "Ah, that is what I thought I was looking at."
Jason Ritter loved the fan reaction to his Raising Dion character's villainous turn
Do you hear from fans saying, "I can't believe that we thought you were such a good guy and then this happened, how could you?"
That was one of my favorite things. I'll go on Twitter and read everything that I can find. It's not that I haven't been wounded in the past for doing that before, but, it's been really fun. It's been a spectrum of people, some  from the very beginning of Season 1 were like, "I don't know about Pat, something's off." Then some people, even after Pat was revealed to do all the horrible things were like, "No, this isn't Pat, something else is going on." It's interesting to have that entire spectrum of feelings about Pat starting in Season 2. Will some people trust him right away? Will some people still really hold off on that, or never trust him? Or, where are they going to lie? I'm really excited to read all the comments, even the mean ones.
The second season of "Raising Dion" is now streaming on Netflix.