DIY Hair Gels You Can Make At Home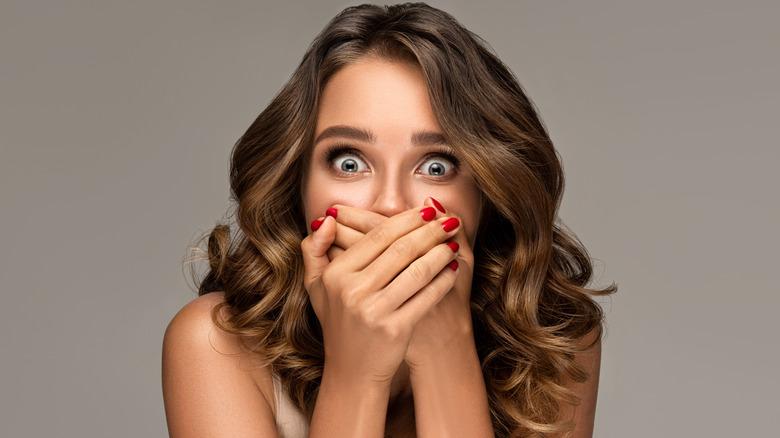 Sofia Zhuravetc/Shutterstock
Hair gel is your invisible little beauty weapon. Even Cardi B has a DIY hair mask recipe. These hair gels keeps your locks frizz-free, in place, boosted with volume from the root, and even keeps those curls perfectly coiled. Men and women use hair gel as a go-to problem-solver, and, according to Statista, some U.S. women use it daily. So whether you want hair care products with fewer additives, are looking to manage your beauty budget, or simply forgot to add hair gel to the shopping list, there's an easy solution.
It may come as a surprise, but you can absolutely make your own hair care products at home. Even celebrities such as Nikki Reed make their own affordable DIY hair care products, according to Byrdie. Often for less than $10 and a few drugstore ingredients, you can create chemical-free hair gel. And the best part? Most DIY hair gel recipes are perfect for all hair types — straight or natural curls alike. So lock it down, make it slick, or tame those flyaways in DIY-style.
Try using aloe vera to create an affordable DIY hair gel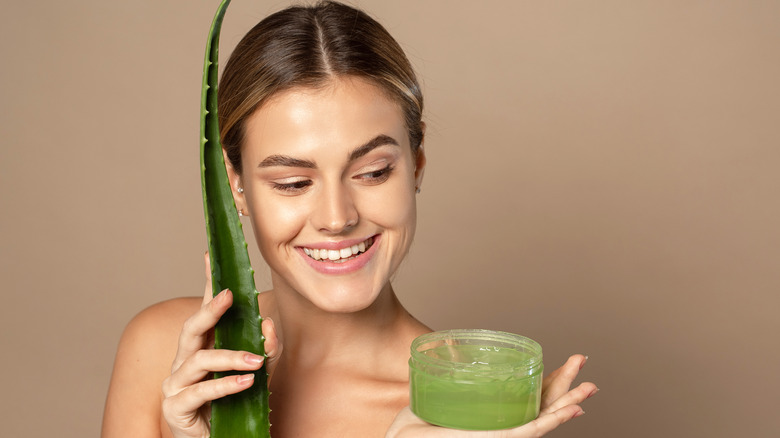 etonastenka/Shutterstock
Sure, you may think an aloe vera plant looks adorable in a succulent garden, but there's more to it than meets the eye. These spiky stalks contain a delightfully goopy gel known for its soothing, moisturizing properties, according to Britannica. If you've ever fallen asleep at the beach and gotten a sunburn, you know it's a powerful, healing shmear! No one-trick pony, aloe vera gel also lends itself to various beauty applications, including DIY hair gel.
Put the gel's moisture-boosting properties to use in a quick and easy hair gel. It can be used on its own or bolstered with essential oils, according to Mommypotamus. Be sure to look for all-natural aloe vera gel without any added chemicals. If you want to dabble in beauty-herbalism — or just want heavenly-scented hair — add 24 drops of essential oil for every half cup of aloe vera gel.
According to the beauty experts at Byrdie, ylang-ylang is an excellent option for oily hair, whereas chamomile works well for everyone. If you're looking for a scent that holds up throughout the day, give sandalwood essential oil a try. With a recipe that calls for 24 drops, you've got plenty of room to customize your own signature blend.
Simmer flax seeds in water to make a versatile, healthy hair gel
Moving on from the basic aloe vera method, flax seed gel is another great DIY hair gel. You may have had flax seeds in bread or smoothies; it's known for its nutrients and Omega-3 fats, according to Healthline. However, this one requires a quick stovetop simmer, according to Mommypotamus. Although there's an extra few steps with this recipe, the upside is that it only requires a small amount of flaxseed, so your initial purchase goes a long way. And, just as with the aloe vera hair gel recipe, this one is versatile enough for all hair types from straight to curly.
You add 1 tablespoon plus an extra 1½ teaspoons of flaxseed to a pot with ¾ cup of distilled water. Simmer this mixture for 10 minutes to soften the seeds. Mommypotamus suggests straining the mixture through a cheesecloth and then squeezing to collect all the gorgeous gel.
YouTuber Bianca Renne tested the flaxseed gel method for her natural curls that she defines as curl type 3 B/C. She swaps cheesecloth for the easy-breezy nylon method, a great time-saving hack. Her DIY flaxseed gel tutorial goes all-in with a major close-up shot of her gorgeous and well-defined curls. She says, "...it's soft and has just the right amount of hold. It's not hard-crunchy but has enough hold to look good."