The Truth About Zac Taylor's Wife, Sarah Sherman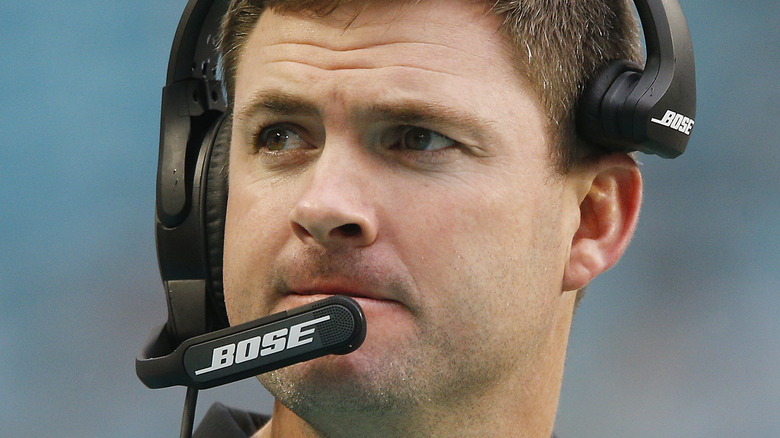 Michael Reaves/Getty Images
Zac Taylor, the coach of the Cincinnati Bengals, is headed to the Super Bowl 2022 with his team. According to FanSided, fans of the Bengals believe he should be the coach of the year. He did somehow bring his struggling team in the regular season into the playoffs before eventually going all the way to the Super Bowl. The Bengals were certainly the underdogs going into the postseason and Taylor was the main motivator behind the team's quick turnaround.
The Super Bowl will be extra special for Taylor as his Bengals will be competing against the Los Angeles Rams who are led by coach Sean McVay. According to The Sporting News, these two coaches go way back. Taylor used to be an assistant coach under McVay, and the pair have a lot of respect for one another.
It has to be an exciting time in the Taylor household. However, his wife, Sarah Sherman is no stranger to the hype around football season. Her National Football League coaching background goes back further than her husband's!
Sherman comes from a football legacy
Taylor's wife, Sherman, is no stranger to the stress and struggles of living with an NFL coach. According to FanBuzz, she is the daughter of a former coach. Her father, Mike Sherman, has a long history of working as a football coach. He started at the high school level before making his way up to a college coach, where he manned the teams at big football schools like Texas A&M and UCLA, just to name a few. He would go on to become an NFL coach, calling the shots for Green Bay Packers in 2000.
For Taylor, meeting his father-in-law was a bit intimidating. He told Sports Illustrated, "The first time I met [Mike], he was upstairs in his house," he shared, "He has his XOS coaches film set up there. I was as intimidated as can be. I figured, I can impress him by watching film with him." However, the viewing didn't go as planned. He asked him some simple football questions, but Taylor wasn't following.
Taylor wrapped up the story by saying, "At that moment I realized I had no idea what I was talking about. That was our first real conversation. He was throwing me a bone on something simple about football and I failed."
The pair have a big family together
Taylor and Sherman have been together since they met at the University of Nebraska. Sherman was pursuing a degree in journalism, while Taylor was the quarterback of the football team, according to Awsemo.com. Since Sherman came from a football family, these two had a lot in common.
According to Luminary Worth, the couple tied the knot in 2008. Eventually, the couple would have four children together. They have two sons, Brooks and Luke, and two daughters, Emma and Milly.
When Taylor isn't on the field coaching his team, he is a devoted family man, reported Cincinnati's Local 12 News. No one has supported Taylor in his career journey than his wife, who was happy with his job as quarterback coach for the Los Angeles Rams. However, she was ecstatic when he got offered a head coaching gig.
She gushed, "I remember praying that Zac would come back as a quarterback coach. In my wildest dreams I never thought we'd be here in this position that he would have the head job," adding she loves living in Ohio now, "The day it happened, I can tell you exactly where I was," she said. "I was in my house in California. I dropped to my knees and was like, 'Is this real life?' I love it here, the people are so good."