How Alisha Wainwright's Relationship With Her Son On Raising Dion Evolved - Exclusive
It's been a long wait, but fans are finally getting to enjoy the second season of "Raising Dion." Making its debut in 2019, the Netflix series (based on a comic book of the same name) introduced single mom Nicole Reese (Alisha Wainwright), still grieving the mysterious death of her husband (Michael B. Jordan) when young son Dion (Ja'Siah Young) suddenly begins to display superhuman abilities, per IGN.
Thanks to a pandemic-related production delay, it's taken more than two years for Season 2, which is set two years later. Now, Dion is gaining a better understanding of his powers, while Nicole provides maternal guidance as he's trained by Tevin Wakefield (played by Rome Flynn), who's attempting to teach the lad how to control his superpowers. 
In an exclusive interview with The List, Wainwright opens up about how her character's relationship with her superpowered son has changed and evolved since we last saw them in Season 1.
Alisha Wainwright on how Nicole and Dion have changed since Season 1
The second season of "Raisin Dion" is set two years after the events of the first. As Dion (Ja'Siah Young) grows older he becomes more confident, both in his superpowers and as a person. This, Alisha Wainwright explains, is reflected in the evolving relationship between Nicole and her son. 
"I think as [Dion] gets a grip on [his powers] and they're not so much tied to his emotions, he can just call them at will," Wainwright explains. "It takes a lot of the pressure off, and also, there's no looming threat now, you know? The energy is out there because energy never dies, but honestly like anyone, it becomes normal life. If you look at our lives now, we're doing things [that], two years ago, [would] seem insane, but just now they're part of normal life. I think in the way that you have this big potential threat looming, after a couple years you don't see or feel anything, you just go back to normal. I think when you have the element of, he has a little bit of more control, then she feels like she has more control, and then life can just [happen]. That's where we see them at the jump of Season 2."
Alisha Wainwright on how the arrival of Rome Flynn's character changes the game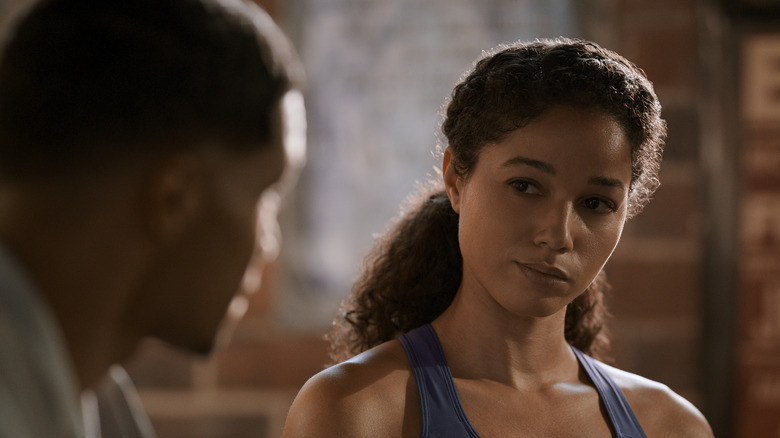 Another big change in the second season of "Raising Dion" is the arrival of Tevin Wakefield, played by new cast member Rome Flynn, who's tasked with helping Dion gain some mastery over his powers.
"I think Tevin is smart in letting Nicole dictate the terms and relishing what she allows to have happen," says Wainwright of Tevin's mentoring relationship with her character's son. "I think he's so impressed by Dion that he wants to work with him. He's like, whatever pace you need, but also [would say], 'He's a kid. Let him breathe.' He's not really imparting a lot of beliefs onto [Dion]. [Tevin's] more just like being an ear for him to talk to. I think these are important things, things that you would want from a mentor, whereas with Pat (Jason Ritter), Pat was manipulating and steering him in a certain direction for what he thought he wanted. Tevin's very much like, 'I can relate to you. What do you want to do? How do you want to be? You know? I think that's a much easier place for Nicole to relax."
The second season of "Raising Dion" is now streaming on Netflix.