Princess Diana's Bridesmaid Recalls Sweet Details About The Royal Wedding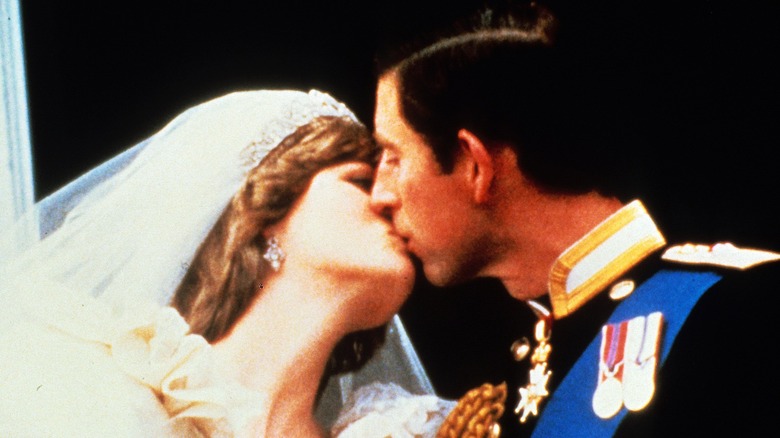 Anwar Hussein/Getty Images
Given how things ended between Princess Diana and Prince Charles, it can be difficult to remember that, at one point, the two once loved — or at least liked — each other enough to get married. Believe it or not, Prince Charles and Princess Diana first met in November 1977 because, per Town & Country, Charles was actually dating Diana's sister, Sarah, at the time. However, Charles and Sarah's relationship wasn't long for this world. At the time, Sarah reportedly said that she would not marry him "if he were the dustman or the King of England." 
And although Diana was only 16 at the time, she and Charles hit it off. "I remember thinking what a very jolly and amusing and attractive 16-year-old she was. I mean, great fun, and bouncy and full of life and everything," Charles said in 1981.
While it was no secret that Charles was still in love with Camilla Parker-Bowles, the royal family didn't believe she was a suitable match for the heir to the throne. And thus, a few years after their first meeting, Charles and Diana began to date in earnest — or at least, the royal equivalent of dating — as the two met fewer than 20 times before they were engaged.
Their big day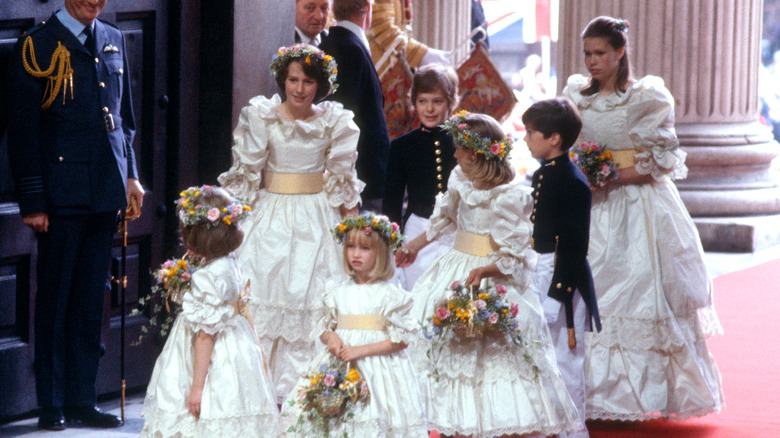 Anwar Hussein/Getty Images
Four years after their first meeting, Diana and Charles were wed at St. Paul's Cathedral on July 29, 1981, in an event that was broadcast to 750 million people in 74 countries (via BBC). The wedding was an extremely extravagant affair, as royal weddings are wont to be. The event reportedly cost $135 million to produce, while high-profile guests like Grace Kelly enjoyed 27 different wedding cakes (via Smithsonian).
Much discussed at the time was Princess Diana's ivory silk taffeta wedding dress, designed by David and Elizabeth Emanuel; Diana even had a backup dress on hand in case of emergency and the bridal party was outfitted extravagantly to match. But not everyone was happy with their outfit that day. "It was a time and place and a moment in fashion in the 1980s. So it was voluptuous and over the top, and drama everywhere," India Hicks, a bridesmaid at the wedding and Prince Charles's goddaughter recently told People.
"So I understand that those dresses were so befitting to the era," said Hicks, who was only 12 at the time of the wedding. "However, if you were a tomboy like me ... when you are asked to be a bridesmaid, you are proud and delighted, but you are a little alarmed at being asked to wear a frilly dress, as you can imagine."