The Best Cuticle Removers For At-Home Manicures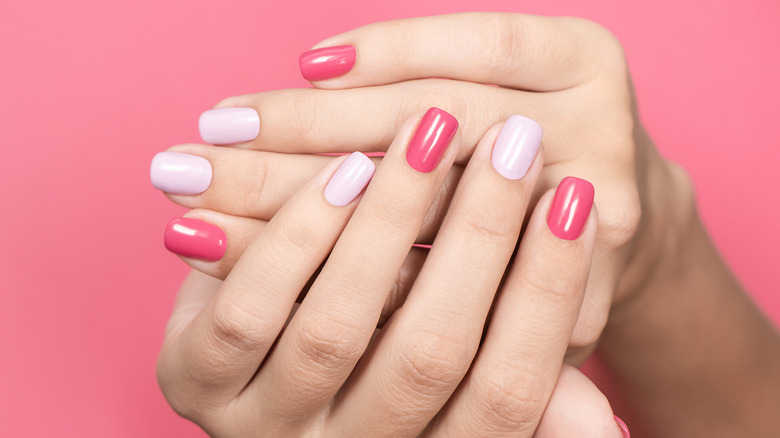 Andrii Oleksiienko/Shutterstock
We may receive a commission on purchases made from links.
Whether you keep your nails polish-free or go all-in with over-the-top nail designs, don't forget to give your cuticles the TLC they need. Think of it like this: Cuticles are the little frames around your nails, helping to present a well-groomed look. More than just window dressing, the cuticles do, in fact, serve a purpose.
Nail care expert Jin Soon Choi emphasizes the importance of cuticle care in an interview with Good Housekeeping. Cuticles protect your nails, and, for example, it's essential to slough off and remove the accumulation of excess skin. There are products, she says, that can help "remove that thin layer of dead skin by dissolving it or physically getting rid of it." The good news is there are two primary ways of removing cuticles, and both can be done at home. 
First, you can use a hydrating oil and a simple cuticle pusher. When done regularly, this keeps them in check. In fact, Choi says, "When you push back cuticles thoroughly, there is no need to cut them...and you are still able to maintain the nail's integrity." Or, as an alternative, you can use a combination of nail cuticle remover gels and trimmers, depending on the thickness of your cuticles.
If you're looking to have a hand in your own cuticle maintenance, here are some of the best tried-and-true at-home cuticle removers available.
Maintain healthy cuticles with hydrating oil and a simple cuticle pusher
If you want to maintain perfectly curated cuticles, follow the lead of nail expert Jin Soon Choi. Her extensive nail care and manicure products include the Hypercare Cuticle Pusher + Reducer. It's designed with itty-bitty diamond particles embedded along the surface, which exfoliate and reduce cuticle skin buildup on the nail. However, you may also be wondering about those annoying nail ridges. Kiss 'em goodbye, baby! If you're looking for the perfect at-home pumice wand for cuticle care, Well + Good gives this one its highest praise.
In addition to the right tools, add a boost of healthy hydration to your cuticle regimen with a dose of sunflower oil. Sunflower oil contains skin-protecting linoleic acid, and is excellent for hydrating and healing, according to Healthline. Sparitual's Slow Beauty Cuti-Cocktail Vegan Nail & Cuticle Oil combines sunflower oil with vitamins E, A, C, and D to deliver some serious cuticle TLC. Use twice daily for 10 days if you need to kick-start your cuticle care, and feel good knowing it's vegan and 98% organic.
Keep cuticle trimmers on hand for a quick at-home manicure solution
Although maintaining your cuticles with regular hydration and exfoliating is great, sometimes life gets hectic. If you drop the ball on your cuticle routine, a pair of cuticles trimmers can save the day. First, however, it's important to remember that you are, in fact, trimming back skin so ensure you're keeping things clean, as noted by Byrdie. The brand gives high marks to the Seki Edge One Fourth Jaw Cuticle Nipper for the occasional cuticle trim or hangnail. This easy-to-maintain stainless steel trimmer has a spring-action design for clumsy-free snips.
Okay, you've got your easy-to-use cuticle trimmers — great — but there are helpful cuticle trimming tips to keep in mind. First, it's important to trim only the excess, flaky skin surrounding the nail, according to Prevention. Next, softening the cuticles with warm water and oil or your favorite serum will make the cuticle skin easier to trim. So, banish the potential dry-cry factor with Bye Bye! Cuticle Remover from Le Mini Macaron. One fan of the brand raved about the results in the product's review section and was also impressed with the value, saying, "This is great for removing cuticles. You get lots in the bottle and it really helps clean up your nails before a new manicure!"
So, if you're looking to prevent cuticle peeling, combine the best cuticle removers for at-home manicures with a few expert tips!