How To Keep Your Eyeliner In Place All Day, According To A Makeup Artist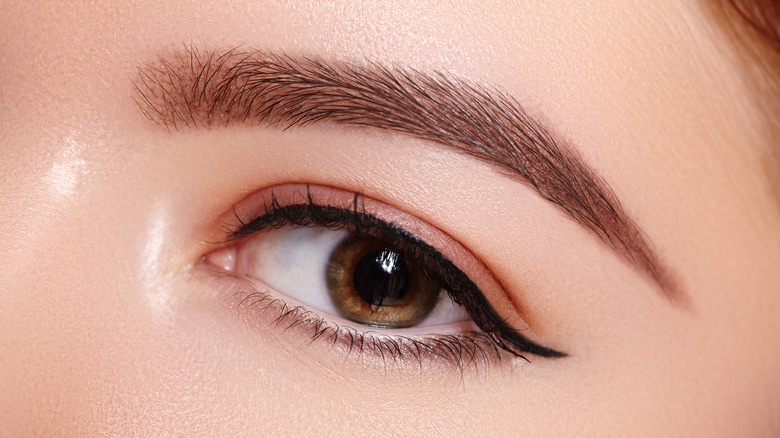 marinafrost/Shutterstock
Have you ever noticed that over the course of the day, your perfectly drawn on eyeliner (that most likely took you the better part of 15 minutes to achieve) begins to smudge and wear off? Leaving the makeup that you were so proud of when you left the house looking totally disheveled and sad.
There's nothing more irritating than taking the time to perfectly create a tricky eyeliner look — cat eye, we're looking at you — only for it to look like a disaster after a few hours (per Byrdie). The once crisp and perfectly applied lines of liquid liner begin to fade, while kohl liner begins to resemble a smeared, patchy mess.
According to Bustle, the good news is that while your eyeliner can end up looking muddled at the end of the day, it doesn't have to. There are lots of simple but highly effective hacks that can help ensure that your eye makeup stays in place all day long.
Want to know what it takes to have picture-perfect eyeliner that actually stands the test of time? We've got you covered with our step-by-step guide on how you can keep that cat eye looking pristine all day long!
Preparation is important — so take the time to get it right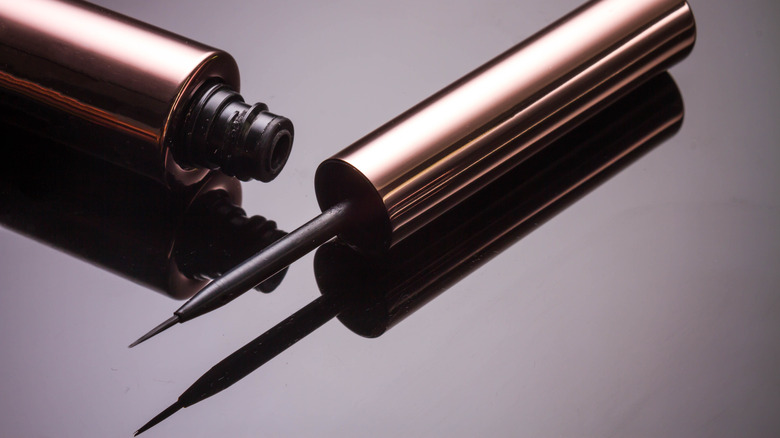 TnkImages/Shutterstock
When it comes to keeping your eye makeup in place all day — or more specifically, your eyeliner — preparation is key, according to Byrdie.
It's worth taking the time to clean, tone, and moisturize your eye area, particularly the areas where the eyeliner will touch, to remove any oil from your skin. Once your eyelids have dried, the next step is to apply a barrier — like a primer — to your lids (per Bustle). A primer will help protect the eyeliner from the skin's oils, and it will also help smooth the skin's surface, creating a more even surface for you to apply your eyeliner. Don't have a suitable primer? A putty-like concealer with a matte finish can be a great alternative.
According to makeup artist Kathy Jeung, it's a good first step to apply powder before applying eyeliner to avoid common application mistakes. "Before applying eyeliner, you want to make sure the eye area along the lashes is free of excess oil," Jeung told Byrdie. "To do this, lightly dust along the lash line with a very small amount of translucent powder to absorb excess moisture and oil, and then apply your long-wear eyeliner and powder for maximum eyeliner longevity."
Get the application process right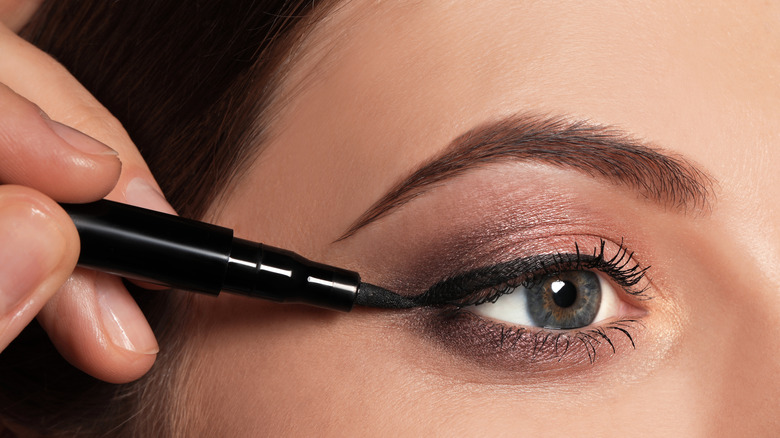 New Africa/Shutterstock
When it comes to achieving eyeliner success, application is crucial. If your go-to eyeliner of choice is a gel or kohl pencil liner, to supercharge your liner's staying power, top off your liner with a matching eyeshadow (per Marie Claire). Topping your liner with a matching shadow will help set it in place, and it will give your liner that gorgeous, soft, smoky look.
Jeung also recommends layering formulas to help keep eyeliner in place for longer, and recommends that once you've applied a few coats of your liner of choice, you then top with a matching eyeshadow to lock it in.
She also recommends using translucent powder to help set your eyeliner in place. "After your first application of eyeliner has dried, with a small fluffy brush, carefully dust a tiny bit of matte translucent powder, like Rimmel Stay Matte Pressed Powder ($4), over the eyeliner with short inward strokes; then, draw a second coat of eyeliner for extra intensity and staying power," Jeung explained to Byrdie.
The last step to locking in your eyeliner is to apply a long-lasting makeup setting spray. Keeping your eyes closed, use a makeup setting spray to coat your face.