Here's How To Tell If You're Wearing The Wrong Workout Shoes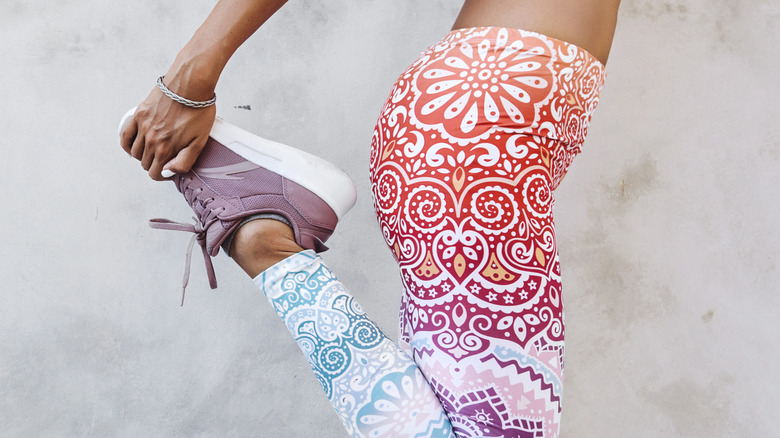 Alena Ozerova/Shutterstock
We live in a world where we have options for literally everything, including workout shoes. Depending on your preferred workout routine, you can find the right shoes for it. For weight lifting, you want to pick shoes with a firm, flat grip on the ground, for example, and for a gym class, you want to invest in a pair that is supported with ample cushioning.
No one wants their exercise shoes to ruin their workout. Instead, you want to get shoes that are light and don't make your feet sweat too much, and your best bet is the Saucony Endorphin Speed 2, which won the Best in Test title by Runner's World. If you are a bit of an all-rounder and want to use the workout shoes to do a bit of everything, you can choose the Reebok Nano. They are perfect for cross-training, HIIT workouts, and running as they are built to accommodate all kinds of movements (via Sports Shoes). Many pairs may look the same, but they are all made with a particular activity in mind. You should choose a pair with absorption, cushioning, and stability.
It's also important to note that choosing the wrong exercise shoes can be uncomfortable and may even injure you. "Many injuries of the feet and ankles can be traced back to ill-fitting shoes," Megan Leahy, D.P.M., a podiatrist in Chicago, Illinois, told Shape.
Wearing the wrong workout shoes can be harmful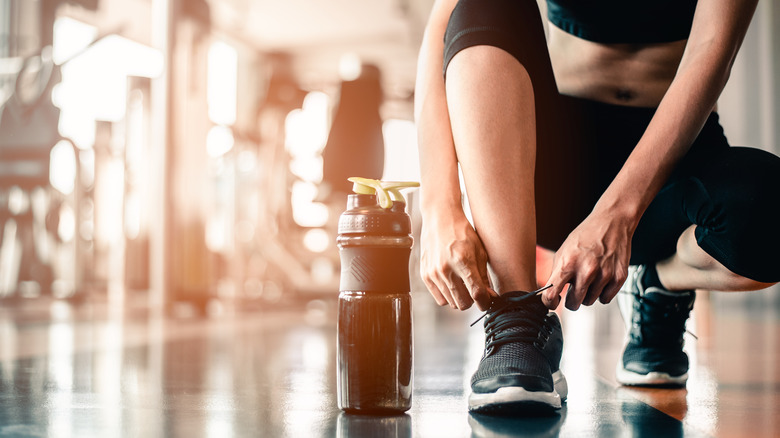 Day Of Victory Studio/Shutterstock
There are simple ways to tell when you're wearing the wrong workout shoes, but if you don't check, you might find yourself with long-term injuries. It's therefore always helpful to ask a professional at a shoe store to find the perfect pair for you.
According to Verywell Fit, one of the most common ways of telling that the exercise shoes aren't working is when you experience pain when wearing them. You can feel anything from shin splints to joint pains. If you're a runner, you should replace your shoes after approximately 300 miles of activity. Another obvious sign is when you lose a toenail or have bruising because the toe box is too small, which puts extra pressure on your toes (via Shape). You should leave a thumb's width of space between your longest toe and the front of the shoe to avoid shoe-related injuries. You may know one of the most uncomfortable shoe-related issues as jogger's toe, but this condition can be prevented. Moreover, Shoe Fit Pro says that wearing the wrong shoes can affect your nerve tissues and lead to neuroma, the numbing of your feet. They outlet adds that the development of bunions and tendonitis are also bad signs.
Another red flag that you are wearing the wrong workout shoes is if they look worn from overuse. If the rubber outsole is worn out or the midsole looks compressed, it's time you get yourself a new pair (via Self).