Zendaya's Super Bowl 2022 Commercial Is Turning Heads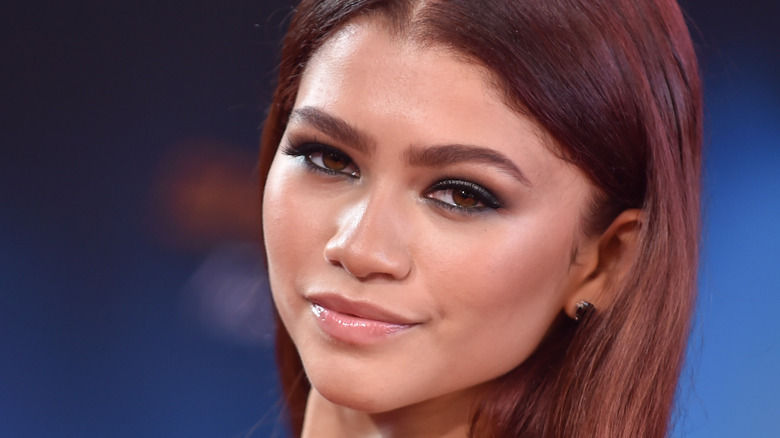 DFree/Shutterstock
If you're one of the few who isn't caught up with the Season 2 of "Euphoria," you're probably dodging Twitter spoilers and #Zendaya on TikTok. But this is a futile fight – Zendaya is omnipresent. The Emmy Award-winning actress will find a way into your heart and you should be grateful — whether it's through news of she and Tom Holland buying their first home together, per The Mirror, or the screen at one of the biggest sporting events.
This year's Super Bowl ads feature Zendaya along with a brilliant lineup of celebrities who stay true to their essence. Gwyneth Paltrow will be taking a bite of her infamous vagina candle for a team-up with Uber Eats. Megan Thee Stallion and Charlie Puth will be harmonizing for Flamin' Hot Cheetos and Guy Fieri will declare Bud Light Seltzer Hard Soda to have the "loudest flavors ever." Zendaya will be playing into her own ethereal brand, of course, for her big-screen commercial.
She wears a stunning blue dress on a beach
Zendaya will be teaming up with website builder Squarespace, known for its evocative ad experiences, for the Super Bowl next week. The brand only gave us a 10-second teaser of the ad earlier this week, where Zendaya retires her moody, messy persona on HBO Max's "Euphoria" to sell seashells. Instead, she wears droplets of pearls and shells crowding the halter top of her glittering turquoise dress. Squarespace sets a beachy ambience with the sound of crashing waves and seagulls in the background, while Zendaya twirls for too short a time — five seconds, to be exact.
Glamour magazine, which had an exclusive look inside the making of the ad, also blessed us with pictures of Zendaya, meditating within a circle of rocks on the beach. Mermaid-Zendaya's ad for Squarespace is expected to air on February 13, during the first quarter of the game. Obviously, that's the part we're tuning in for.