Can I Wash My Hair With Just Conditioner?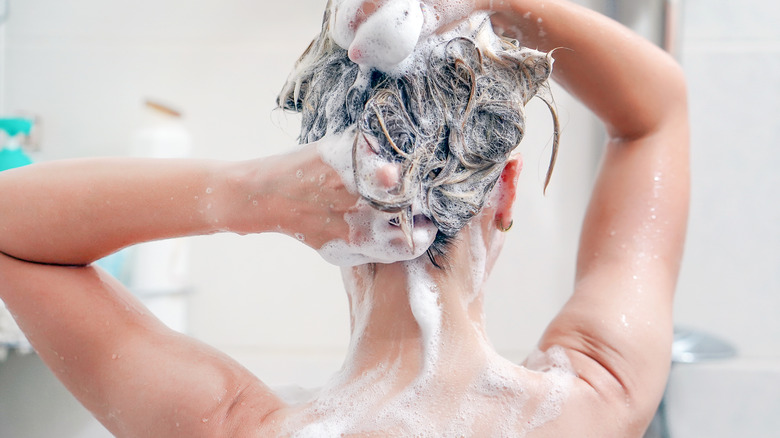 lunopark/Shutterstock
With all the things we need to do in a day, skipping a step in your cleansing routine can sound appealing. If you're tired of shampoo, and looking to free up a little more space in your shower, then you may be interested in co-washing. As Mia Emilio of New York City's Devachan Salon told Byrdie in 2021, "Co-washing is using conditioner to wash and cleanse your hair." According to Health, co-washing is part of the "no 'poo" movement, one of many variations on cleansing hair without using shampoo. Other alternatives to shampoo include plain water, coconut oil, and baking soda with apple cider vinegar, as Healthline explains. For those seeking a more natural hair care experience, cutting out shampoo can be a good idea, as it's no secret that shampoos may contain harmful products like sulfates.
But while some shampoos include damaging ingredients, conditioner has come a long way since its invention in 1900. Per HairStory, conditioner was created by Edouard Pinaud, and was originally used to soften facial hair. But how well does conditioner work as a cleansing agent when it's used by itself?
Co-washing isn't for everyone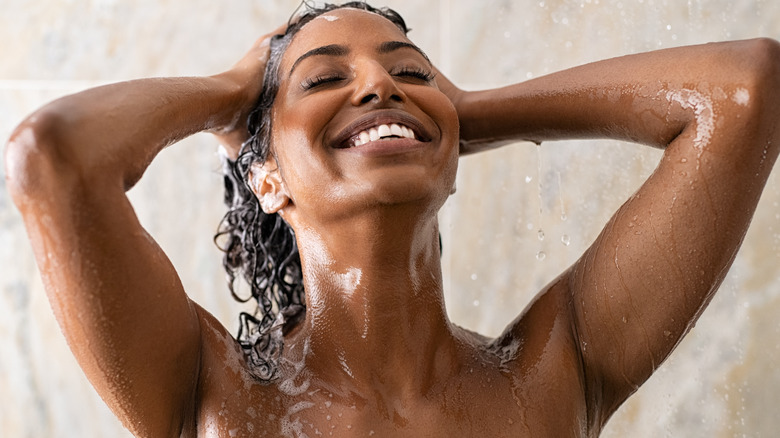 Rido/Shutterstock
Before you try co-washing, it's important to consider your hair type. If your hair is textured, curly, wavy, or dry, co-washing can make your hair easier to style. Hollywood hairstylist Jimmy Servera told CNN that co-washing "leaves hair smoother and shinier than washing with shampoo and following with conditioner." However, this technique is not for everyone. For example, fine or oily hair is not a good fit for co-washing, according to Servera. And when co-washing, don't reach for just any conditioner. Byrdie suggests choosing a cleansing conditioner, and more specifically, CNN recommends products like Mizani True Textures Cream Cleansing Conditioner and Pantene Pro V Gold Series Deep Hydrating Co-Wash.
Once you've selected your product of choice, take your time working the product through your scalp and hair. With all that conditioner, some co-washers were initially concerned about the potential for greasy hair. Fortunately, these cleansing conditioners are intended to clean hair and reduce scalp oiliness. As writer Jeannie Kim explained in an article for Health, she experienced a week-long adjustment period where her hair felt more oily — but after co-washing for a month, her hair was softer and held more waves. To ease the transition into co-washing, Good Housekeeping recommends rotating in a regular shampoo to help your hair feel cleaner. Once things are running smoothly, Mane Addicts suggests co-washing once or twice per week. For a deeper clean, try shampooing every other week.