The Royal That Inspired Princess Eugenie's Unique Wedding Dress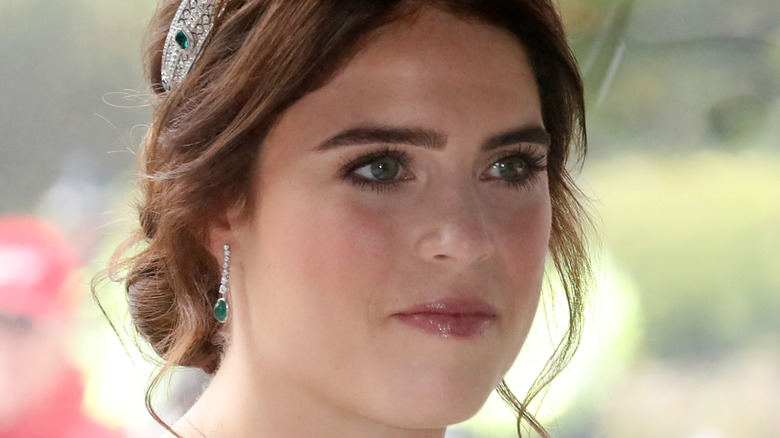 Chris Jackson/Getty Images
When Princess Eugenie arrived at her wedding in August 2018, the world looked in adoration at her dress. Designed by Peter Pilotto and Christopher de Vos, it featured a unique neckline that folded around the shoulders into a full-length train (via the Royal Family's official website).
As is customary with most weddings — especially royal ones — Eugenie had a second wedding dress that she wore to the evening reception. As Hello! Magazine notes, this blush, pastel pink dress featured a "structured bodice and flowing skirt" in contrast to her wedding dress. Designed by Zac Posen, the evening gown was inspired by "the beauty of Windsor and the surrounding countryside" according to the Royal Family's official website, and the color was chosen to represent the "blush of an English rose" — specifically the White Rose of York which was also interwoven in the ivy on her wedding dress.
But for Eugenie personally, she was inspired by a classic film that just so happened to feature another royal.
Princess Eugenie wanted to create an iconic look from To Catch A Thief
Following Princess Eugenie's wedding, both dresses went on display at Windsor Castle. In an audio guide accompanying the evening dress (via Hello! Magazine), Eugenie explains that she wanted "something reminiscent of Grace Kelly in 'To Catch A Thief'" — the blush pink evening gown that she wears in a certain scene. "So I showed that for reference and Zac [Posen] came up with this silk that he'd found in Manchester," she said, adding that "every single draping effect, every single detail, every button, it's all painstakingly done by him and his team."
"To Catch A Thief" featured a Grace Kelly pre-royalty, as she would stop acting all together when she married Rainier III in 1956, the Prince of Monaco, per Britannica. Following their marriage, Kelly was known as Princess Grace of Monaco. While Kelly would go on to have some pretty iconic outfits as a member of the royal family in Monaco, her on-screen outfits would forever hold a special place in many people's hearts — most evidently Princess Eugenie's.