Why Kate Middleton's Weekend Plans Are Turning Heads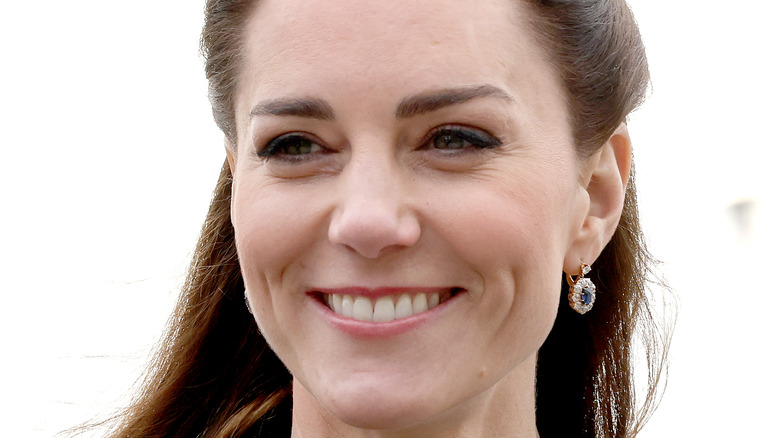 Chris Jackson/Getty Images
On February 7, 2022, Harper's Bazaar reported that Kate Middleton would be kicking off Children's Mental Health Week by reading a children's book for a TV show. The special, called "Bedtime Stories with the Duchess of Cambridge," showed Middleton reading "The Owl Who Was Afraid of the Dark" — a children's story about a barn owl who overcomes his fears and gains confidence in himself through the help of others. According to Harper's Bazaar, Children's Mental Health Week was first launched in 2015 by children's mental health charity organization Place2Be. Over the years, Middleton has served as the royal patron of the fund, promoting its mission regularly. Previously, other celebrities like Ryan Reynolds, Reese Witherspoon, and Tom Hiddleston have also read children's books to promote Children's Mental Health Week and Place2Be's mission.
Though Middleton's weekend plans seem wholesome enough, many people have since taken to social media to voice their disapproval. Why, you might ask? This has less to do with Middleton herself, and more to do with the author of the piece: royal expert Omid Scobie. Ever since Meghan Markle became a pop culture icon after marrying Prince Harry, Scobie has been a close friend of the Duchess of Sussex. At this point, Tatler reports that Scobie even considers Markle a friend — and therefore, it's the fact he penned a positive article about Middleton that has Scobie's fans up in arms.
Omid Scobie's fans were quick to shade Kate Middleton after the Harper's Bazaar article was published
Omid Scobie first became close to Meghan Markle through his work co-authoring the book "Finding Freedom," which examines the Duchess of Sussex's struggles and triumphs as the newest member of the royal family. Though he covers all aspects of the royal family and their lives, many of his fans see him only as an avid fan and friend of Markle and Prince Harry. Naturally, this has led many to draw the conclusion that Scobie is not a fan of Kate Middleton and Prince William, given that the couples seem to be at odds — at least in the press. "I guess my work [for US Weekly and Harper's Bazaar] spoke for itself — I was always careful what I reported. ... There are a lot of people who say I only write positively about the Sussexes. I would challenge anyone to find a negative story I've written about the royal family full stop since I started," Scobie told Tatler in 2021.
Given that Scobie's fans believe that he is Team Markle, they took to the comments section underneath the Twitter post of the Harper's Bazaar article to voice their disapproval. "I can find better ways to bore myself to sleep," one Twitter user wrote, via Twitter. "DupliKate. All sense of originality is thrown out the window. The bar is on the floor for everything this woman does. Hilarious," another Twitter user added.