Olympians Sound The Alarm About The Poor Living Conditions At The Winter Games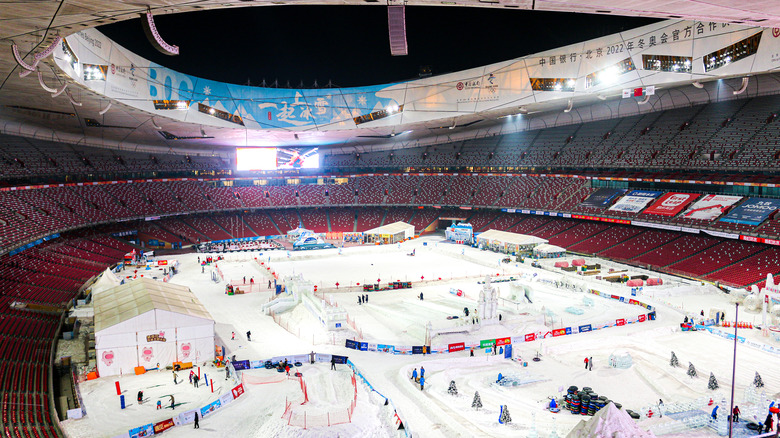 Adam Yee/Shutterstock
The world sees athletes competing in figure skating and snowboarding, but behind the scenes, Olympic participants are facing troubles with food options, COVID-19 restrictions, and freezing temperatures in Beijing.
According to The Sun, Christian Schwaiger, a German Alpine skiing coach, said, "The catering is extremely questionable because really it's not catering at all. There are no hot meals. There are crisps, some nuts, and chocolate, and nothing else. This shows a lack of focus on high-performance sport." Valeria Vasnetsova, a Russian biathlon competitor, echoed these thoughts in an Instagram post that has now been deleted, says the New York Post. "I've been getting this for breakfast, lunch, and dinner for five days now. I've lost a lot of weight, and my bones are sticking out. I can't eat anything else," she wrote.
Sweden's Anders Bystroem shared that he and his team thought about asking Olympic officials to change the time of their event, in order to avoid harsh weather. "We have the cold limits we have. There is not much to say about that. I do not know if they also measure the wind effect. If FIS says it's -17 degrees and it's windy, and it's -35 degrees with the wind chill, what do you do then?"
Olympic athletes have been sharing their concerns about the food, temperatures, and COVID regulations in Beijing
The coronavirus is also a concern at the 2022 Winter Olympics. According to New York Post, participants who test positive and have symptoms must be hospitalized, while those who receive a positive test but do not have symptoms must self-isolate. After that, they can return to the games after submitting two consecutive negative tests.
Kim Meylemans, a Belgian skeleton racer, turned to Instagram to tearfully share her experience. She tested positive then negative, so she thought she was going to be taken back to the Olympic village. Instead, an ambulance took her to another spot for further isolation.
Natalia Maliszewska, a Polish speed skater, was released from isolation and also set to return to the Olympic village. However, she, too, was told to isolate longer and told a mistake was made, as reported by Reuters. "I was sitting in the ambulance. It was 3:00 a.m. I was crying like crazy because I didn't know what was going on. I did not feel safe at all. They had told me at midnight that I could go out, and five minutes later, that I could not."
Marko Anttila of the Finnish Olympic team tested positive then, according to New York Post, submitted several negative tests. His head coach, Jukka Jalonen, said, "We know that he's fully healthy and ready to go, and that's why we think that China, for some reason, they won't respect his human rights, and that's not a great situation."