Inside The Fan Theory About The Name Of Kylie Jenner's New Baby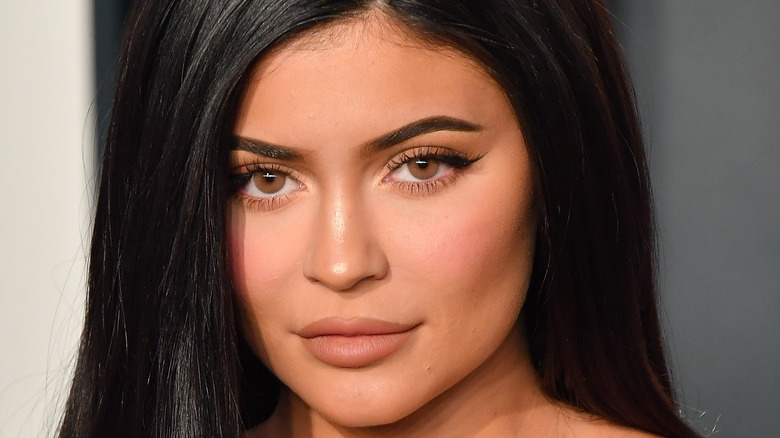 Allen Berezovsky/Getty Images
The Kardashian-Jenners have been in the spotlight for years and years now. Yet, somehow, they still manage to break the internet with their life updates and send the public down rabbit holes of fan theories surrounding them.
Under matriarch Kris Jenner, the family manages to keep a firm hold over their secrets and prevent them from getting out. This results in complete shock announcements, like Kim Kardashian and Kanye West's divorce or Kylie Jenner's first pregnancy. 
Now, fans have adapted to the family's tight-lipped ways by doing their own detective work to discover what the Kardashian-Jenners don't want us to know. Who can forget when internet sleuths figured out that Kylie was pregnant the second time solely by a close analysis of her manicures (as explained by BuzzFeed)? 
Well, here we are with the predicted second baby finally being born on Feb. 2, 2022. Barely a day has passed since Kylie announced the birth with a sweet photo on Instagram, and fans have already found their new fixation: What have Kylie and Travis Scott named their new son? 
Could Travis and Kylie's baby be named Angel?
Surely, the Kardashian-Jenners know what they're doing when it comes to the rumor mill. The suspense and all the question marks left in the air often feel very staged. 
Why the mystery? Why would Kylie confirm her second child's birth but strategically leave out the name? 
Well, fans are tired of the games and have taken matters into their own hands. Shortly after Kylie announced that her second child had arrived, fans dove deep into her comments section to connect the dots, and here's what they've come up with.
According to Page Six, fans have zeroed in on the fact that almost every close friend and family member's comment on Kylie's baby photo has involved the word "Angel." Kris Jenner commented, "Angel Pie," while Kylie's close friend Stassie Karanikolaou wrote, "Angel baby." 
Fans also noticed the fact that, during Kylie's baby shower, friends sewed patchwork circles, and one said, "Angel baby." The theory could be correct, considering the baby's birth date, 2/2/22, which is considered an angelic number.
Kylie and Scott have yet to comment, but a close source revealed to People that "[Travis] and Kylie picked a name together." But the insider claimed that the parents are waiting a few days since Kylie "wants to make sure she loves the name."
With her first child, Kylie took a few days before announcing that she had named her Stormi Webster — which disproved fan theories that her name was going to be Butterfly, as reported by Elle. 
Could they have gotten it right this time? Only time will tell.