The Best Kinds Of Coats For Frigid Winters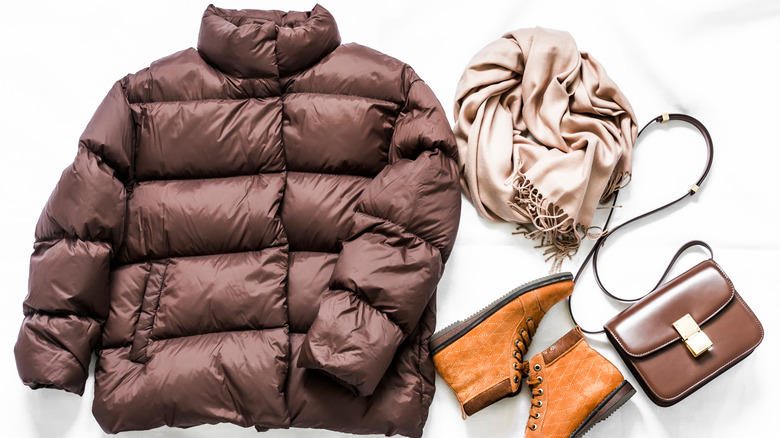 Kiian Oksana/Shutterstock
As you can probably tell from the snow that might be falling outside your window, wintertime is fully upon us. Yes, temperatures are dipping lower and lower, and while we hunker down at home in front of the warm fireplace, we'll try to think about things we do love about the coldest season of the year. There are, of course, the holidays and all their peppermint-flavored, jolly, caroling, festive goodness. Winter is also great for all kinds of hot drinks, whether you stay true to your signature hot cocoa and marshmallows, or spice it up with a salted caramel mocha. This is also a great time for cold-weather activities like skiing, ice skating, sledding, and even making cute snowmen on the lawn with the kids. 
The chilliest season definitely has its upsides. Nothing beats the feeling of coming home after a long day, thawing out with your trusty heater, putting on your fuzziest winter wardrobe socks, and feeling all cozy inside. Sure, summer gets the reputation as the funnest, most exciting season — but when it comes to coziness, it's all about winter for us. Still, there's no doubt we're all going to be cold no matter how happy we are that it's winter, and that's why we all need a fantastic coat. We've compiled a list of the best kinds of winter coats for all your chilly shopping needs!
The puffer jacket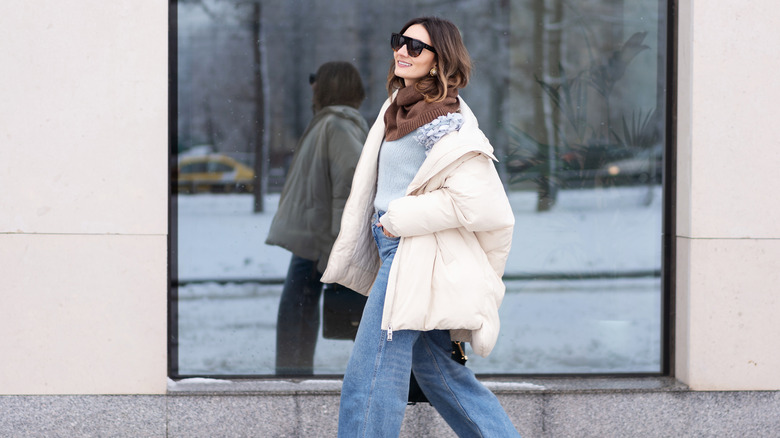 Denis Bukhlaev/Shutterstock
First up is the puffer jacket, aka the do-it-all coat that everyone who lives in a frigid climate can make ample use of year after year. Puffer jackets are notoriously multi-functional and are one of the most practical coats in existence. Puffers aren't necessarily the first coat style you think of when wanting something extremely fashionable or trendy, but that's exactly why we love them so much. These jackets put functionality first, but still somehow pair perfectly with your entire wardrobe, like your quintessential snow boots — especially if you opt for a puffer jacket in a neutral shade.
As explained by RefrigiWear, puffer jackets are defined by stitched sections that are filled with a fluffy material that makes them "puff" up as the name implies. This inner material is exactly what makes puffers so warm, beating out most other coats in insulation while still managing to be lightweight. This makes them the perfect companion for winter travels, especially involving lengthy flights. Puffers are either filled with goose down — an expensive yet warm and sumptuous material — or they're filled with a polyester blend instead. Whether you go the pricier or more cost-effective route, the insulation material will still be warm — even though down fill is famously warmer.
Cosmopolitan cites puffers as one of the trendiest coat styles right now, especially with so many new iterations that bring on rainbow hues, oversized shapes, detachable belts, prints, and the "quilted coat" that's similar to puffers but features a more relaxed silhouette.
The black wool coat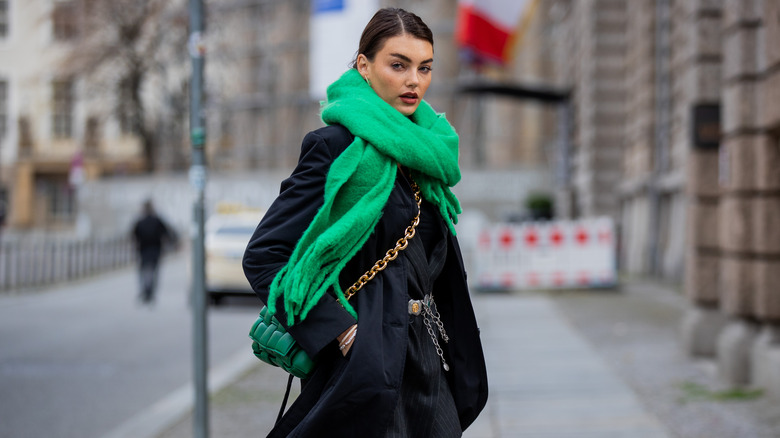 Christian Vierig/Getty Images
Sometimes, it's better to stick to the classics. For us, that thought applies to food, since we'll always love a great piece of salmon with veggies on the side, and no one's ever gone wrong with a cheeseburger or mashed potatoes. Old Hollywood cinema is arguably the best of all, especially when thinking of "Breakfast at Tiffany's," "Casablanca," or "All About Eve." Even the musical oldies are the best — in short, tradition can be great, and we'll always prize tried-and-true favorites over passing trends. That's where the black wool coat comes in. The wool coat is a staple piece that absolutely every wardrobe needs, even those who live nowhere near the snow.
Everyone arguably needs a black coat in their closet, and a cozy wool material assures that your acquisition is as warm as possible. This kind of outerwear is a staple for a reason, and investing in the right one will make sure you wear it for a lifetime. If you want something really warm and soft, opt for a cashmere coat or a wool-cashmere blend. Even a poly-blend will work, as long as it's comfortable and consists of the traditional matte, nubby, wooly perfection. For the shape, keep things simple — we love a mid-length coat that hits around the knees or just below, with a minimalist shape. This style is a wardrobe must-have for a reason, since it quite literally looks fantastic on top of any outfit, whether wearing an evening dress or yoga pants.
The faux fur coat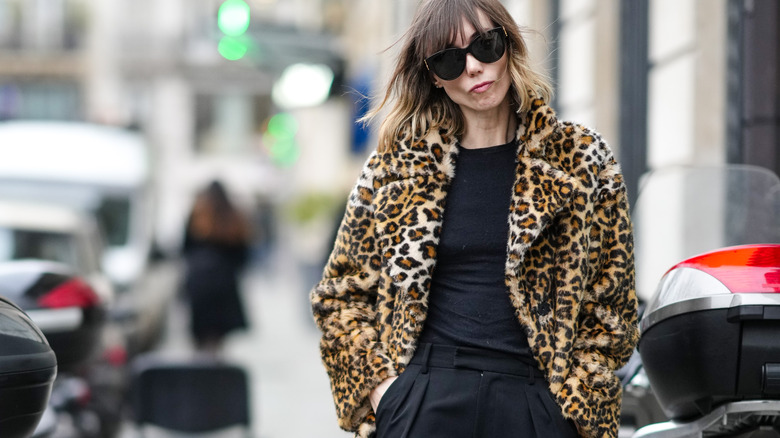 Edward Berthelot/Getty Images
Another style we absolutely love for the harsh winter that makes every day feel glamorous? Of course, the faux fur coat! In comparison to real fur, faux fur jackets are vastly more cost-effective, and are completely cruelty-free. Faux fur coats give you the best of all the worlds, since they make any outfit chic while harming zero animals in the process. Plus, new iterations are changing the game completely from your grandmother's conservative fur style. Nowadays, we have neon hues like candy pink and cherry red, glitter speckled "fur," tie dye prints, and yes, all the animal prints imaginable.
When thinking about the best coats to ward off the frigid chill, your mind probably doesn't gravitate to faux fur coats first. You might have thought of a puffer coat first, or maybe even a wool trench for those fall-to-winter days. Faux fur coats aren't necessarily as warm as their counterparts, mostly because faux fur is made out of polyester, while natural materials like down and wool are known to insulate better (per Morris Kaye Furs). Still, there are ways to make a faux fur coat work perfectly for snow days — it's all about the right layering.
You can easily wear a faux fur coat over a thermal top or lightly layered sweaters — even wearing a blazer or jacket under your coat could work, and it'll look visually interesting, too. Even better? Your faux fur is great as a winter wedding coat to be paired with an elegant, neutral-colored dress. 
The utilitarian coat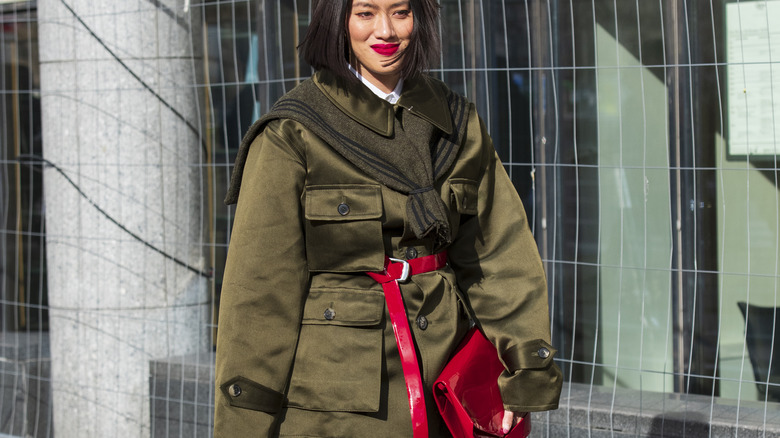 Kirstin Sinclair/Getty Images
Utility is a lot more stylish and fashionable than it's cracked up to be. Take cargo pants, for example. While you might wince at the thought of them, models like Bella Hadid have recently made them extremely cool again, proving that a hefty dose of pockets isn't just practical, it can be cute, too (via Sassy Daily). The utilitarian trend continues to thrive on fashion's catwalks, seen in the form of those 2000s-esque cargo pants everyone is talking about again (via NYLON). Additionally, different kinds of combat boots and chunky "dad" sneakers, zipped denim and nylon backpacks, beanies, and yes, utility coats that you'll want to wear everyday, are extremely fashionable right now.
We couldn't round out our list without giving a shout-out to one of the most functional coat styles of all: the ever-practical utilitarian coat. This style prizes effectiveness, and typically features tons of pockets for storing your phone, keys, wallet, and anything else you need on the go. Who doesn't want that? We've come to think that handbags just weigh us down, so no matter how much we love our vintage leather crossbody bags, we wouldn't mind switching them out for a pocket-filled coat instead. Apart from the obvious functionality, utility coats are adorable, too — and extremely on trend (via InStyle). Think about what kind of style you prefer to emulate, and run with it. You can go for a dark green, classic military-inspired coat, or instead go for a Y2K-inspired version that's equal parts puffy and pocketed.