Why The Secret Service Had To Usher Doug Emhoff Out Of An Event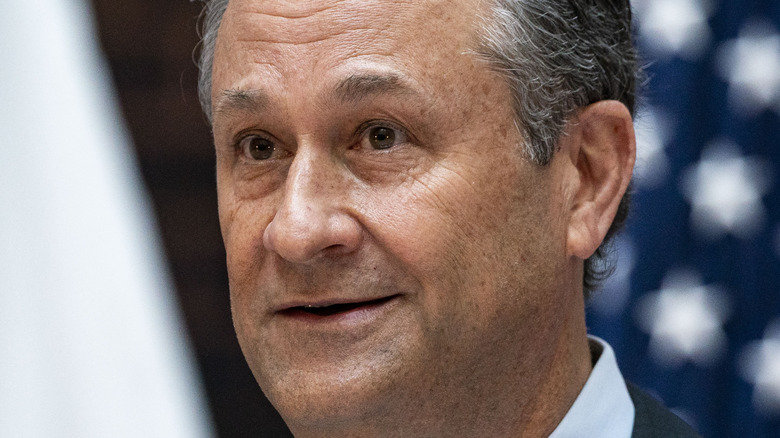 Bloomberg/Getty Images
Doug Emhoff has made history as the country's premiere Second Gentleman (via People). As the husband to Vice President Kamala Harris, the couple has broken boundaries as they each take on roles typically held by the opposite sex.
Emhoff has been supportive of Harris' career, from her run for president to becoming the nominee for VP under Joe Biden. Emhoff has also taken on his role as first gentleman with ease, traveling the country to speak with constituents (via The Guardian). Sometimes, Harris and Emhoff travel together, but the Second Gentleman has also been known to go on his own trips, visiting various vaccine clinics and food banks.
Scott Fredrickson of the First Lutheran Church in Blair, Nebraska told The Guardian about his encounter with Emhoff, "He stopped and spoke to the people who were providing the vaccinations and seemed to genuinely care about what they were doing." It is clear that Emhoff enjoys his new job title. However, recently, he was put in a scary situation on his travels.
Emhoff's visit to a D.C. high school was cut short for a scary reason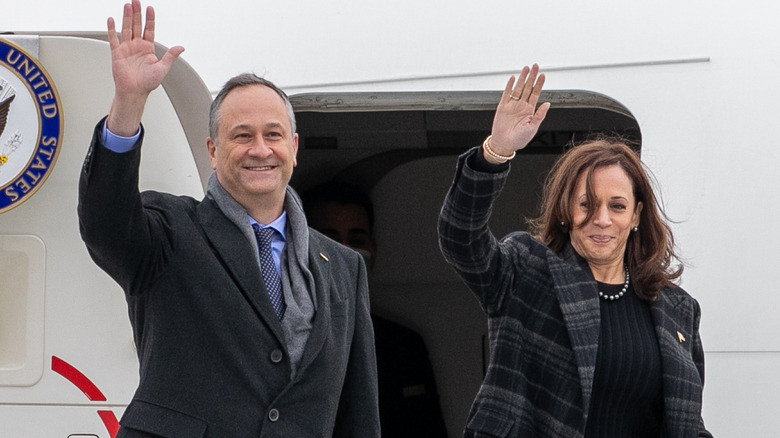 Marc Piasecki/Getty Images
Second Gentleman Doug Emhoff was visiting a high school in Washington, D.C. on Tuesday when the unthinkable happened (via CNN). He was quickly ushered out of the room he was in due to a bomb threat on the campus.
Thankfully, the issue was handled well and Emhoff is safe. His press secretary, Katie Peters wrote on Twitter, "U.S. Secret Service was made aware of a security threat at a school where the [Second Gentleman] was meeting with students and faculty. Mr. Emhoff is safe and the school has been evacuated. We are grateful to Secret Service and D.C. Police for their work."
The point of Emhoff's visit was to acknowledge Dunbar High School's new project they are working on with the National Park Service, reported People. However, within five minutes of visiting the school, Secret Service removed Emhoff due to the bomb threat. Teachers and students were also called to investigate. The Associated Press reported that it was not clear if a bomb was found on the campus or not. The good news is everyone at the school is safe. It is unknown if the threat was linked specifically to Emhoff's visit.