What You Need To Know About The 2022 Puppy Bowl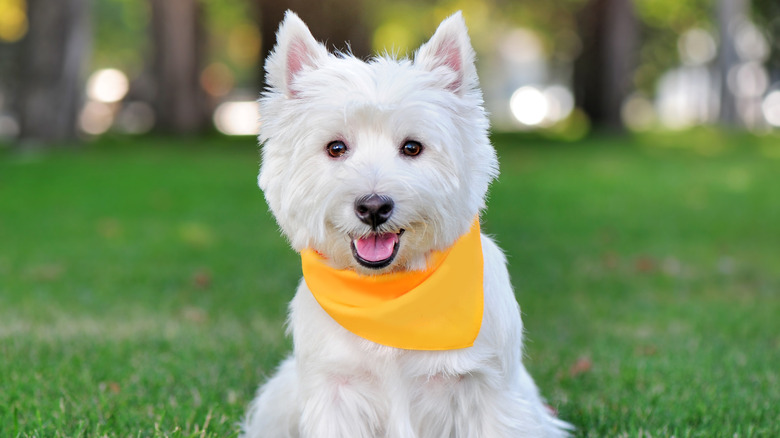 Kasefoto/Shutterstock
Who is ready for the big game? And no, we are not talking about the Super Bowl between the Los Angeles Rams and the Cincinnati Bengals. We mean the Puppy Bowl, which also comes on television this Sunday, February 13.
Since 2005, adoptable puppies have been coming together for this one-of-a-kind game. This year, according to Discovery, 67 shelters and rescues from 33 states will bring over 100 puppy players.
The pre-game show will start at 1:00 p.m. ET, with sportscasters Rodt Weiler, Sheena Inu, and James Hound, plus field reporters Mini Pinscher and Greta Dane, talking about the Puppy Bowl Draft. The game will also feature Steve Levy and Taylor Rooks as the game commentators and Dan Schachner — who, as reported by The Wildest, fosters dogs and has been officiating this game for a decade — as the "ruff-eree." The hosts and coaches of the Puppy Bowl are Martha Stewart and Snoop Dogg, who will oversee Team Ruff and Team Fluff, respectively, as reported by Discovery.
This year's game will feature a Kitty Half-Time Show, NFTs, and special needs dogs
At halftime of Sunday's Puppy Bowl, adoptable kittens will also be featured, says Discovery, in the beach party-themed Kitty Half-Time Show.
This year's event will bring about a new element, too: NFTs. NFTs, or non-fungible tokens, are described by Discovery as "unique units of data," like "one-of-a-kind trading cards." Each one will have a Puppy Bowl design and can be purchased through direct sale or auction. A portion of the proceeds will go to the animal rescue organization Orange Twins Rescue, which was started by Scott and Brian Nicholson and the singer/actress/multi-hyphenate Ariana Grande.
The game's official referee, Dan Schachner, spoke with The Wildest about how six of this year's precious players are special needs dogs, in order to help promote even more adoptions. "And they're out there to send a very serious message," he said, "which is if you need any convincing that a special needs dog is as capable as an able-bodied dog, watch them play football. That's all you need to see."
Puppy Bowl XVIII begins February 13 at 2:00 p.m. ET on Animal Planet, will stream on Discovery+, and will offer viewers three hours of pawsitively adorable entertainment!