Jen And Charlie Share How They Really Ended Up On Love Off The Grid - Exclusive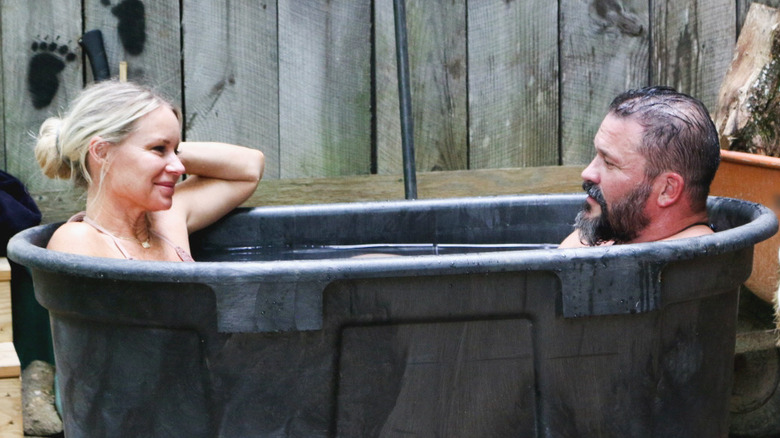 Discovery+
It's nearly impossible to watch any reality show without wondering how its stars ended up there. How did they find out about the opportunity, and what was their trajectory to TV fame? 
And, while the appeal of auditioning for some shows is obvious — if you're a talented but anonymous singer, a successful run on "The Voice" may be just what you need to land that big recording contract — the potential benefits of appearing on some other shows are less clear. Would revealing your whole life onscreen, down to your most vulnerable moments, elevate your personal brand or ruin it entirely?
Jen and Charlie, one of the four couples starring in the new Discovery+ show "Love Off the Grid," had to address this question. The show, in which four experienced outdoorspeople passionate about wilderness life welcome their city-dwelling partners into their rustic homes, makes no guarantee of always showing its stars at their best. Indeed, the whole premise of the show is following them as they try to function way outside their comfort zones. 
Jen and Charlie took the plunge and said "yes" to the opportunity — and risks — of living life onscreen and off the grid. In this exclusive interview with The List, they share how they got there.
Jen wasn't sure she wanted to be on TV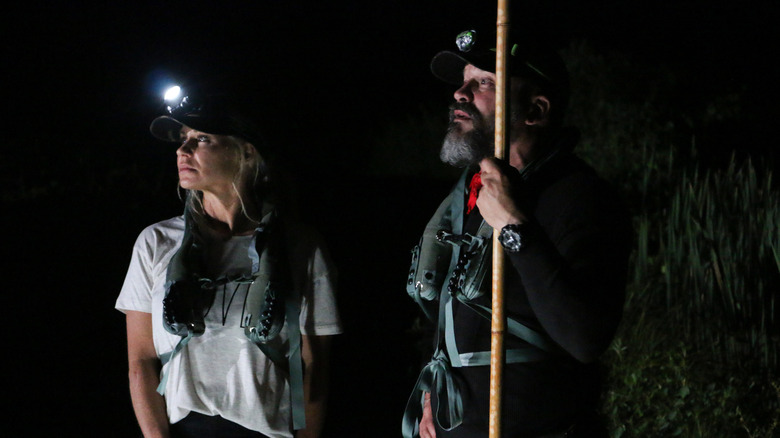 Discovery+
While any number of aspiring actors and influencers would jump at the opportunity to appear on a reality show, no matter how potentially humiliating it could be, Jen wasn't sure she had the appetite for it. 
"I went forward not totally on board," she said. "I wasn't jumping at the idea of sharing my life on a reality TV show."
But, just as she took a leap of faith to move into Charlie's one-room shack in the mountains and move their relationship to the next level, she eventually came to see the opportunity to be on TV as a personal and spiritual challenge. 
"I think what I came down to was I felt like it was something that was put in my path that I was faced to say yes or no to, and saying yes was putting me in a place of vulnerability and growth, and saying no, I would've been doing it out of fear," she said. "So I just ultimately chose to do it. That's my best answer because I wasn't all like gung-ho at first at all."
Love Off the Grid isn't Charlie's first time on camera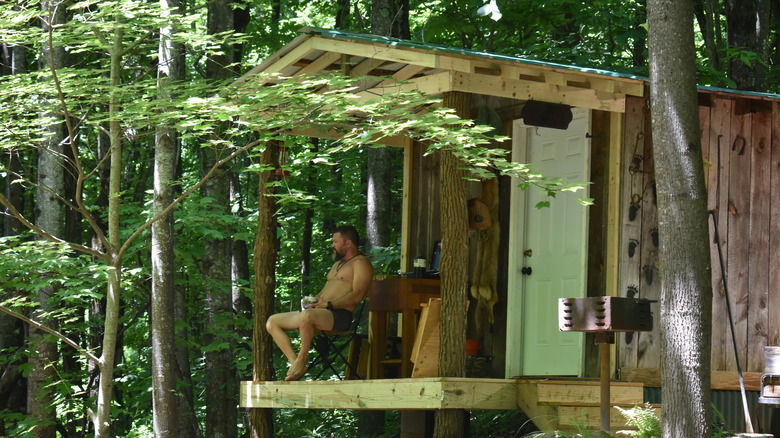 Discovery+
While Charlie may relish backwoods life, far away from it all, he's not shy — nor a stranger to being on camera. "I love writing and literature and the movies. I'm on IMDb for some things I did like acting and whatnot," he said. 
But being on TV for the sake of being on TV wasn't his motivation for signing on to the show. Instead, he wanted to share his pride in his North Carolina hometown and the surrounding forested area, which has served as the backdrop of several major films. 
"'Dirty Dancing' was here and 'Last of the Mohicans' and all this great stuff that's been done in our area but not about our area," he said.
Charlie hopes that, by opening his mountain home to the audience of "Love Off the Grid," viewers will learn about and appreciate his community and its uniqueness, a cause that remains close to his heart. 
"I've always wanted to write a story about my hometown and Lake Lure," he said.
"Love Off the Grid" is now streaming on Discovery+.