Love Is In The Air For Pete Davidson And Kim Kardashian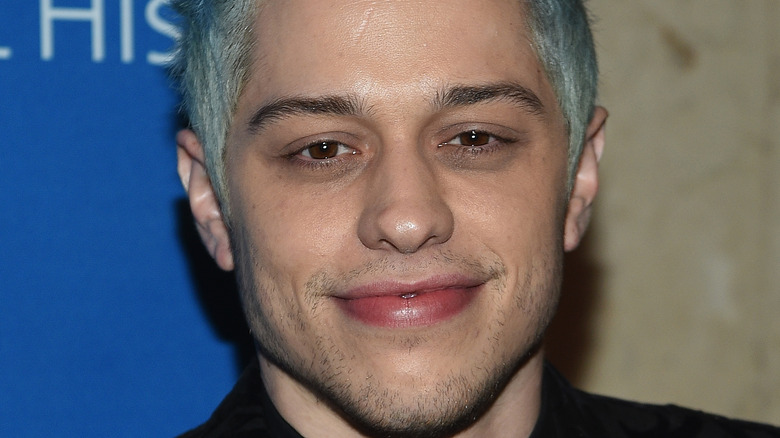 Dimitrios Kambouris/Getty Images
Kim Kardashian and Pete Davidson stunned fans when they were first seen hanging out together back in 2021, per Us Weekly. The pair went public with their relationship during a trip to Knott's Scary Farm in October, just days after Kardashian hosted "Saturday Night Live" and appeared in a sketch with Davidson. The following month, the duo were seen having dinner together at Campania in Davidson's home of Staten Island. The next day they joined some friends in Manhattan.
Things continued to heat up for Kardashian and Davidson as 2021 ended, and they even took a romantic beach vacation together to celebrate the new year. "Things have definitely escalated quickly but in a healthy, fun way. Right now, they are just enjoying their time together and seeing where things go," a source told the outlet.
After the couple attended a dinner party at Amazon founder Jeff Bezos' house, insiders revealed that Davidson was looking for a place in Los Angeles so that he could spend even more time with Kardashian. "Pete's been spending more time in L.A. to be close to Kim, and he's looking to find a place there. They've definitely gotten serious," the informant dished.
Meanwhile, now that Valentine's Day is right around the corner, it seems that Davidson may be looking to make the day very special for his new girlfriend.
Pete Davidson publicly calls Kim Kardashian his girlfriend for the first time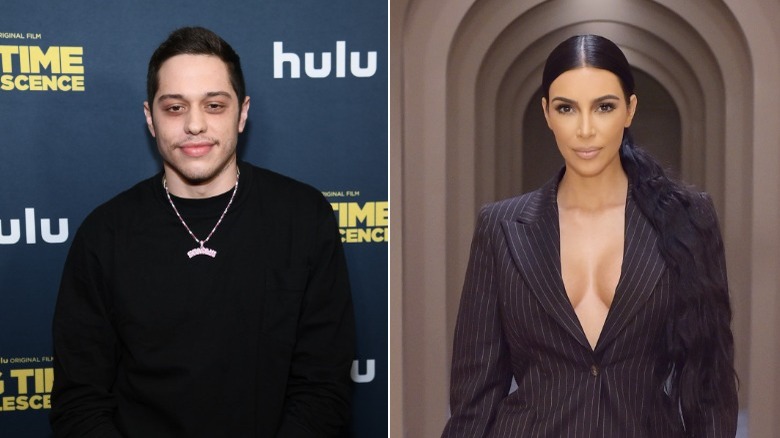 Dimitrios Kambouris, Stefanie Keenan/Getty Images
Pete Davidson recently spoke to People about his new Super Bowl ad and, of course, he couldn't help but mention his girlfriend Kim Kardashian as well. When asked about his Valentine's Day plans, the "Saturday Night Live" star revealed that he had some thinking to do when it came to the romantic day. "I don't think I've ever had a Valentine's Day thing, really," he said. "So this would be the first year that I'm thinking about Valentine's Day plans, I guess."
During the interview, Davidson also touched on his fame, and what it's like to live in the spotlight. "Well, I don't really have Instagram. I don't have Instagram or Twitter or any of that stuff. So most of my daily life is getting into cars and showing up to a set," he said. "Or, if I'm off, I just either hang with my friends or chill with my girlfriend inside," he added, referencing Kardashian as his girlfriend for the first time publicly. "So I don't do much. So my life's zero affected at all."
Meanwhile, Davidson is said to be fitting in very well with Kardashian's family, and sources say that they're very "comfortable" with each other. "Kim is obviously very happy with him," said one insider.