Winter Coats That Don't Cost An Arm And A Leg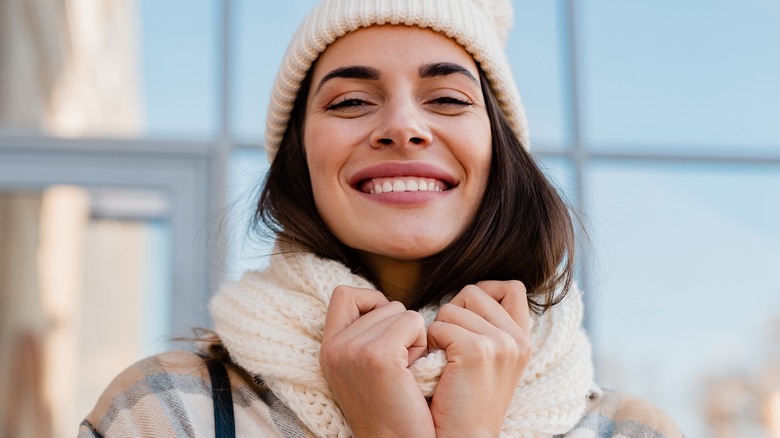 Maria Markevich/Shutterstock
With winter here, you might be looking to update your chilly wardrobe while it's still cold enough for toasty mittens, knit beanies with pompoms, and, yes, tons of wool scarves in every color of the rainbow. It's no secret we absolutely adore our winter wardrobes, with their countless ways to accessorize and all the coziness by way of warm, natural materials like suede and cashmere to ward off the wind outside. Sure, not many of us actually like sub-zero temperatures, but, admittedly, winter has its fair share of magic. Springtime has its bloomed flowers and perfect temperatures, summer has seaside fun and popsicles, and fall has candy apples, pumpkin spice lattes, and great fashion in its own right. Still, winter is a wonderland in our eyes. It boasts snowfall, holidays, family gatherings, cheesy Christmas movies, hearty meals, and, of course, great style.
If you're looking to give your winter wardrobe an instant update, we recommend going for a coat overhaul. Many of us wear the same coat every day, so buying a new one might just be the dose of fashion excitement you need to put some pep in your step, no matter how cold it is outside. What's more, just purchasing one new coat can change your entire winter style game. Here are the best winter coats you can buy for under $50 that are just as fashionable as their expensive counterparts.
These winter coats are gorgeous and cost under $50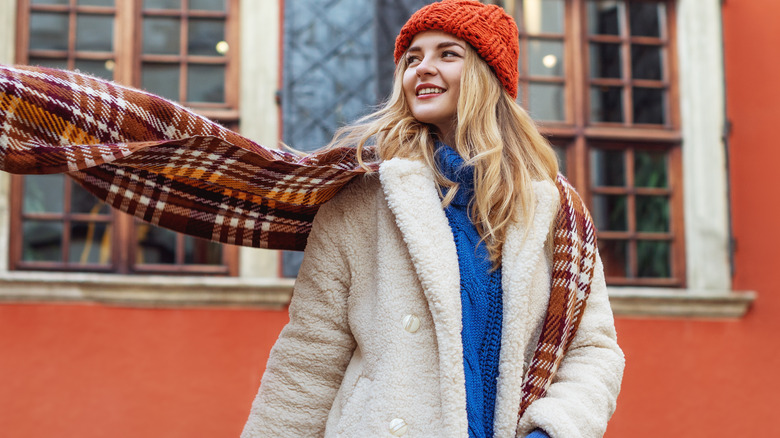 Victoria Chudinova/Shutterstock
There are tons of gorgeous coats you can buy that give you tons of bang for your buck, and are under $50. We found coats that will still keep you extremely warm while not costing a fortune. Plus, they're adorable! Generally, a great store to try is Forever 21, which has tons of on-trend options for a fraction of the price. For example, we absolutely love the Plush Button Front Coat, a winter-white faux fur option that will easily take you from day to night. Furthermore, it will pair perfectly with everything in your closet. Anything quilted is also seriously in style right now, and the Quilted Zip-Up Jacket is adorable in its taupe shade, oversized silhouette, funnel neck, and adjustable drawstring hem if you want to change it up.
For a longer coat, the Longline Wrap Coat is absolutely gorgeous, incorporating a woven, wool-like material in a deep chestnut color. It boasts large lapels, an oversized shape perfect for throwing on over big sweaters, a waist tie for more definition if desired, and a below-the-knee length for extra warmth. If you want a coat with a print, the Plaid Button-Front Longline Coat brings together winter-ready plaid in gray and rust, a shearling collar, a warm, partially-wool fabric, and a knee length. It's perfect with black leggings and straight-leg jeans alike!
We're obsessed with these wallet-friendly coats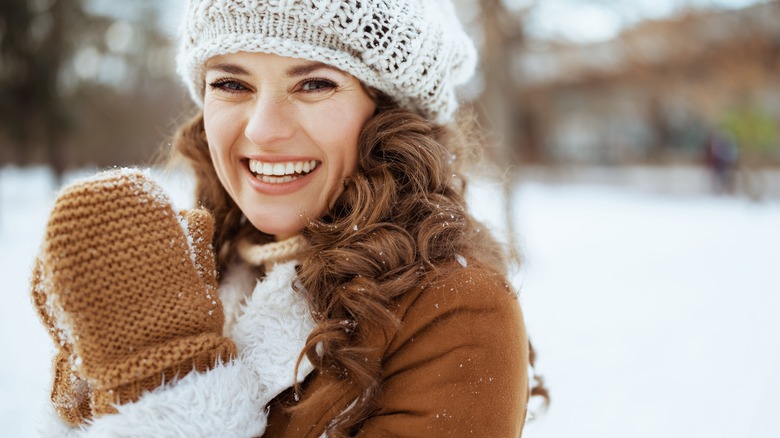 Alliance Images/Shutterstock
Forever 21 isn't the only store that has tons of great coats for under $50. In fact, H&M is another fantastic option. While we've been shopping at this store seemingly forever, it simply never fails. Their items are low-priced, uber-fashionable hits every time. For instance, we adore the Puffer Jacket in an oat milk-like beige. It boasts a quilted shape, a waist-defining drawstring, and pockets on the front. Another puffer jacket we can't get enough of is the Water-Repellent Ski Jacket in slope-ready pink and white chevron. If you're looking for a great coat to throw on when headed to work out (or, really, any other time), this sporty option might be the one. And because we can never get enough of puffers, the Crop Puffer Jacket is one of our favorites we've seen. In black, cream, cherry-red, and a neutral print, it features a flattering cropped shape and cozy quilting.
If a parka is more your style, the Padded Jacket in black is a surefire hit over anything in your wardrobe. The same goes for the Oversized Bomber Jacket in black. Meanwhile, Nasty Gal has a couple of good coat options that won't break the bank as well. We fell in love with the puffed-up Cropped Padded Coat in a creamy beige color with sporty drawstrings, as well as the goes-with-everything Belted Faux Fur Maxi Jacket. Ultimately, it's never too late to jump into the best winter fashion trends!