Nail Polish Colors You Shouldn't Bother Wearing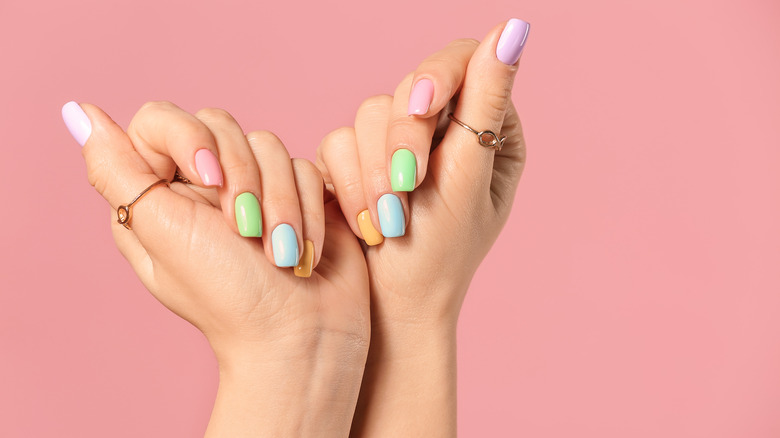 Pixel-Shot/Shutterstock
If you're like us, you might just be obsessed with all things hair, makeup, and nails. You actually love curling your hair, and live for a good TikTok tutorial for a new way to style an updo or create a braid. Same goes for makeup: your contour and highlighter game is unparalleled, and you can never choose between Y2K-style lip gloss or a creamy lipstick — you love it all. You can regularly be found perusing a Sephora or Ulta, trying not to buy everything you see — but you always see something you actually "need" (we've all been there). It makes sense that your passion for all things beauty extends to your nails too, and with so many options nowadays when it comes to manicures, you might be more obsessed than ever.
While manicures in the not-so-distant past were reserved to regular nail polish or acrylics, the world of nails has opened up to include countless techniques we can't get enough of. Even though a regular mani is still on the table, many prefer gel nail polish because it lasts at least two weeks through a special "curing" LED or UV lamp (via Byrdie). Nowadays, we also have dip powder manicures, or polish built up using a fine powder (via Elle), and Apres Gel-X nails, an "acrylic-alternative" that is usually coupled with incredible, fashion-forward nail designs (via Treatwell). Still, no matter what route you decide to go for, knowing what colors to avoid for your next manicure is crucial.
These are the colors to avoid when getting a manicure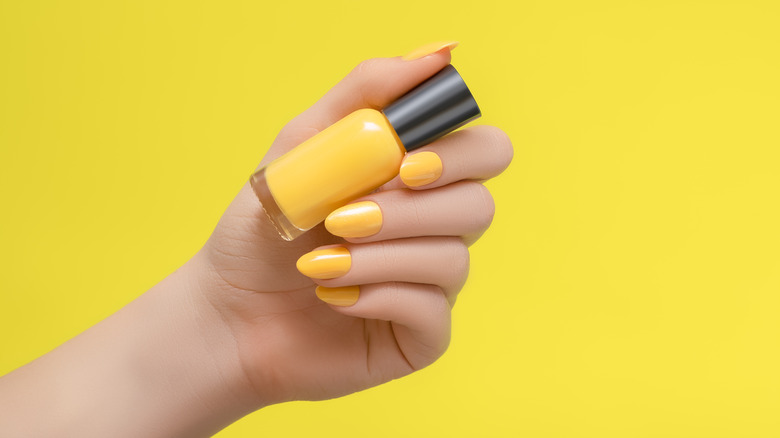 Dev_Maryna/Shutterstock
Tastes are subjective, and what works for someone, won't necessarily work for somebody else. For one, some of us look amazing in pastel pink, while it may wash other complexions out. When it comes to nail polish, the same rules apply, and we really should all just do what works for us. Still, there are certain colors that you shouldn't bother wearing.
One nail polish color you should avoid if you prefer a low-maintenance manicure is black — it makes chips extremely obvious because of the stark contrast between the polish and your natural nail. Similarly, navy, brown, and burgundy are all shades to avoid if you work with your hands and get regular chipping, or want to draw less attention to new nail growth. Instead, go for neutral shades like cream or baby pink for the most low-maintenance manis you won't have to think about (via Martha's Workshop).
Other nail polish colors you should avoid? Shades that are least likely to flatter your skin tone. While shades like creamy-white or cherry-red look good on a wide range of complexions, some colors are a lot more hit or miss. For one, yellow nail polish might wash you out, and bring out yellow undertones in your skin. Same thing goes for green polish, particularly brighter, neon colors. Still, while considered "ugly" polish colors for some, yellow and green are actually pretty on-trend right now (via The Zoe Report). So you do you!