What Type Of Thermal Underwear Is The Warmest?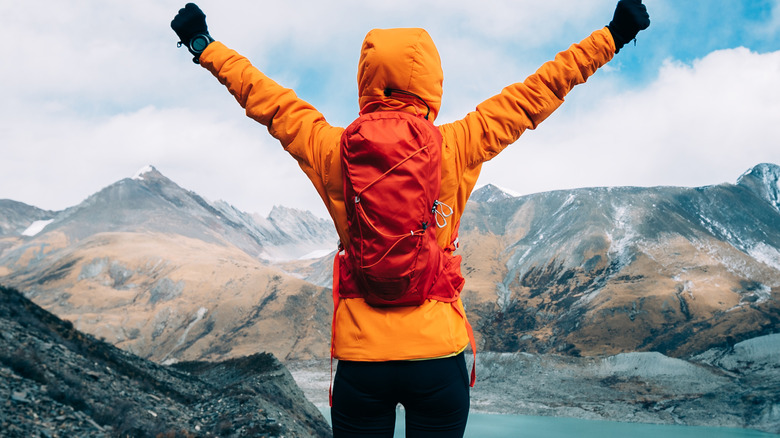 lzf/Shutterstock
Don't let winter's cold temperatures prevent you from enjoying time outside. Thermal underwear, sometimes known as long johns, has come a long way from the bulky, plain-white garments of the past. According to Land's End, modern thermals are thin enough to keep you cozy and fit comfortably under your favorite pants.
Thermal underwear provides a base layer to maintain warmth during skiing, snowboarding, running, hiking, or camping. When you're indoors watching a movie, thermals can serve as comfortable loungewear, too. According to Rolling Stone, thermal underwear are so great because of their minimalistic look. Whether your thermals serve as a base beneath a fleece pullover or you're wearing a patterned pair as a shirt, you can stay warm without feeling weighed down by heavy fabrics.
When choosing thermals, a proper fit is essential. Best Products recommends a snug fit for even heat distribution and to maximize the thermal's heat retention. Avoid tight thermals that rub or irritate your skin and make it harder to move your body. Naturally, thermal underwear comes in a variety of synthetic and natural materials, including spandex, polyester, wool, and cotton (via Decide Outside). If warmth is your top priority, one material may stand above the rest.
Merino wool is the best material for thermals
Shams F Amir/Shutterstock
For maximum warmth, wool, specifically from merino sheep, is your best bet for thermal underwear. According to Smartwool, merino wool is ultra-thin — one-third of the diameter of a human hair — and soft, unlike the prickly, itchy feel of traditional wool. Merino wool is also a sustainable choice. One sheep produces 4 to 5 pounds of wool annually, making the fiber a natural, renewable resource. Additionally, wool biodegrades after a year in the ground, making it even more environmentally friendly.
Rolling Stone calls merino wool "the gold standard" for thermal underwear. Unlike synthetic fibers, merino wool is porous, so it's excellent at regulating your body temperature to provide insulation while wicking away sweat. Merino wool is also naturally antibacterial, making it resistant to odors, which can be a game-changer if you're on a multi-day hike (via Ranger Expert).
If you're shopping for a specific brand of thermal underwear, Travel Fashion Girl recommends Minus33 Merino Wool tops and bottoms, as well as Icebreaker Everyday tops and leggings. Both brands are crafted with 100% merino wool. The New York Times also recommends Minus33, pointing out that the brand's thicker fabric and flatlock seams offer increased durability. If you want something lighter but still warm, the outlet suggests Ridge Aspect's Midnight Merino Wool Base Layers. Its items feature a blend of 84% merino wool, with 16% nylon for stretch and durability, and its tops feature UPF50+ sun protection. Plus, they can be worn alone or layered.