Prince Harry's Silence Over Camilla's Announcement Is Deafening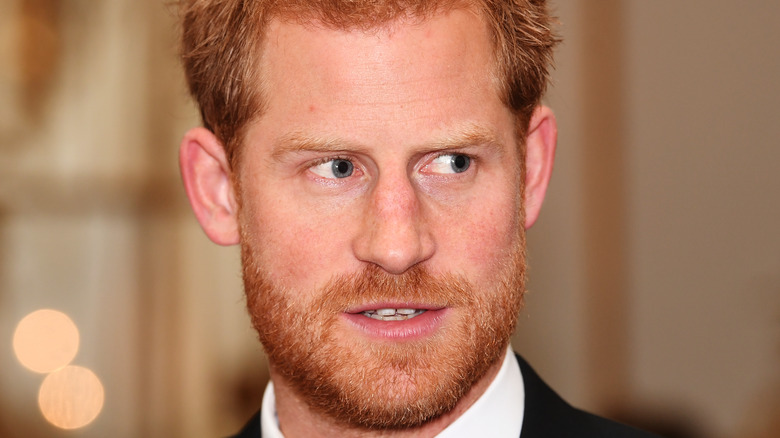 Wpa Pool/Getty Images
Queen Elizabeth II recently celebrated her 70th anniversary as monarch, per The Express. The queen shared a sweet statement on the anniversary of her accession, which officially kicks off her Platinum Jubilee year. "As we mark this anniversary, it gives me pleasure to renew to you the pledge I gave in 1947 that my life will always be devoted to your service," Elizabeth wrote in her statement. "I remain eternally grateful for, and humbled by, the loyalty and affection that you continue to give me," she added.
The queen also touched on her late husband, Prince Philip, whom she said was "unselfish" in his role as consort. "I was blessed that in Prince Philip I had a partner willing to carry out the role of consort and unselfishly make the sacrifices that go with it. It is a role I saw my own mother perform during my father's reign," she said. The queen then went on to reveal that her son Prince Charles' own wife, Camilla Parker Bowles, has also been supportive and loyal to the firm, revealing that it is her wish that Camilla take on the title of Queen Consort when Charles ascends to the throne. "In the fullness of time, my son Charles becomes King, I know you will give him and his wife Camilla the same support that you have given me; and it is my sincere wish that, when that time comes, Camilla will be known as Queen Consort as she continues her own loyal service," Elizabeth added.
The royals react to Queen Elizabeth's support for Camilla Parker Bowles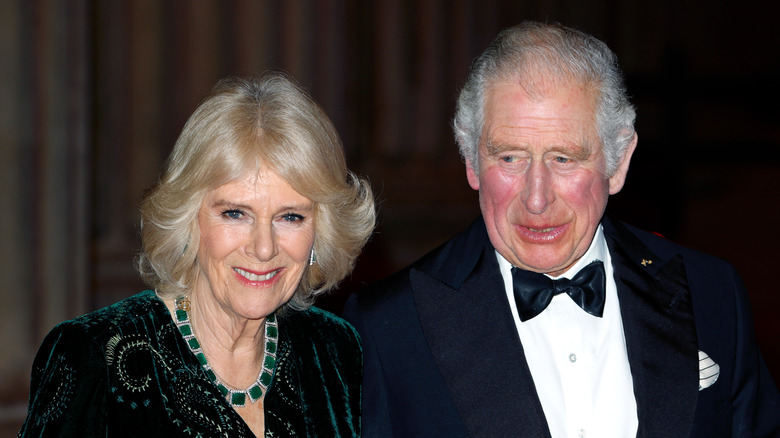 Max Mumby/indigo/Getty Images
Following Queen Elizabeth's public show of support for her daughter-in-law Camilla Parker Bowles to hold the title of Queen Consort, Prince Charles shared a heartwarming reaction. The Prince of Wales opened up about his mother's kindness, revealing that he was touched by her support. "We are deeply conscious of the honor represented by my mother's wish. As we have sought together to serve and support Her Majesty and the people of our communities, my darling wife has been my own steadfast support throughout," he wrote (via People).
A few days later, Camilla herself stepped out for a public appearance to visit the Nourish Hub community kitchen. During her time at the kitchen, Camilla spoke with many members of the public, including one who asked her how she felt following the queen's announcement. "I feel very, very honored and very touched," the duchess replied. Meanwhile, the queen's 70th anniversary on the throne as well as her announcement about Camilla's future title were acknowledged by people all over the world, including other members of the royal family. 
However, Elizabeth's grandson Prince Harry and his wife Meghan Markle, who opted to leave the royal family in early 2020, stayed quiet about the queen's milestone. The Duke and Duchess of Sussex have also kept silent about Camilla following the queen's statement, which some fans took to be a message about their feelings towards the firm.
Prince Harry stays quiet about Camilla's future role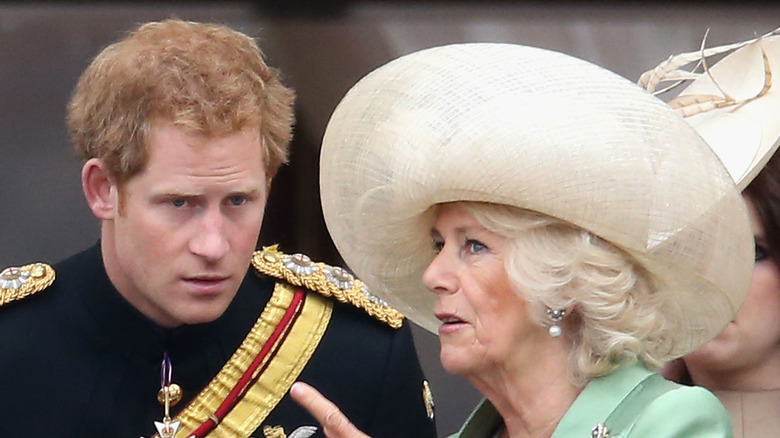 Chris Jackson/Getty Images
Prince Harry and Meghan Markle's silence about Queen Elizabeth's 70th anniversary on the throne seemed to speak volumes. Harry was recently revealed to be in a legal battle to return his right to pay for police protection when returning to the UK (via Associated Press). However, things haven't gone well on that front for the royal, and now, Harry's silence about Camilla's future role appears to be deafening. The Sussexes have chosen not to comment on the queen's public show of support for Camilla Parker Bowles receiving the title of Queen Consort when Prince Charles ascends to the throne. Instead of sharing support and love for his stepmother, Harry opted to talk about his own mother, the late Princess Diana (via Geo News).
Although Harry didn't publicly comment about the future queen, Duchess Camilla, he did remind fans about his mother's work to eradicate the stigma surrounding HIV, a cause that Diana championed throughout her life. Harry also encouraged people to get tested for HIV, revealing that the virus is no longer the death sentence that it used to be, calling it a "manageable disease," per EpicStream. The Duke also acknowledged that there is still a stigma surrounding the virus and that testing remains a problem for many around the world.
Some believe that Harry's silence about Camilla's future role in the royal family and his praise for Diana sent a clear message about his feelings on the subject. However, he's yet to make his actual feelings public when it comes to the situation.