The Truth About The Special Brooch The Queen Wore For Christmas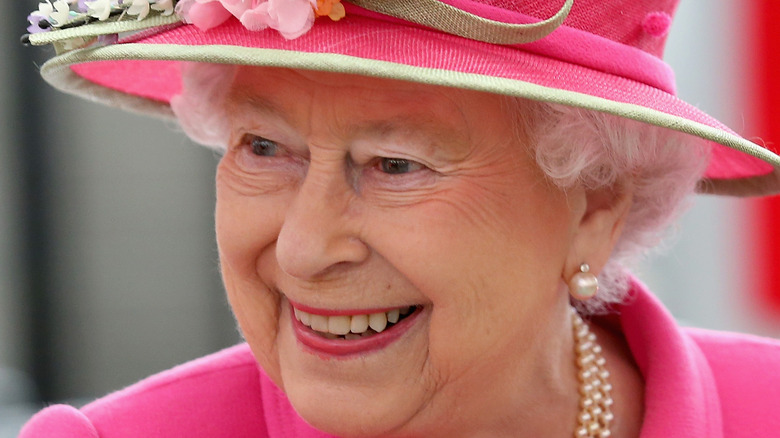 Chris Jackson/Getty Images
Queen Elizabeth II has spent more than 70 years in the public spotlight, so a few things are very predictable about the monarch's style. At any time, you can likely find the queen rocking a lovely pair of low-heeled shoes; bold, monochromatic outfits; and earrings, necklace, and bracelet sets that are mostly pearls (via Bustle). Of course, you can't forget her matching hats. In fact, her hats help her stand out from the crowd. "The queen has always been aware that she needs to stand out from the crowd, and it is for this reason that millinery has always played an important role in her wardrobe," Caroline de Guitaut, a royal curator, told The New York Times. "They enable people who want to catch a glimpse of her to spot her immediately."
The list of staple fashion pieces in the queen's wardrobe would be incomplete without her brooches. Most of Queen Elizabeth's brooches have historic significance attached to them, according to Honey. For instance, some were passed down with the crown, while some others were gifted to her by loved ones (via Us Weekly). However, a few brooches, like Elizabeth's sapphire chrysanthemum brooch, which the queen wore for her annual Christmas address in December 2021, have a personal history and have been in Her Majesty's jewelry collection for decades (via The Court Jeweller).
Elizabeth's brooch relates to her late husband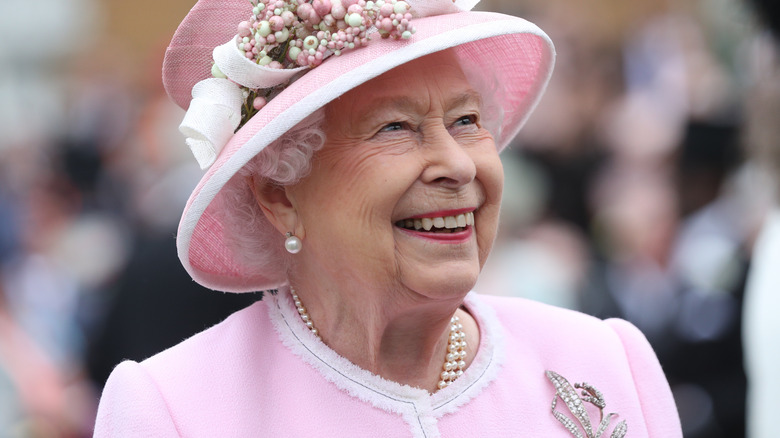 Wpa Pool/Getty Images
The sapphire chrysanthemum brooch, one of the first gifts Queen Elizabeth received as a princess, is one that the monarch wears most often (via The Court Jeweller).
The brooch made quite a number of appearances with her late husband, Prince Philip, who she first met at age 13 and to whom she eventually got engaged at age 18. In fact, the queen wore the brooch for a series of honeymoon portraits with her late husband, according to Marie Claire. She also wore it in a portrait with her children, Prince Charles and Princess Anne, per The Court Jeweler. In November 2007, the brooch featured once again in a portrait of the couple, taken for their 60th wedding anniversary (via Vogue). It appears quite safe to call the sapphire chrysanthemum brooch a special piece to the queen.
Sadly, Prince Philip died aged 99 in April 2021. While addressing the U.K. in December 2021, the queen spoke about the pain of losing a loved one. "Christmas can be hard for those who have lost loved ones," she said. "This year especially, I understand why," she continued (via The National News). She was spotted wearing the chrysanthemum brooch while giving this speech. Next to her was a framed photograph of her with the late prince, in which she was wearing the same brooch.