Russia's Star Olympic Figure Skater Is Embroiled In Controversy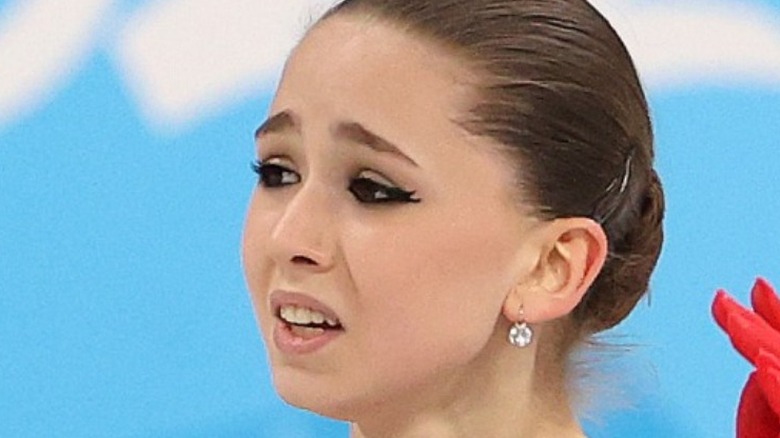 Jean Catuffe/Getty
Russia may not be competing at the 2022 Winter Olympics in Beijing under their country name, but that doesn't mean they haven't stayed on-brand.
In 2014, Russia hosted the Winter Olympics in Sochi. After a major doping scandal was uncovered that involved a "secret hole" being cut in a wall at the Olympic PED testing lab, Russia was banned by the International Olympic Committee from at least three competitions (per Yahoo Sports).
Russian athletes, however, are competing this year as part of the "Russian Olympic Committee" and are once again at the center of an alleged doping scandal. Tuesday's medal ceremony for the figure skating teams, including the Russian Olympic Committee, was postponed due to a "legal issue," insidethegames reports. These legal issues, unfortunately, revolve around the ROC's star athlete, 15-year-old Kamila Valieva.
Valieva has only been competing at "senior levels" since October, according to Yahoo Sports, and has yet to lose an event. In fact, she's already set nine world records, including three for the highest scores. Her current record, 272.71, is 10 percent higher than any other woman has ever scored.
Here's why Kamila Valieva may not be punished for doping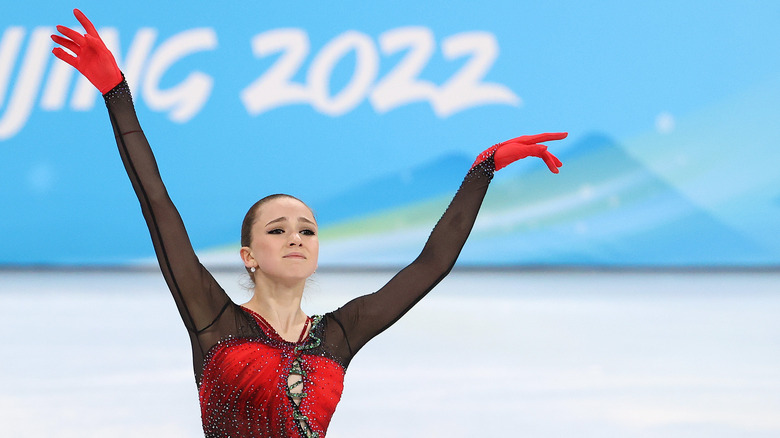 Jean Catuffe/Getty Images
It's now being reported by Russian newspaper RBC that Kailua Valieva's drug screening results are what postponed the figure skating medal event this week (per USA Today). Valieva's results allegedly showed trimetazidine in her system, a heart medication that has been banned by the World Anti-Doping Agency since 2014. The drug can improve endurance and blood flow, giving the user an unfair edge in competition.
Under normal circumstances, flagging for use of a banned substance can include "disqualification of results at an event, including forfeiture of medals, a ban from all sport (competing, training, or coaching) for up to four years or even life in repeat or the most serious cases, publication of your anti-doping rule violation, and financial penalties" according to Drug Free Sport New Zealand.
But since Valieva is only 15, the same penalties may not apply. The World Anti-Doping Agency lists anyone under the age of 16 as a "Protected Person." This means that the WADA takes into account art "below a certain age or intellectual capacity [the athlete] may not possess the mental capacity to understand and appreciate the prohibitions against conduct contained in the Code" (per Yahoo Sports).
Whether or not it's ruled Valieva knowingly used a banned substance, the decision will end up being a subjective one, leaving room for legal battles. But Valieva could also walk away without any discipline at all. Like everything else in the Olympics, this will come down to what judges decide.