This Affordable Perfume Is A Perfect Dupe For Baccarat Rouge 540
We may receive a commission on purchases made from links.
If you have a signature scent, chances are that you can't live without it. It might even be on your desert island list along with essentials like, say, water and Taylor Swift's "Folklore" album. You might go back to that perfume because it's your secret weapon for confidence, with a spray making you feel as powerful as Beyoncé hitting the stage. Similarly, our sense of smell is known to be intrinsically linked to memory, with the brain sending out signals to our limbic system as soon as it receives scent information (via Verywell Mind). This is why just a whiff of your grandmother's house can remind you of that birthday party you had when you were 7, or the smell of an ex's cologne can be off-putting and nostalgic all at once. In fact, for some of us, a smell can take us back to a memory quicker than photos can.
If you absolutely love Maison Francis Kurkdjian Baccarat Rouge 540 Eau de Parfum, you're not alone. The scent is becoming more popular by the day, with The Cut naming it the "scent of 2021." The perfume is gourmand, yet complex, and will always get you compliments. That being said, the sky-high price tag is less than ideal. Luckily, we found the perfect dupe, and it currently retails for just over $25.
Baccarat Rouge 540's unique ingredients make it stand out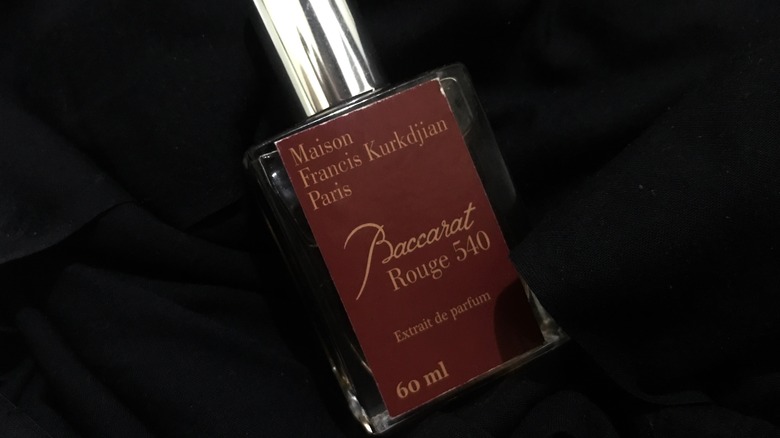 Muhamad Rizki Pratama/Shutterstock
Baccarat Rouge 540's proponents absolutely love the complex, signature blend of jasmine, spicy saffron, ambergris, cedar, and amber. The scent is like nothing most people have ever smelled, initially unveiled as a limited edition to celebrate crystal manufacturer Baccarat's 250th birthday. Fans have always been ready to fork over the $300-plus price tag for a reason: Until recently, no perfume could rival it. Creator Francis Kurkdjian told Refinery29 that he knew the fragrance and ingredients were special when he received non-stop compliments whenever he wore it, and then chose to expand the product from its original 250-bottle launch. 
The perfumer has said the scent is "an overdose of everything," with the scent of "candied strawberries" wafting in from its notes of veltol, a prime note in Mugler's standout Angel from 2000 (via The Cut). Fragrance expert Alice du Parq told Refinery29 that the ambroxan in this perfume is "creamy, sensual, addictive yumminess." When describing Baccarat Rouge 540 as having a "candy floss, burnt strawberry jam vibe that makes people's mouths water" with a "slightly burnt sugar smell," it's easy to see why fans can't get enough.
Another element that makes Baccarat Rouge 540 so unique is the fact that ambroxan is made from whale vomit, which sounds pretty gross but makes the scent deeper and more complex. If that puts you off, or you're looking for a cheaper alternative, you need to try Ariana Grande's Cloud perfume stat.
TikTok loves the similarities between these two perfumes
Fans of Baccarat Rouge 540 are going crazy for Ariana Grande's Cloud perfume, citing the eerie similarities between the two — and the stark difference in price tags. At just over $25 currently, Cloud is an uncanny dupe, with one Reddit user saying both feature an "almost toasted marshmallow-y woody resinous sweetness." Where Baccarat Rouge 540 stays in that scent, the Cloud perfume transcends into "pear and vanilla sugar" notes. Another Reddit user says they use Baccarat Rouge 540 for special occasions, while using Cloud on a daily basis. Another Reddit user shared a story about wearing Baccarat Rouge 540 and getting asked if it was Cloud instead.
Beauty Reviews Daily recommends Cloud as the "perfect" alternative for Baccarat Rouge 540, explaining that the "exact dupe" has the same woodsy, musk-oriented base notes coupled with sweet, gourmand vanilla. In fact, Cloud's floral notes of lavender and bergamot parallel Baccarat's jasmine scent, while the vanilla-praline middle notes are extremely similar to Kurkdjian's candy-sweet ambroxan. With both giving off final woodsy notes, it's clear both are extremely similar from start to finish. 
Finally, TikToker @eaulaleah recommends Cloud to anyone as an "affordable alternative" to Baccarat, while another user says it's a dead-ringer for it with similar notes all-around. What's more, Ariana Grande's Cloud 2.0 Intense Eau de Parfum actually features ambroxan, possibly making it even more similar to Baccarat (via Best Men's Colognes).