Is The Mahli Cordless Muscle Massager Worth It?
Aleksandr Grechanyuk/Shutterstock
We may receive a commission on purchases made from links.
If you've ever had a deep tissue massage, you know how life-changing it can be to loosen up tight muscles and tense knots. Unfortunately, the sessions can be pretty limited on time, usually lasting under an hour. The good news is that scoring a portable cordless muscle massager is easier than ever, and you can do it from the comfort of your home. While they may look a little unusual at first glance, cordless massagers are easy to use and incorporate into your routine. 
Whether it's soothing sore muscles after hitting the gym or decompressing after a stressful week during a Sunday self-care routine, the massagers are powerful and effective. While a gadget like a portable massager won't totally replace a traditional deep tissue massage, it can come pretty close and help save money on trips to the spa. Plus, you'll always have it on the ready if you need it. These handheld devices can be a game-changer, but is the Mahli brand worth investing in?
Mahli's massager may not be worth it, but cordless massagers generally are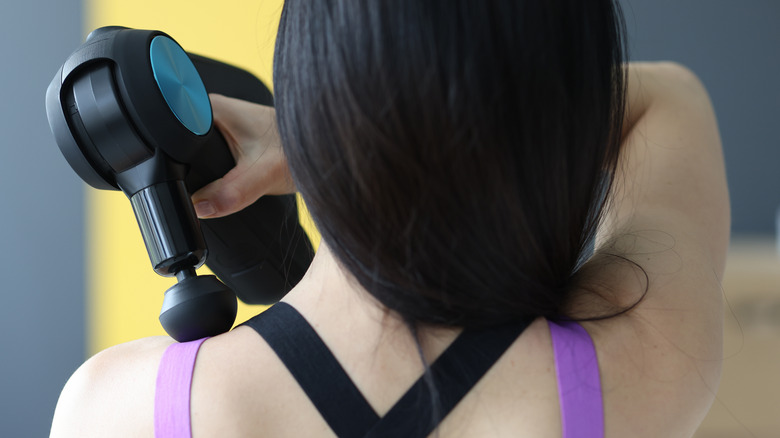 H_Ko/Shutterstock
When browsing for a massager, it's important to keep factors like comfort and price in mind. A massager that seemingly fits both of these criteria is the Cordless Deep Tissue Massager from Mahli. According to Walmart, the massager features six speeds and four interchangeable heads that help relieve sore muscles, even after a workout. The product only has a three-star rating, with many commenting that the product didn't work at all. The massager is seemingly only available in Canada at present, but avid shoppers have spotted some in TJMaxx stores, as seen in video reviews on YouTube. 
Instead, a more accessible option is the Toloco Massage Gun, which can currently be found on Amazon for $199.99. With 4.6 stars and over 15,000 ratings, it's one of the most popular massage guns on the site, likely thanks to its 20 speed levels and 10 interchangeable massage heads, which make it possible to treat muscle soreness with effective vibrations at the click of a button. One reviewer noted how much of a difference the massage gun made in improving the back pain she'd experienced from her desk job. Just be sure to check with a medical provider before using a massage gun if you have chronic conditions, and avoid using it on tender areas, like the neck or muscle sprains, and other areas of inflammation (via Forbes).
Ultimately, Mahli's massager may not be the best investment you could make.