The Most Extravagant Dog Houses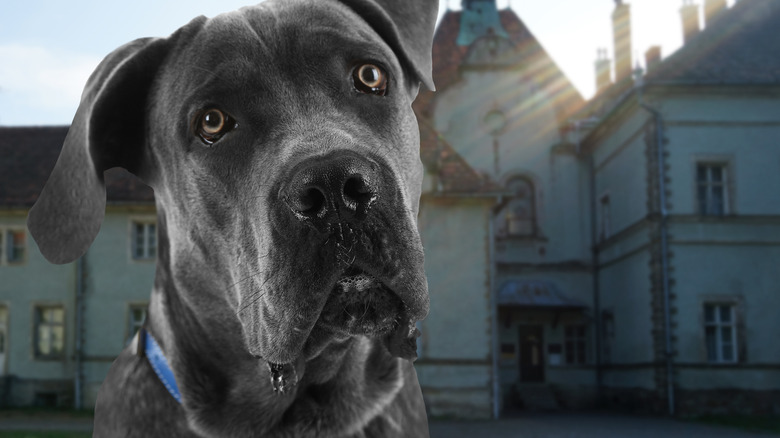 Shutterstock
Most dogs truly live a life of luxury. Their days are spent lounging around the house or running around outside, and when they're not doing either of those two activities they're taking long, luxurious naps that no amount of noise can wake them from. We prepare their meals, bring them along to every nail appointment and lunch date, and cuddle with them all night, so it should come as no surprise that people are dropping thousands of dollars on dog houses for their precious pups. 
These are the most extravagant dog houses you can buy, and you'll certainly want to the second you hear about their fancy features and get a peek inside!
Customizable Modern dog house - $800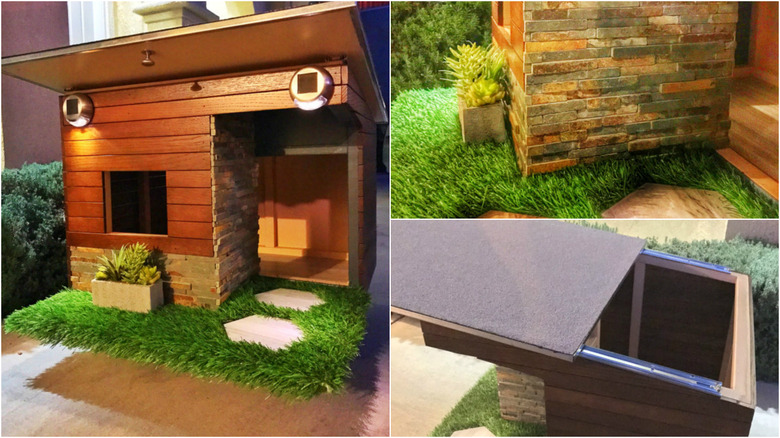 Etsy
Etsy is the home of everything homemade, but who would have thought you could purchase a dog house? Not only can you buy your basic customized accessories for your pooch, but you can also step up your game and spoil your pup with one of these extravagant custom dog houses. The Modern dog house resembles a mini house with its oak siding, natural stone accents, and asphalt shingles on the roof. Two solar powered outdoor lights make this dog house easily accessible for your furry friend at any time of the day or night.
What makes this dog house so unique is the small details on the outside that helps it resemble a modern day home, such as the small window, a tiny outdoor planter, synthetic grass resembling a lawn, and a path leading to the front door of your dog's new home. The interior is spacious, with plenty of room for a mat or dog bed as well as a water bowl. Owners will love that this dog house is easy to clean with its retractable roof and laminated tile floors, making it more than worth its cost of $800.
Mid Century Ranch dog house - $2,800
Another gem discovered on Etsy, the Modern Mid Century Ranch dog house is ideal for our bigger pets who are in need of protection from the sun and the rain. Designed by Pijuan Design Workshop, the wood structure has an open layout to keep your dog's space airy and cool, while also protecting them from the environment. They have the option of lying out on the artificial turf of the house's deck or completely concealed inside the walls of the dog house. A window allows your pup to keep an eye on what's going on outside while keeping cool and dry.
The best part about the mid century ranch dog house has got to be its roof. Made with expressed beans and cedar shingles, the roof will actually direct any water toward the planter, using the rainwater to allow your plants and flowers flourish. A small shelf on the deck allows owners to conveniently place a bowl of water and some food in your best friend's private house, and then they're all set! With a price tag of almost $3,000 and a ton of custom options, this dog house certainly exudes extravagance.
Lifeguard Stand dog house - $4,000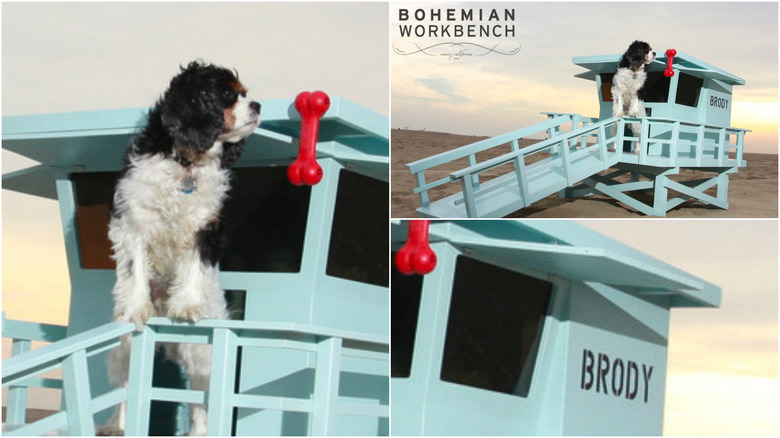 Bohemian Workbench
Some of us are lucky enough to have the beach in our backyards, making this Lifeguard Stand dog house fit in perfectly with your yard's decor. Designed by Bohemian Workbench, the structure features three tinted windows with functioning shutters, a removable ramp, and a special chew toy just for your pup. Authentic lifeguard text on the side of the dog house can be customized to feature your dog's name, personalizing your pup's new home.
The dog house is modeled after lifeguard stands most commonly found on the coasts of California, but the designer can customize your dog house to look like any lifeguard stand you'd like. Other customization options include sizing up or down so the dog house is more suitable for your pup, and a color that's more suitable for you!
Victorian Cottage Kennel dog house - $4,900
For our furry friends who are runners or can be troublemakers the second they're let outside, kennels might be best suited for them. That doesn't mean, however, that as a dog owner you'll be stuck with an ugly gated in section of your yard. The Victorian Kennel dog house allows your pup to get used to being outside without you having to worry about them digging up your garden or running away. With its heart shaped window, adorable shutters, and flower boxes, this is the perfect dog house for your little princess.
The gated-in kennel allows your pup to get fresh air when needed or head inside to rest in the shade. Since the gate is mostly around the back of the dog house, this kennel looks more like a playhouse or extravagant shed than a dog house. With a price tag under $5,000, this luxury dog kennel would be far from an eyesore in your backyard.
Cape Cod Cozy Cottage dog house - $5,061
If the Victorian Cottage Kennel isn't your style, then the Cape Cod Cozy Cottage dog house might be more your speed. Like the Victorian model, the Cape Cod design offers the best of both worlds as it has an adorable exterior and a practically hidden fenced in area that offers a lot of space for your dog to run around in. As described in the title, the exterior of this dog house looks like a modern cottage, with shuttered windows and planters beneath each one.
Designed for large dogs, the kennel offers both indoor and outdoor space for your dog to relax in, as well as a way for them to easily walk from one to the other without your help. The interior could use a few accent pieces as it's completely bare, but for just over $5,000, you really can't find a more extravagant dog kennel.
The Iconic Eiffel Tower dog house - $10,000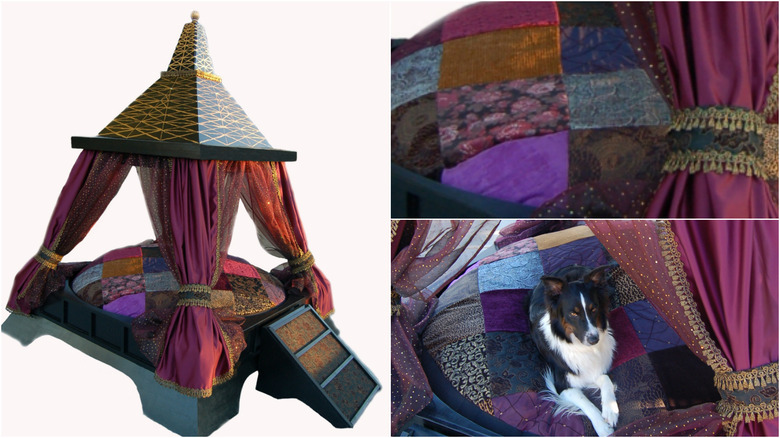 Beyond The Crate
Standing at an impressive 9.5' tall, everything about the Iconic Eiffel Tower dog house exudes luxury thanks to the design of Barbara Thulin from Decadent Digs. Hardly something you'd want to take outside, this dog house is better suited for the dogs who prefer to hang out indoors. Starting with the round plush pillow, this dog house will truly spoil your pet with its 4" foam foundation beneath a 4" pillow topper. The bedspread is made of 12" squares of several different kinds of lavish fabrics, adding to the comfort level as well as the hefty price tag.
If your dog is in need of some privacy, the curtains can be closed to give them some peace and quiet. Giving the luxury dog house its name, the top of this mesmerizing structure is hand painted in gold leaf in a pattern of the famous Eiffel Tower. If all of this doesn't sound good enough for your furry friend, the company behind this creation offers several add ons including a glass enclosure, air conditioning, and lighting fixtures. Not too shabby for $10,000!
Georgetown dog house - $10,000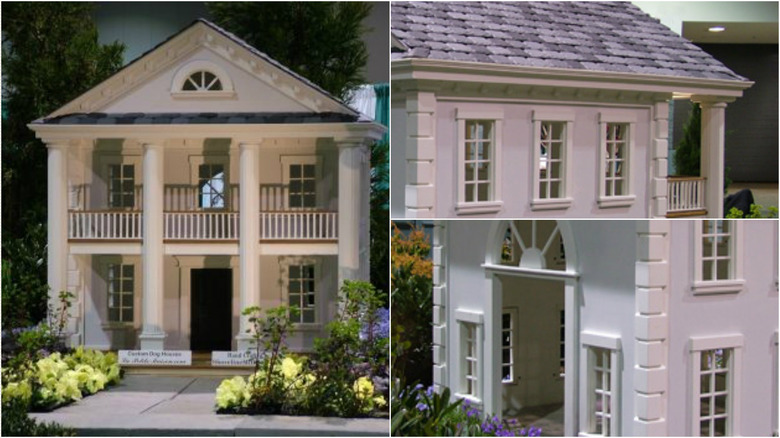 Beyond The Crate
Designed and created by a world renowned artist, this one of a kind dog house has more amenities than most houses. The Georgetown dog house not only has heat and air conditioning, but it also has running water and lighting. Its exterior looks like a miniature southern style colonial home with long windows, a second floor balcony, and the iconic white pillars. Even though this dog house was designed with someone else in mind, if this sounds like something you'd like to invest in, a different dog house can be designed and created according to your individual needs.
It can be designed to look like your house, or a house you've always wanted. Your pet's new dog house can have air conditioning or an open window. The choice is yours, but don't expect to get much of a break on the price. For $10,000 you're not just getting a dog house, you're getting a piece of art.
Brooklyn Brownstone dog house - $12,000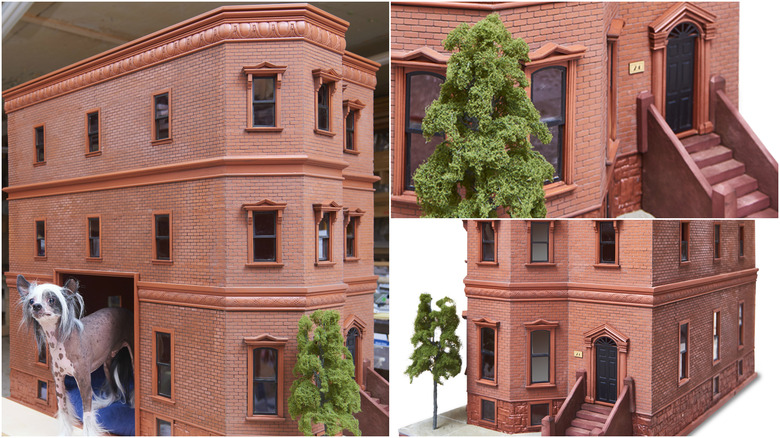 Rockstar Puppy Boutique
Designed to look like an authentic brownstone building, the Brooklyn Brownstone dog house is made out of authentic materials, including kiln fired brick and a rubber roof. If you've ever walked around Brooklyn, you can see that the artists got everything perfect from the small windows to the single tree planted in cement. The entrance for the dog is on the side, a design choice so that the front could maintain its brownstone appearance.
Like many luxury dog houses, this is a one of a kind piece that isn't actually for sale. It's a true piece of art that any New Yorker would love to own to keep their furry family member out of the rain. Nothing says extravagance more than a $12,000 price tag.
Jwoww's dog house - $12,000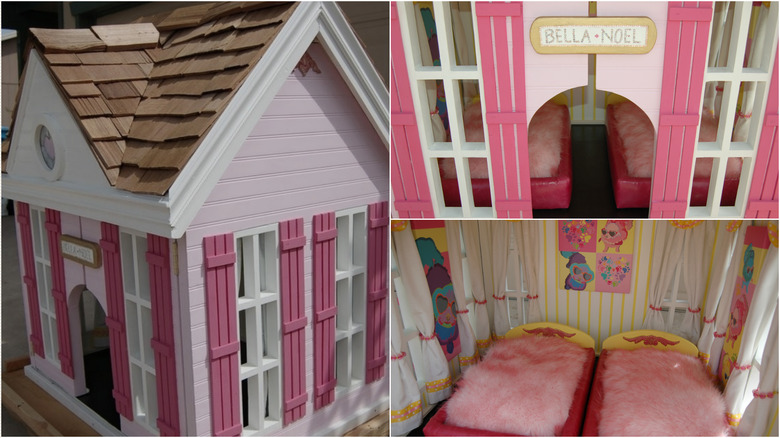 Rockstar Puppy Boutique
If you were a fan of MTV's Jersey Shore or Snooki & Jwoww, then you're certainly familiar with Jenni Farley's two adorable pups, Bella and Noel. The two even made appearances on the shows, likely making all the dogs at the park bark with jealousy. Practically reality stars themselves, Jwoww couldn't have Bella and Noel sleeping in just any dog house. Instead she went to Rockstar Puppy Boutique, where she was able to get her very own custom dog house for her furry friends, build and designed by Barbara Thulin from Decadent Digs.
Decked out in pink with yellow accents, the whole thing truly captures the reality star's style. From the upholstered beds and the hot pink faux fur throws to the custom Swarovski Crystal name plate and the heart shaped stained glass window, the entire house truly emanates luxury. If that isn't enough, a one of a kind pop art painting hangs above their beds and the battery operated interior lighting makes it the perfect spot for the dogs to relax, even at night. 
What makes this dog house so unique is the way the dogs can enter and exit. With not only the usual front door that allows these tiny pups to come and go as they please, the whole front of the structure swings open like a dollhouse, transforming it completely. Since pink isn't exactly everyone's favorite color, the experts at Rockstar Puppy Boutique can customize this design however their customers like, making it truly original for each and every pup.
Brick Estate dog house - $25,000
The Brick Estate dog house is a one of a kind luxury dog house designed by Beyond the Crate. Custom built, it features some seriously over the top amenities, including heat, air conditioning, lighting, and running water. This masterpiece was designed by artist Alan Mowrer, who is known for creating some of the most luxurious dog houses in the world.
The design can be customized to better suit your pup, even going as far as to ensure the structure is made out of hypoallergenic materials if your dog has any allergies. As a tiny replica of your home, your dog will never be more comfortable in their new house.
Glam Limestone dog house - $30,000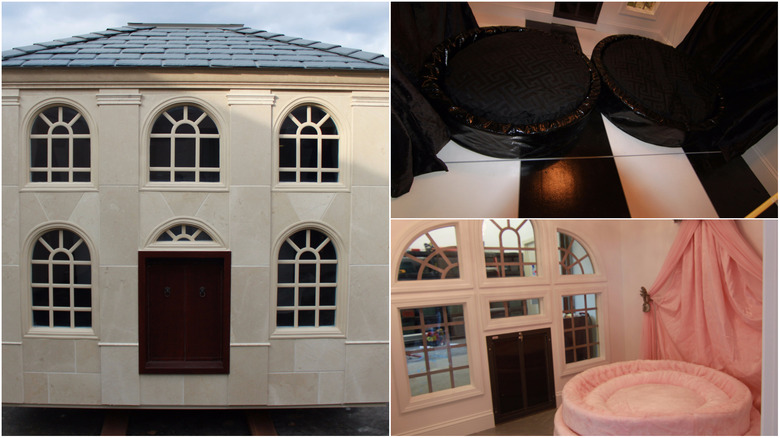 Rockstar Puppy Boutique
The Glam Limestone Dog House is for the classiest dogs who drink champagne from their doggie bowls and eat caviar with their food. Designed by Rockstar Puppy Boutique, the interior features marble floors, painted walls, custom beds, and bed crowns. With more than enough room for two, the structure stands at a massive ten feet tall. The indoor lighting sparkles against the crystal chandelier that hangs above your pups' beds, spoiling them with a luxury view.
With an air conditioning and heating unit that can be controlled right from your tablet, your furry babies will always be comfortable. Limestone tiles give the exterior a modern look, while the interior walls are all painted to provide a homey feel. As it's made to order, you can customize it to be the perfect size and style for you and your pup or pups.
Supermodel Rachel Hunter's Hacienda dog house - $30,000
Supermodel and actress Rachel Hunter spoiled her pups with a $30,000 dog house modeled after her own California Hacienda home. Designed by a world renowned artist, the supermodel's dogs are certainly being treated like royalty in their home large enough to fit a human. With red clay tiles ornating the roof, an ornately carved front door, and wrought iron flower baskets beneath the dog house's windows, the Hacienda dog house is proof that Hunter has a gorgeous home.
No expense was spared when designing the interior, as the dog house features air conditioning, heat, lighting, and running water. The walls are hand painted along the bottom with dog paws and bones while portraits of her pups hang on the wall. A crystal chandelier hangs above the terra-cotta floors in the entrance way, where her dogs love to lay on rainy days. Just another one of the most extravagant dog houses in the world.
Paris Hilton's dog mansion - $325,000
When you're the heiress to a major hotel chain, spending nearly a quarter million dollars on a dog house hardly breaks the bank. Paris Hilton, star of The Simple Life and known party girl, treats her pups like royalty gifting them with an epic two story doggie mansion. Large enough for the reality star to stand in herself, Hilton explains that the dog house was modeled after her own home. Showing off on her doggie pad on Snapchat, fans got a peek at the lavish lifestyle of the six dogs who share the home.
Hilton's doggie mansion features an outdoor balcony with a view of the pool, a decorative chandelier, a closet to hold their adorable dog outfits, a fenced in area for the dogs to run around, and a tiny staircase so both she and the dogs can access the second floor. 
In an interview Hilton did with UK's television network iTV, we can see more details of this mini mansion including upholstered chairs and couches where the dogs like to relax and several dog beds. The heiress also mentions that the house includes heating and air conditioning, because royalty certainly deserve the best!
Spoil your pup... or don't!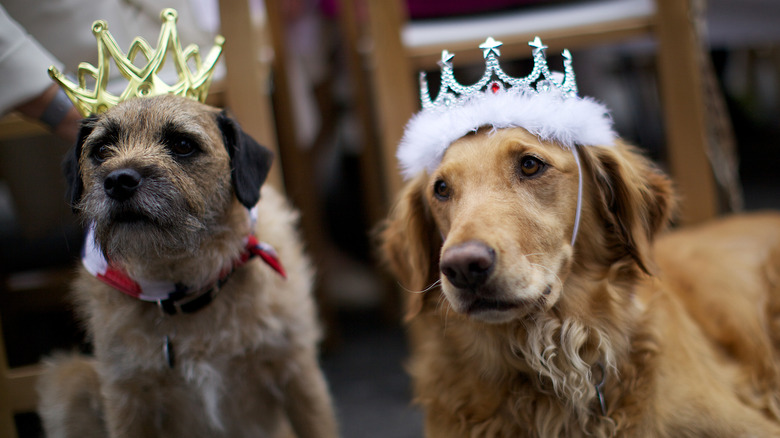 Getty Images
Most of us love to spoil our pets, but most of these extravagant dog houses are a tad out of our budget range. While it would be nice to give our furry friends their own luxurious homes to lounge around in complete with all the bells and whistles, giving them all of our love and attention is more than enough to keep our little fur babies happy. 
They can't tell the difference between a $50 dog house and a $50,000 dog mansion, or between having their own television and sitting in your lap watching yours, or between filtered and non-filtered water. Your pup can only tell the difference between you being there and you not. All the new toys and gadgets in the world can't buy a dog's affection, but by providing for them and showing them affection, they'll look at you with absolute admiration forever.