Can You Wear Mascara On Your Eyelash Extensions?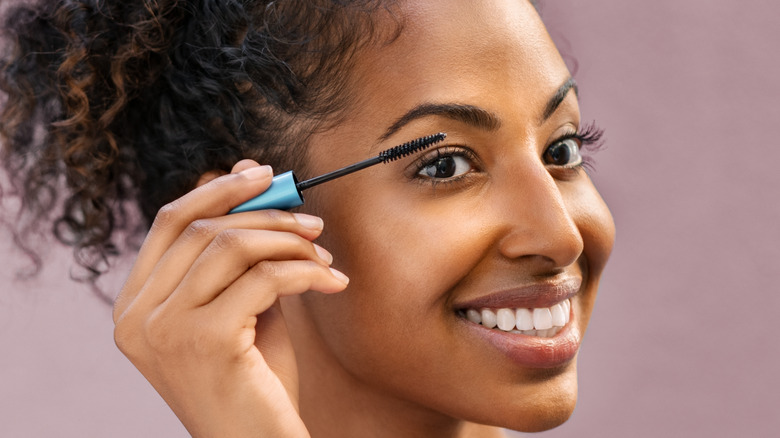 Rido/Shutterstock
If you've just had your first set of eyelash extensions done, you may be wondering whether you can put mascara on them. According to Beauty Stack, lash extensions offer a boost to your natural lashes to make them appear thicker. They are created using individual lash strands which are adhered to your natural lashes for a more voluminous look. You likely previously coated fake eyelashes with mascara to give them extra volume. But is it advisable to wear mascara on newly installed extensions?
In most cases, the finished look of eyelash extensions tends to rival what you'd achieve with a good mascara on natural lashes. As per Divine Lashes, using mascara with extensions is popular for a number of reasons, including the ability to make lashes look even thicker and bolder. Mascara also can be used for increasing length. It is a great tool for changing the color of lash extensions, too, should you opt for a contrasting colored mascara.
As your lash extensions begin to look a little sparse (when another appointment with a lash tech is needed for a fill), a coat of mascara can help to revive them. Mascara can enhance your lash extensions, but is it safe to use?
Mascara is safe to use with specific types of eyelash extensions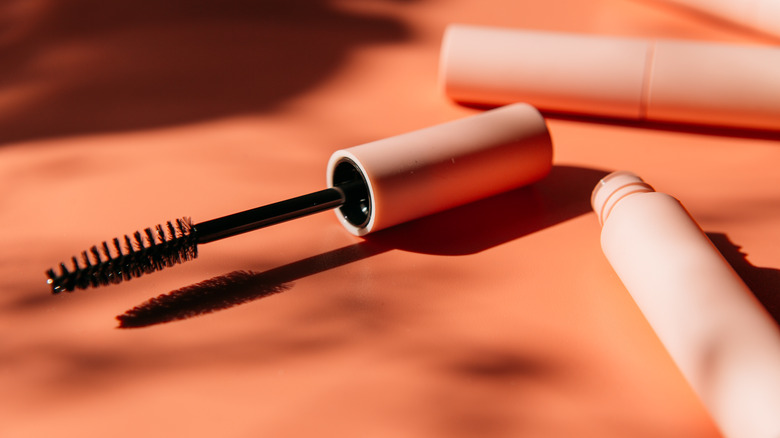 Alena Sadreeva/Shutterstock
According to Beauty Stack, whether you can wear mascara with eyelash extensions depends on the type of extensions you have. If you have classic eyelash extensions, it is normally safe to wear mascara with them. However, if you have volume or hybrid lashes, it's not usually advisable to wear mascara. This is because mascara can actually damage the extensions. That would counteract the investment of them and likely lead to needing another set sooner.
Divine Lashes explains that while it's fine to wear mascara on classic lash extensions, it's a good idea to avoid waterproof mascara as this can be difficult to remove and can cause damage as you try to get it off. When choosing a mascara formula to apply to your newly installed set, it's usually best to opt for a water-based solution. Beauty Stack recommends avoiding oil-based mascara formulas, too. These can also damage the extensions; when oils come into contact with the adhesives used to apply extensions they can break the bond with natural lashes.