Ava Michelle & Anjelika Washington On Their Friendship In Tall Girl 2 - Exclusive Interview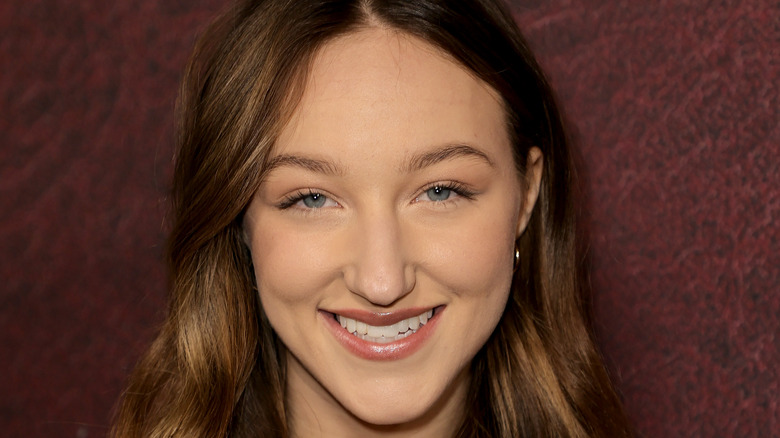 Kevin Winter/Getty Images
When we last saw "Tall Girl," Jodi stood up for herself by giving an epic speech at her homecoming dance. Dunkleman finally revealed why he was always carrying around that milk crate, and Jodi (as well as all of us watching) walked away feeling like she could conquer anything that life threw her way.
Now, the characters we all know and love are back for "Tall Girl 2." In this sequel, Jodi has more confidence than ever before is about to achieve a dream she's always been too scared to achieve: starring in her high school musical's rendition of "Bye Bye Birdie." However, as Jodi steps into the spotlight, she begins to discover even more insecurities about herself aside from simply being the "Tall Girl." The second installment is full of singing and dancing, love and loss, and all the trials and tribulations that come with growing up — and we got the inside scoop from the stars themselves.
In an exclusive interview with The List, Ava Michelle (a.k.a. Jodi) and Anjelika Washington (AKA Jodi's BFF Fareeda) opened up about onscreen kisses, revealed the most difficult scenes to shoot, and shared the storyline they want to see in a potential "Tall Girl 3."
Ava & Anjelika talk about performing on stage in Tall Girl 2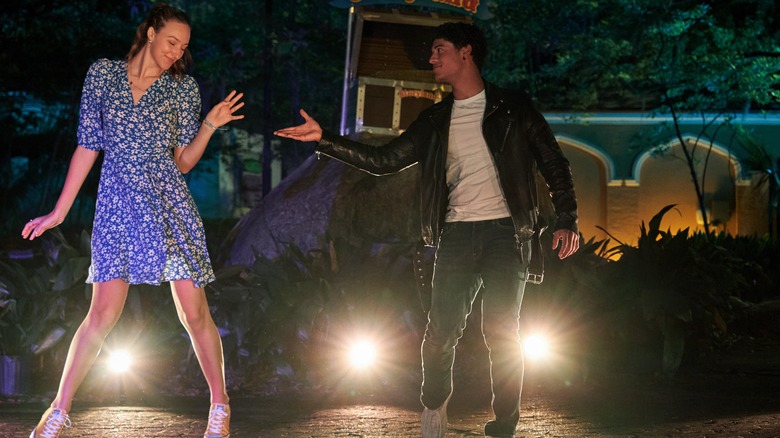 Scott Saltzman/Netflix
In "Tall Girl 2," we get to see you act out the musical production "Bye Bye Birdie" on stage. Did you both see the show before you started filming?
Ava: I did ... It's so good. I loved it. When I watched it, I was so excited to do it, but I was also like, "I can't sing that high, so I hope that we can figure that out." [Laughs] It's amazing, and the storyline is great. I wish that we had the length of a movie to be able to do the entire musical in it, but that's not what the movie really was about, so that's okay.
Anjelika: I hadn't seen it before we filmed, but I did watch it after, and I was like, "Oh, got it," because I needed to know, like — I was watching them dance and hearing all the songs and like, "I gotta watch this. What in the world?" But you know what, Ava? When they do a live-action "Bye Bye Birdie..." [Points at Ava]
Ava: Oh, my goodness. That would be so fun.
Anjelika: You're top choice.
Ava: Wait. Why didn't I think of that before? I agree. That would be great.
Ava, were you excited as a "Dance Moms" alum to be able to dance in "Tall Girl 2," and how did you prepare for the routines?
Ava: Yeah, it was amazing. I have only dreamed of being able to dance and act and sing in one project, and the fact that it was "Tall Girl" really surprised me. [Laughs] It's super exciting.
Preparing for it, I still dance and train, because I love it. Keeping that up is always something that's really important to me, but our choreographer [Maya Taylor] that was on it for "Tall Girl" was so incredible. We started rehearsals before we started filming and constantly had rehearsals throughout.
The other dancers that were there were amazing and [so were] our extras, so we got to hang out and sit with the dancers all the time. It was a great preparation process and everyone was such a hard worker, so it was great ... I also lived my theater dreams in this movie, because I had never done it before, so it was very hard.
Anjelika: You have to do that. You're going to. You're so good at it.
Ava: Thank you.
The Tall Girl 2 stars open up about onscreen kisses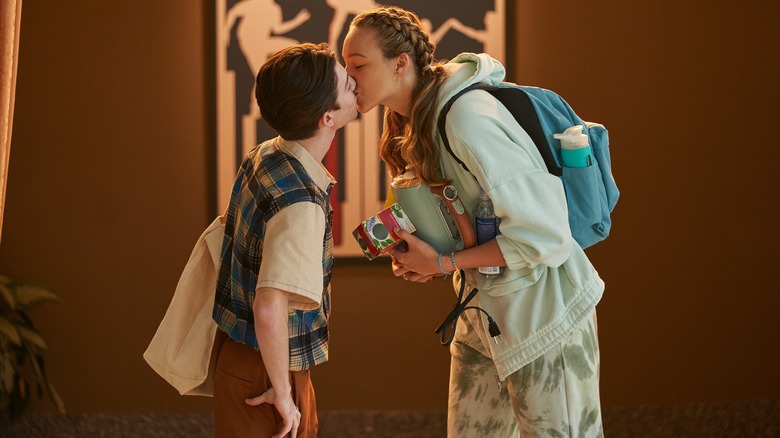 Scott Saltzman/Netflix
Ava, I know that "Tall Girl" was your first onscreen kiss.
Ava: Yeah.
And Anjelika, you got to experience a surprise scene like that in the sequel, too. Are these nerve-wracking scenes to do?
Anjelika: I don't know what you're talking about, girl. 
My first onscreen kiss was actually in a different film called "Moxie" with one of my best friends, Alycia Pascual-Peña. I will say, though, there's a difference kissing a girl and then kissing a guy on screen. I actually had never experienced that, and yeah, that's all I got for you. It is very nerve-wracking, and — I don't know if I love it. It's a thing that's a part of it.
Ava: It's so funny, because ... as an actor, no matter how many times you do it with an actor or whatever, you're in the moment. It's the funniest thing when the scene cuts, and then you're like, "Cool, cool, cool. Okay. So, like, we're just friends. We're just chilling," and it's an interesting experience, you know? It's very different. I don't know how to explain it.
Anjelika: The direction, too. "Can you move your hand like that?" Or, "How long [do] you hold her? More." I'm like, "Ahh!" It takes away from trying to make it real, you know?
Ava: It does ... Well, how many variations of a kiss can we get? And then, this is now choreographed.
Anjelika: Yeah, and then you're trying to make it look real. Oh, yeah. It's a challenge.
Ava: It is a challenge.
Ava & Anjelika loved working on this specific scene together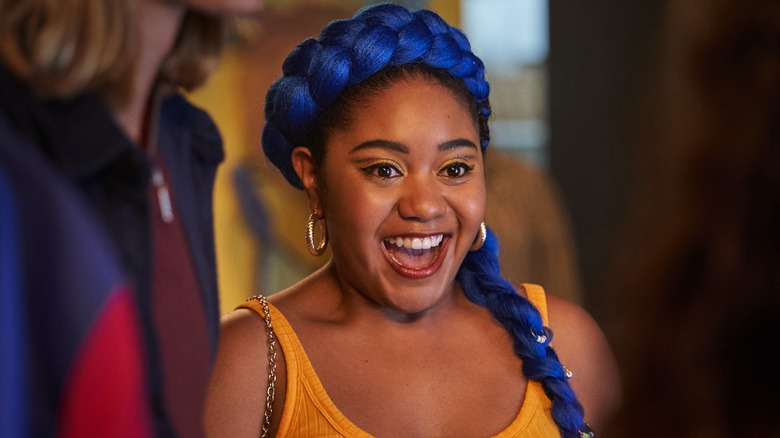 Scott Saltzman/Netflix
There are a lot of really fun scenes in "Tall Girl 2." The party on a boat that you had looked like so much fun. What was the scene that was the most fun to film?
Ava: Ah, that was so fun. I really enjoyed the boat scene.
The musical scenes were super fun. Our production, props team, everyone did such a good job of creating the most amazing set.
One of my favorite scenes to shoot was the one with my parents [Angela Kinsey and Steve Zahn] and Anjelika and Sabrina [Carpenter, who plays my sister Harper] in the bedroom. It was such a great scene. I love the writing of it. I love the going back and forth between them, and my relationship with every single one of the actors in that scene is so great and easy, so that was probably one of my favorites.
Anjelika: I agree. That was my favorite scene.
What is it like to be on set? What is this cast like? You guys got to be together again after two years.
Ava: Finally! Yes. It was amazing. You know, Anj and I have the best friendship, and no matter if we're in the same state or not, we try to keep up as much as possible. But when work brings us together for a long period of time, it's really really great. I was really thankful for that, and to be able to hang with her and work with her — but off set, all we do is eat food, to be honest with you. We're working, and then we're eating food, and then we're sleeping — and it's great. New Orleans has awesome food.
Anjelika: The best. New Orleans has awesome food. All we did in our time off, me, Ava, and Sabrina, the three of us were always together. All we did was try new restaurants and try new places all the time in our off time. She's right, all we did was eat, and I love to eat. It's the best.
Ava: I also think it was really funny, because we had a lot of night shoots, Anjelika and I would keep each other accountable to stay up so that we'd be able to switch to night shoots [Laughs], which was fun.
The stars share the message from the movie that stuck with them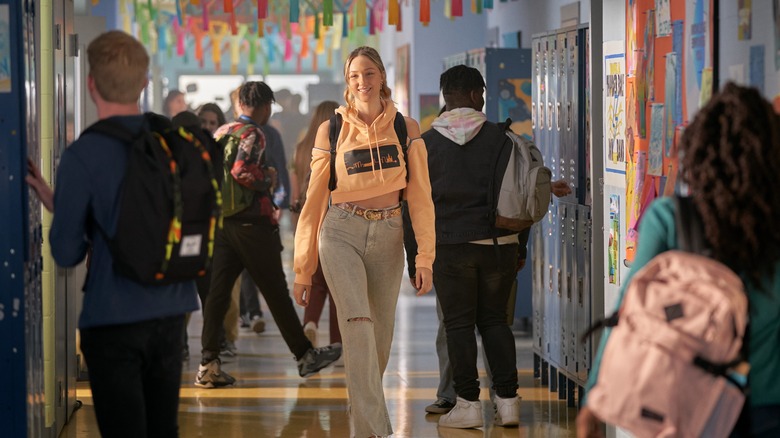 Scott Saltzman/Netflix
"Tall Girl 2" touches on so many different themes: losing love, growing up, even handling anxiety. Was there a message that really stuck with each of you or resonated with you afterwards?
Ava: That's really deep. It's hard to pick one. There's so many that are so honest and very relevant, but right now, and the biggest challenge for me as an actor, was the anxiety attack scenes, because it is something that so many people deal with. I wanted to try to portray it in the most honest way, but also being honest from where Jodi's at.
I really hope that people can take away from that that they're not alone. I hope that they truly learn to listen to those around them and lean on the people who love them and allow them to support them, because a lot of times we turn that away, and it can be a really beautiful thing to go through it together. We all need to learn that, and in this time of crazy separation, we really need to come together.
Anjelika: I'll add radical self-acceptance and acceptance of others and understanding we are where we are today ... if we don't take chances, we'll never be where we want to be. It's so important to give yourself grace and kindness and allow yourself to learn and grow and change, and that's okay. The people who love you are going to love you in all facets on your journey.
Here's what they would want to see if there's ever a Tall Girl 3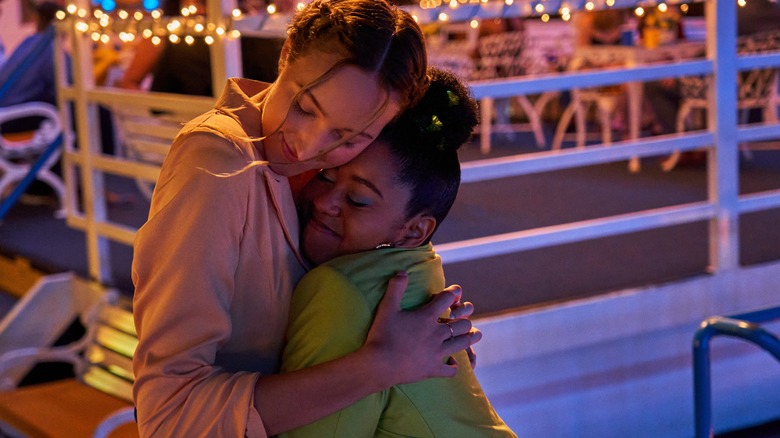 Scott Saltzman/Netflix
If there ever is a "Tall Girl 3," what would you each hope is explored in a third installment?
Ava: I hope that we explore our relationship more. I would love to see this amazing, supportive, powerful best friend relationship really come out and be able to be shown. I love working with her so much and if I could work with her on another film and even more, that would make me really happy.
Anjelika: Ava and I talk about this all the time, and if we do a "Tall Girl 3," which I hope we do, I would love to see the focus be less about boys and more about sisterhood and friendship, and [their] navigating their growth of, maybe, their next chapter. Maybe graduating high school, and they're about to go to college, and they're going to go separate ways, and what is that going to look like?
I'm throwing that out there. If you can hear me.
Ava: The Netflix. The Netflix.
Anjelika: I would love it to really, focus in more on them. Especially because it's a Netflix family film, I would love for younger girls to also see a film that where the dynamic is based on friendship and –
Ava: Women supporting each other. I feel like it's so important to see that. Yeah.
"Tall Girl 2" is now available to stream exclusively on Netflix.